Last chance to register. Learn about the Open CCaaS difference.
Verint sent this email to their subscribers on September 18, 2023.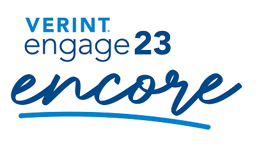 The Open CCaaS Imperative
A virtual event to learn about moving from traditional CCaaS solutions to an open approach.
This is the last chance to register for
Verint
®
Engage 2023 Encore
, a free virtual event on Thursday, September 21, from 10 am to 1:00 pm ET!
Join us to learn about the Open CCaaS difference and how Verint Platform powers customer engagement and produces results like:
A 41-point increase in NPS

1

, while seeing a 50% reduction response times

5 times more interactions per agent per hour with the introduction of asynchronous messaging channels

Cost per contact reduced by 48% through the use of in-channel bots

52% containment rate achieved by introducing AI and automation into customer engagements
Open CCaaS means happier customers at a lower cost.
Register now
to learn about Verint Platform — a platform built for your future.
1 *Net promoter, NPS, and Net Promoter Score are trademarks of Satmetrix Systems, Inc. Bain & Company, and Fred Reichheld.
Enter for a chance to win!*
Register for Engage 2023 Encore to be entered to win a Weekender Bundle prize! One grand prize winner will be chosen. Registration is open through September 21.
Discover what it means to be "Open."
*NO PURCHASE OR PAYMENT NECESSARY TO ENTER OR WIN
. Open to legal residents of the 50 U.S./D.C. and Canada (excluding Quebec) who are age 18 and the age of majority in his/her state or province of residence (19 in AL, NE, BC, NS, NB, NT, YT and NU; 21 in MS). Void in Quebec, Puerto Rico, Guam, the U.S. Virgin Islands, outside the 50 U.S./D.C., Canada and where prohibited. Sweepstakes starts at 12:00:00 AM ET on 09/08/23; ends at 01:00:00 PM ET on 09/21/23. To enter or for official rules, visit
https://web.cvent.com/event/f00eb6e5-8322-49df-bb17-5df2a30f302c/summary
to register and attend the Verint Engage 2023 Encore virtual event and follow all instructions. Total ARV of all prizes: $219.23. Odds of winning depend on the number of eligible entries received. Sponsor: Verint Systems Inc., 175 Broadhollow Rd, Ste 100, Melville, NY 11747.
View complete prize rules here
.
Text-only version of this email
If you are having trouble reading this email, read the online version. Verint Engage23 Encore The Open CCaaS Imperative A virtual event to learn about moving from traditional CCaaS solutions to an open approach. Register now Verint Engage 2023 Encore verint, This is the last chance to register for Verint® Engage 2023 Encore, a free virtual event on Thursday, September 21, from 10 am to 1:00 pm ET! Join us to learn about the Open CCaaS difference and how Verint Platform powers customer engagement and produces results like: * A 41-point increase in NPS1, while seeing a 50% reduction response times * 5 times more interactions per agent per hour with the introduction of asynchronous messaging channels * Cost per contact reduced by 48% through the use of in-channel bots * 52% containment rate achieved by introducing AI and automation into customer engagements Open CCaaS means happier customers at a lower cost. Register now to learn about Verint Platform — a platform built for your future. 1 *Net promoter, NPS, and Net Promoter Score are trademarks of Satmetrix Systems, Inc. Bain & Company, and Fred Reichheld. Enter for a chance to win!* Register for Engage 2023 Encore to be entered to win a Weekender Bundle prize! One grand prize winner will be chosen. Registration is open through September 21. Register now Enter to win*! Verint Engage23 Encore Discover what it means to be "Open." Register now *NO PURCHASE OR PAYMENT NECESSARY TO ENTER OR WIN. Open to legal residents of the 50 U.S./D.C. and Canada (excluding Quebec) who are age 18 and the age of majority in his/her state or province of residence (19 in AL, NE, BC, NS, NB, NT, YT and NU; 21 in MS). Void in Quebec, Puerto Rico, Guam, the U.S. Virgin Islands, outside the 50 U.S./D.C., Canada and where prohibited. Sweepstakes starts at 12:00:00 AM ET on 09/08/23; ends at 01:00:00 PM ET on 09/21/23. To enter or for official rules, visit  virtual event and follow all instructions. Total ARV of all prizes: $219.23. Odds of winning depend on the number of eligible entries received. Sponsor: Verint Systems Inc., 175 Broadhollow Rd, Ste 100, Melville, NY 11747. View complete prize rules here. Facebook Twitter LinkedIn Instagram Verint
Show all
The Latest Emails Sent By Verint
More Emails, Deals & Coupons From Verint
Email Offers, Discounts & Promos From Our Top Stores