NEW: Rainbow Roller 🌈
Tumbl Trak sent this email to their subscribers on August 11, 2022.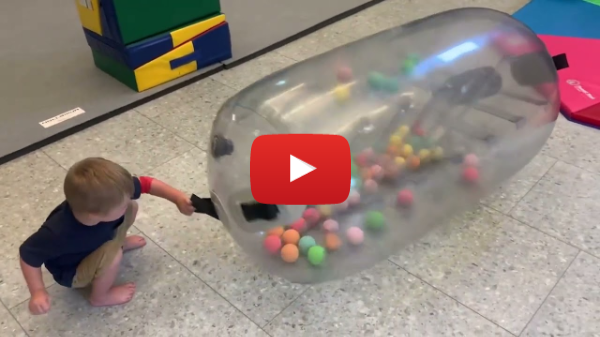 Rainbow Roller
Peek-a-Boo through the clear vinyl of this Air Roller and watch as the colorful balls dance inside as it rolls! Ideal for preschool and younger athletes learning basic skills like walking, balancing, and rolling. A delight for kids to play with!

Save 15% during our Summer Blowout Sale.
Rainbow Roller
15% off now!
The Rainbow Roller is great for a variety of ages. Toddlers can practice balance and mobility while walking behind the roller as it rolls. Tummy time on the Rainbow Roller, either across or longways, is fun and interactive. As a child gains confidence and strength, this roller is the ideal place to build inverted awareness with beginning backward movement and spiderwalks.


Not finding the item you're looking for? No problem, just click the link below to see all of our awesome product offerings!
Get in Touch
1.800.331.4362
Text-only version of this email
A delight for kids to play with! ‌ ‌ ‌ ‌ ‌ ‌ ‌ ‌ ‌ ‌ ‌ ‌ ‌ ‌ ‌ ‌ ‌ ‌ ‌ ‌ ‌ ‌ ‌ ‌ ‌ ‌ ‌ ‌ ‌ ‌ ‌ ‌ ‌ ‌ ‌ ‌ ‌ ‌ ‌ ‌ ‌ ‌ ‌ ‌ ‌ ‌ ‌ ‌ ‌ ‌ ‌ ‌ ‌ ‌ ‌ ‌ ‌ ‌ ‌ ‌ ‌ ‌ ‌ ‌ ‌ ‌ ‌ ‌ ‌ ‌ ‌ ‌ ‌ ‌ ‌ ‌ ‌ ‌ ‌ ‌ ‌ ‌ ‌ ‌ ‌ ‌ ‌ ‌ ‌ ‌ ‌ ‌ ‌ ‌ ‌ ‌ ‌ ‌ ‌ ‌ ‌ ‌ ‌ ‌ ‌ ‌ ‌ ‌ ‌ ‌ ‌ ‌ ‌ ‌ ‌ ‌ ‌ ‌ ‌ ‌ ‌ ‌ ‌ ‌ ‌ ‌ ‌ ‌ ‌ ‌ ‌ ‌ ‌ ‌ ‌ ‌ ‌ ‌ ‌ ‌ ‌ ‌ ‌ ‌ ‌ ‌ ‌ ‌ ‌ ‌ ‌ ‌ ‌ ‌ ‌ ‌ ‌ ‌ ‌ ‌ ‌ ‌ ‌ ‌ ‌ ‌ ‌ ‌ ‌ ‌ ‌ ‌ ‌ ‌ ‌ ‌ ‌ ‌ ‌ ‌ ‌ ‌ ‌ ‌ ‌ ‌ ‌ ‌ ‌ ‌ ‌ ‌ ‌ ‌ ‌ ‌ ‌ ‌ ‌ ‌ ‌ @ Tumbl Trak Train Smart Rainbow Roller Rainbow Roller Peek-a-Boo through the clear vinyl of this Air Roller and watch as the colorful balls dance inside as it rolls! Ideal for preschool and younger athletes learning basic skills like walking, balancing, and rolling. A delight for kids to play with!  Save 15% during our Summer Blowout Sale. RAINBOW ROLLER 15% off now! The Rainbow Roller is great for a variety of ages. Toddlers can practice balance and mobility while walking behind the roller as it rolls. Tummy time on the Rainbow Roller, either across or longways, is fun and interactive.  As a child gains confidence and strength, this roller is the ideal place to build inverted awareness with beginning backward movement and spiderwalks. SHOP NOW SHOP BY IN THE HOME IN THE GYM SHOP GYMNASTICS SHOP CHEER SHOP DANCE Not finding the item you're looking for? No problem, just click the link below to see all of our awesome product offerings! SHOP ALL TUMBL TRAK PRODUCTS Menu Gymnastics Cheer Dance Martial Arts Services Get in Touch 1.800.331.4362
[email protected]
Tw Fb Yt Ig
Show all
The Latest Emails Sent By Tumbl Trak
More Emails, Deals & Coupons From Tumbl Trak
Email Offers, Discounts & Promos From Our Top Stores