20 years after U.S. invasion, young Iraqis see signs of hope
The Press of Atlantic City sent this email to their subscribers on March 18, 2023.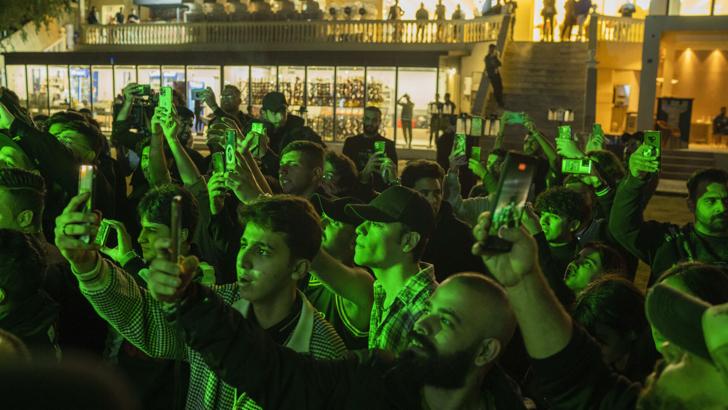 Today's Iraq is a world away from the terror that followed the U.S. invasion to depose Saddam Hussein 20 years ago this week. A new generat…
Enjoying this newsletter? Forward it to a friend! They can sign up here.
To manage your newsletter subscriptions from Press of Atlantic City, click here.
© 2023 Press of Atlantic City
Cornerstone Building1201 New RoadSuite 240, Linwood, NJ 08221
Privacy
Link
Text-only version of this email
Today's Iraq is a world away from the terror that followed the U.S. invasion to depose Saddam Hussein 20 years ago this week. A new generation is eager to turn away from the sectarianism of the past and heal the nation's divisions.   ‌ ‌ ‌ ‌ ‌ ‌ ‌ ‌ ‌ ‌ ‌ ‌ ‌ ‌ ‌ ‌ ‌ ‌ ‌ ‌ ‌ ‌ ‌ ‌ ‌ ‌ ‌ ‌ ‌ ‌ ‌ ‌ ‌ ‌ ‌ ‌ ‌ ‌ ‌ ‌ ‌ ‌ ‌ ‌ ‌ ‌ ‌ ‌ ‌ ‌ ‌ ‌ ‌ ‌ ‌ ‌ ‌ ‌ ‌ ‌ ‌ ‌ ‌ ‌ ‌ ‌ ‌ ‌ ‌ ‌ ‌ ‌ ‌ ‌ ‌ ‌ ‌ ‌ ‌ ‌ ‌ ‌ ‌ ‌ ‌ ‌ ‌ ‌ ‌ ‌ ‌ ‌ ‌ ‌ ‌ ‌ ‌ ‌ ‌ ‌ ‌ ‌ ‌ ‌ ‌ ‌ ‌ ‌ ‌ ‌ ‌ ‌ ‌ ‌ ‌ ‌ ‌ ‌ ‌ ‌ ‌ ‌ ‌ ‌ ‌ ‌ ‌ ‌ ‌ ‌ ‌ ‌ ‌ ‌ ‌ ‌ ‌ ‌ ‌ ‌ ‌ ‌ ‌ ‌ ‌ ‌ ‌ ‌ ‌ ‌ ‌ ‌ ‌ ‌ ‌ ‌ ‌ ‌ ‌ ‌ ‌ ‌ ‌ ‌ ‌ ‌ ‌ ‌ ‌ ‌ ‌ ‌ ‌ ‌ ‌ ‌ ‌ ‌ ‌ ‌ ‌ ‌ ‌ ‌ ‌ ‌ ‌ ‌ ‌ ‌ ‌ ‌ ‌ ‌ ‌ ‌ ‌ ‌ ‌ ‌ ‌ ‌ ‌ ‌ ‌ ‌ ‌ ‌ ‌ ‌ ‌ ‌ ‌ ‌ ‌ ‌ ‌ ‌ ‌ ‌ ‌ ‌ ‌ ‌ ‌ ‌ ‌ ‌ ‌ ‌ ‌ ‌ ‌ ‌ ‌ ‌ ‌ ‌ ‌ ‌ ‌ ‌ ‌ ‌ ‌ ‌  Press of Atlantic City - News-alert I OF ATLANTIC CITY Asset-image 20 YEARS AFTER U.S. INVASION, YOUNG IRAQIS SEE SIGNS OF HOPE Today's Iraq is a world away from the terror that followed the U.S. invasion to depose Saddam Hussein 20 years ago this week. A new generat… FULL STORY Advertisement AWARD-WINNING FRAGRANCE SHOP NOW MORE FROM PRESS OF ATLANTIC CITY Asset-image Local News | Atlantic City, NJ GALLERY: BRIGANTINE'S ST. PATRICK'S DAY PARADE Asset-image Crime EGG HARBOR CITY MAN CHARGED WITH MURDER IN ATLANTIC CITY BOARDWALK SHOOTING Asset-image Local News | Atlantic City, NJ HUNDREDS HIT BRIGANTINE STREETS FOR ST. PATRICK'S PARADE Asset-image Local News | Atlantic City, NJ HUNDREDS HIT BRIGANTINE STREETS FOR ST. PATRICK'S PARADE Asset-image Government & Politics ATLANTIC COUNTY GOP NOMINATES O'DONOGHUE FOR SHERIFF, INCUMBENTS FOR MOST OFFICES Asset-image Local News | Atlantic City, NJ ATLANTIC CITY MAYOR NOT SAYING IF HE'LL ASK MORSHED TO RESIGN OVER CHARGES Advertisement $ 2038200 QL R LIV T ASIN Asset-image Local News | Atlantic City, NJ GAS PRICES DIP IN NJ, AROUND NATION AMID OIL PRICE DROP Asset-image Local News | Atlantic City, NJ NEWLY CONSTRUCTED HOUSES YOU CAN BUY IN SOUTH JERSEY Asset-image Local News | Atlantic City, NJ SOUTH JERSEY NEIGHBORS: OBITUARIES FOR MARCH 18 Advertisement $ 2038200 QL R LIV T ASIN Follow Press of Atlantic City FacebookTwitterInstagramApps Enjoying this newsletter? Forward it to a friend! They can sign up here. To manage your newsletter subscriptions from Press of Atlantic City, click here. © 2023 Press of Atlantic City Cornerstone Building1201 New RoadSuite 240, Linwood, NJ 08221     Privacy Link
Show all
The Latest Emails Sent By The Press of Atlantic City
More Emails, Deals & Coupons From The Press of Atlantic City
Email Offers, Discounts & Promos From Our Top Stores