[RESTOCKED] 10 best-selling men's & women's gifts now BACK in stock
The Grommet sent this email to their subscribers on November 24, 2022.
Hey Grommet Fan!
Why does it always seem like this time of year flies by?
One second you're greeting trick or treaters and the next we're counting down from 10 on New Year's Eve!
The holidays ALWAYS go by fast.
That's why we wanted to send you a quick refresher on our 10 best-selling holiday gifts for him and for her, which you may have missed.
(Some were so popular, their warehouses asked for more inventory ASAP to handle the surge in demand.)
Don't let gift-giving season sneak up on you, see who you can cross off your list TODAY!

#1 Kailo: This drug-free patch targets his pain DIRECTLY (it works in 60 seconds)
Do you know someone who suffers from chronic pain?
(Or maybe that's you??)
Whether it's knee pain, back pain, or something in between, dealing with constant aches is no way to live.
You and your loved ones shouldn't have to just "suck it up."
Kailo can help!
It's a patented, drug-free patch that goes directly on your body anywhere you're feeling pain.
It contains zero medication and has absolutely no side effects.
Kailo enhances your body's natural pain processes to MAXIMIZE pain relief and help you make it through your day.
Plus it's been proven to work in clinical trials.
The deal: Give the men you love, or yourself, the gift of a pain-free life! Their most popular bundle is for a buy 2, get 1 FREE deal that includes 3 ultra-soft carrying cases for $0 extra. Or take an instant $20 off a single patch when you order today.
#2 FlipFork: The 5-in-1 grilling tool that will turn him into the "King of the Grill"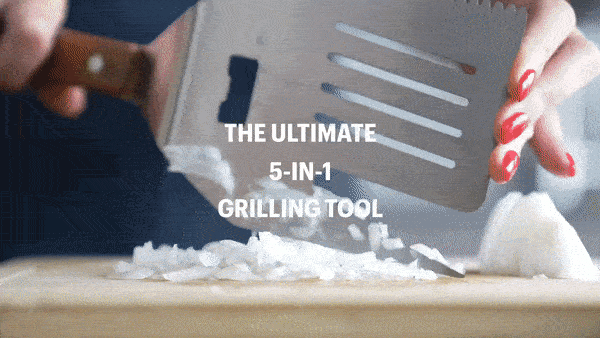 "Back AWAY from the grill!"
Does anyone else know a guy who takes grilling a little too seriously?
Unfortunately, getting him the FlipFork may just make the problem worse. 😅
(But at least he'll be happy!)
This 5-in-1 grilling machine is the ultimate gift for pro grillers.
Its all-in-one design includes:
An extra-large spatula (perfect for turning t-bones)

A flipping fork

A razor-sharp knife

A meat tenderizer

A bottle opener (because flipping burgers requires maximum hydration)
Getting him the FlipFork may not convince him to let you near the grill…
But it will definitely let him know that you care!
The deal: Unlike other gifts, each guy probably only needs one FlipFork to man the grill. But do you have any other grillers in your life who'd love something like this? If so, FlipFork has a buy 2, get 1 FREE deal which saves you nearly $25!
#3 Kelvin17: A 17-in-1 handyman gadget that dads love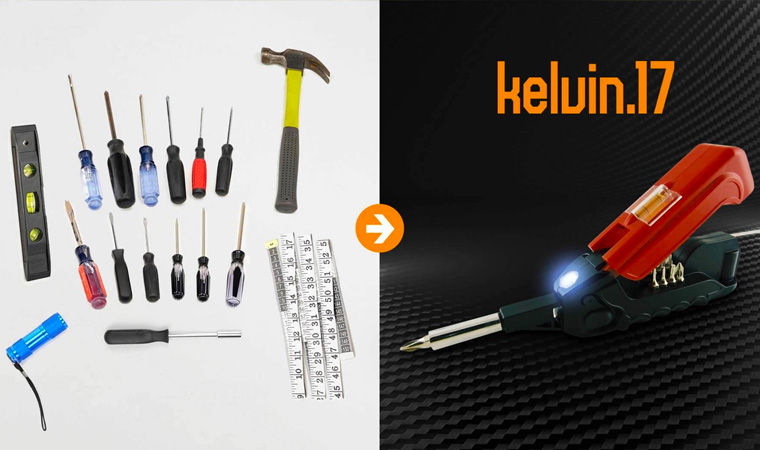 We all know someone who's THE go-to person whenever something needs to be fixed.
Well, just imagine their face when they unwrap THIS!
Kelvin17 is a wildly popular super tool that features:
A carbon steel hammer

Liquid level

LED flashlight

3 ft measuring tape

Flip-action screwdriver

+ MORE!
Help the DIYer in your life clean up their messy toolbox and replace just about everything with this one simple tool.
This truly is the gift for the guy who "already has everything" because he almost certainly doesn't have anything like Kelvin17.
The deal: We've heard from many of you who've ordered more than one. Keep one in the shed, garage, car, and/or kitchen so it's always ready when you need it. To help you save even more, Kelvin Tools is running a buy 3, get 2 FREE promotion, which includes free U.S. shipping.
#4 GlowBowl: A motion-activated toilet light with a built-in air freshener
Most guys are pretty good about putting the toilet seat back down.
(We hope.)
But aiming at night is a whole different story!
Help them out with GlowBowl.
Its advanced motion detection lights up the bowl WITHOUT waking anyone up.
He'll no longer have to turn on the light during midnight bathroom runs, which will save his sleepy eyes from being flooded with light.
Plus, the built-in air freshener will leave your bathroom smelling great.
The best part?
GlowBowl is a practical gift for him that benefits the entire family!
The deal: GlowBowl is running some CRAZY deals right now including a buy 3, get 2 FREE special so you can put a GlowBowl in every toilet in the house.
#5 Groomie: The go-to head shaving kit for the bald, beautiful men in our lives
Bald = Beautiful!
(It's true!)
Nothing is better than a handsome man with a freshly shaved head.
But between shaving bumps and razor nicks, guys may not freshen up as often as they should.
That won't be the case if you get them The BaldiePro™ Head Shaver from Groomie.
It offers a silky smooth, shaving cream-free shave that will leave your man's head looking as clean and fresh as the day they leave the barber shop.
The full kit includes:
BaldiePro™ Head Shaver

SmoothShave™ Blade

Exfoliation Brush

Pre-Shave Massager

3-5-7mm Clipper Guards

Precision Clipper

Nose & Ear Trimmer
The deal: A quality shave doesn't have to be expensive. Get $30 off their most popular bundle and FREE U.S. shipping when you order today. It's an incredibly thoughtful gift of something you know they'll love, but probably wouldn't get for themselves!
#1: Hootie: The #1 personal safety alarm for women (give you and your loved ones peace of mind)
Heads up, we're about to talk about something serious:
Imagine you've been relaxing at home when a friend calls.
Someone seems to be following them.
Sure, it could be an innocent coincidence, but what if it's not?
You feel scared, helpless, and worried for your friend's safety.
Sadly, too many of us have experienced a situation just like this.
Hootie gives you peace of mind in scary situations.
It's a top-rated personal safety alarm that sends potential attackers on the run.
The pulsing strobe light and ultra-loud 130db siren pierce through the air like a jet engine.
It can be activated in a split second simply by pulling the cap.
Don't put yourself at risk of saying "what if" should a nightmare scenario happen to someone you love.
Protect them with Hootie.
The deal: Personal protection shouldn't break the bank. That's why their buy 3, get 2 FREE deal saves you $60. Get one for yourself and give the others to friends or family who often walk or hike alone.
#2: Bleame: Gift her the PAIN-FREE way to remove unwanted hair (without waxing)
Do you know someone who hates shaving?
(On second thought, that question might not narrow down your list much. 😁)
Most of us don't enjoy shaving, but laser hair removal is expensive and waxing HURTS.
This year, give them the gift of PAIN-FREE hair removal.
All they have to do is rub Bleame in a circular motion on any area of their body where they want hair removed.
The result?
Silky smooth, exfoliated skin without a trace of painful razor bumps.
Bleame's Nano-Crystalline technology even discourages FUTURE hair growth.
The deal: Are you interested in trying out Bleame for yourself, too? You're in luck! Today they're offering a buy 1, get 1 50% off special including free U.S. shipping!
#3: AquaPure: The easy way to remove 99.9% of pesticides from fruits and veggies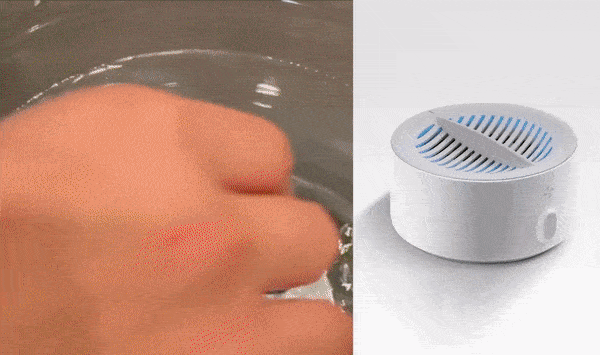 Is it me, or are fruits and vegetables getting bigger every year?
(When I was a kid, apples were half the size they are now!)
Something about grocery store produce sections just doesn't seem… natural anymore.
Fight back against the potentially harmful chemicals and fertilizers used to grow modern produce.
AquaPure removes 99.9% of nasty pesticides from your food.
Using it couldn't be easier!
Just grab a bowl, tap water, and salt — that's it!
AquaPure uses electrolysis to blast away the dirt you can see AND the bacteria you can't.
Get this for someone who loves eating fresh produce!
The deal: Only need one? You'll save $70 by purchasing from the link below. Want to use 1 or 2 as gifts? Take advantage of their limited-time buy 1, get 1 50% off sale!
#4: Omega DataCube: Automatically backup photos & videos while your phone is charging
We all have that friend who loves taking pictures.
(Even if they're not always the most flattering of us. 😏)
But what would happen if their favorite pictures disappeared from their phone?
Phones are lost, stolen, or just stop working ALL the time.
Are their photos and videos backed up, or would they be lost forever?

Help them out with Omega DataCube.
It's an ultra-simple storage solution that automatically backs up your photos while your phone is charging.
All they have to do is plug it into their existing charger and they can sleep easy knowing their photos and videos are backed up and SAFE.
P.S. Omega DataCube requires no technical expertise, so it's a great gift for someone of any age.
The deal: Getting this for someone with a ton of photos? The 128GB version can handle over 50,000 photos and videos! And right now, it's available for $50 off! (Each additional unit is 40% off, too, so you can save even more if you're getting more than one.)
#5: Alleyoop: This 4-in-1 makeup essential helps ladies get ready faster on the go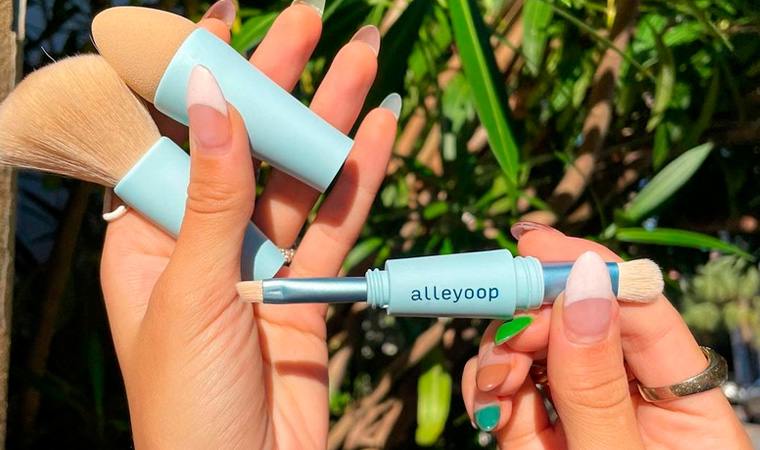 Hands up if you know someone who's ALWAYS running late…
(No shame if that's you!)
Putting on makeup before leaving the house takes a lot of time.
But what if it didn't have to?
The Alleyoop Multi-Tasker helps anyone get ready faster.
It combines 4 makeup essentials in one convenient tool:
A large angled brush perfect for blush, contour, and highlighting
A replaceable sponge for concealer
A rounded eyeshadow brush
A small angled brush for lining your eyes and defining your brows
The deal: Order now to grab one for you AND your best friends! Grommet readers have access to a special buy 2, get 1 FREE promotion with free U.S. shipping.
Explore these and dozens of other great gifts for him in Grommet's Holiday Gift Guide.
The Grommet may collect a share of sales if you decide to shop the products we feature online and inside of our newsletter. Prices are accurate and items in stock as of time of publication
Grommet | 20 N Oak Street Ventura, CA 93001 US
Text-only version of this email
Don't miss out on these hot gifts while they're still in stock  ‌ ‌ ‌ ‌ ‌ ‌ ‌ ‌ ‌ ‌ ‌ ‌ ‌ ‌ ‌ ‌ ‌ ‌ ‌ ‌ ‌ ‌ ‌ ‌ ‌ ‌ ‌ ‌ ‌ ‌ ‌ ‌ ‌ ‌ ‌ ‌ ‌ ‌ ‌ ‌ ‌ ‌ ‌ ‌ ‌ ‌ ‌ ‌ ‌ ‌ ‌ ‌ ‌ ‌ ‌ ‌ ‌ ‌ ‌ ‌ ‌ ‌ ‌ ‌ ‌ ‌ ‌ ‌ ‌ ‌ ‌ ‌  ‌ ‌ ‌ ‌ ‌ ‌ ‌ ‌ ‌ ‌ ‌ ‌ ‌ ‌ ‌ ‌ The Grommet Grommet Grommet Exclusive: Top 10 Gifts for Him Her C fwij Hey Grommet Fan! Why does it always seem like this time of year flies by? One second you're greeting trick or treaters and the next we're counting down from 10 on New Year's Eve! The holidays ALWAYS go by fast. That's why we wanted to send you a quick refresher on our 10 best-selling holiday gifts for him and for her, which you may have missed. (Some were so popular, their warehouses asked for more inventory ASAP to handle the surge in demand.) Don't let gift-giving season sneak up on you, see who you can cross off your list TODAY! Grommet Top 5 Giits for Hm T #1 Kailo: This drug-free patch targets his pain DIRECTLY (it works in 60 seconds)  Kailo Do you know someone who suffers from chronic pain? (Or maybe that's you??) Whether it's knee pain, back pain, or something in between, dealing with constant aches is no way to live. You and your loved ones shouldn't have to just "suck it up." Kailo can help! It's a patented, drug-free patch that goes directly on your body anywhere you're feeling pain. It contains zero medication and has absolutely no side effects. Kailo enhances your body's natural pain processes to MAXIMIZE pain relief and help you make it through your day.  Plus it's been proven to work in clinical trials. The deal: Give the men you love, or yourself, the gift of a pain-free life! Their most popular bundle is for a buy 2, get 1 FREE deal that includes 3 ultra-soft carrying cases for $0 extra. Or take an instant $20 off a single patch when you order today. Buy from Kailo #2 FlipFork: The 5-in-1 grilling tool that will turn him into the "King of the Grill" FlipFork "Back AWAY from the grill!" Does anyone else know a guy who takes grilling a little too seriously? Unfortunately, getting him the FlipFork may just make the problem worse. 😅 (But at least he'll be happy!) This 5-in-1 grilling machine is the ultimate gift for pro grillers. Its all-in-one design includes: * An extra-large spatula (perfect for turning t-bones) * A flipping fork * A razor-sharp knife * A meat tenderizer * A bottle opener (because flipping burgers requires maximum hydration) Getting him the FlipFork may not convince him to let you near the grill… But it will definitely let him know that you care! The deal: Unlike other gifts, each guy probably only needs one FlipFork to man the grill. But do you have any other grillers in your life who'd love something like this? If so, FlipFork has a buy 2, get 1 FREE deal which saves you nearly $25! Buy from FlipFork #3 Kelvin17: A 17-in-1 handyman gadget that dads love Kelvin Tools We all know someone who's THE go-to person whenever something needs to be fixed. Well, just imagine their face when they unwrap THIS! Kelvin17 is a wildly popular super tool that features: * A carbon steel hammer * Liquid level  * LED flashlight * 3 ft measuring tape * Flip-action screwdriver  * + MORE! Help the DIYer in your life clean up their messy toolbox and replace just about everything with this one simple tool. This truly is the gift for the guy who "already has everything" because he almost certainly doesn't have anything like Kelvin17. The deal: We've heard from many of you who've ordered more than one. Keep one in the shed, garage, car, and/or kitchen so it's always ready when you need it. To help you save even more, Kelvin Tools is running a buy 3, get 2 FREE promotion, which includes free U.S. shipping.  Buy from Kelvin Tools #4 GlowBowl: A motion-activated toilet light with a built-in air freshener GlowBowl ,.J Most guys are pretty good about putting the toilet seat back down. (We hope.) But aiming at night is a whole different story! Help them out with GlowBowl. Its advanced motion detection lights up the bowl WITHOUT waking anyone up. He'll no longer have to turn on the light during midnight bathroom runs, which will save his sleepy eyes from being flooded with light. Plus, the built-in air freshener will leave your bathroom smelling great. The best part? GlowBowl is a practical gift for him that benefits the entire family! The deal: GlowBowl is running some CRAZY deals right now including a buy 3, get 2 FREE special so you can put a GlowBowl in every toilet in the house. Buy from GlowBowl #5 Groomie: The go-to head shaving kit for the bald, beautiful men in our lives Groomie Bald = Beautiful! (It's true!)  Nothing is better than a handsome man with a freshly shaved head. But between shaving bumps and razor nicks, guys may not freshen up as often as they should. That won't be the case if you get them The BaldiePro™ Head Shaver from Groomie. It offers a silky smooth, shaving cream-free shave that will leave your man's head looking as clean and fresh as the day they leave the barber shop. The full kit includes: * BaldiePro™ Head Shaver * SmoothShave™ Blade * Exfoliation Brush * Pre-Shave Massager * 3-5-7mm Clipper Guards * Precision Clipper * Nose & Ear Trimmer The deal: A quality shave doesn't have to be expensive. Get $30 off their most popular bundle and FREE U.S. shipping when you order today. It's an incredibly thoughtful gift of something you know they'll love, but probably wouldn't get for themselves! Buy from Groomie Grommet Top 5 Giits for Her So Far IRAR #1: Hootie: The #1 personal safety alarm for women (give you and your loved ones peace of mind) Hootie Heads up, we're about to talk about something serious: Imagine you've been relaxing at home when a friend calls. Someone seems to be following them. Sure, it could be an innocent coincidence, but what if it's not? You feel scared, helpless, and worried for your friend's safety. Sadly, too many of us have experienced a situation just like this. Hootie gives you peace of mind in scary situations. It's a top-rated personal safety alarm that sends potential attackers on the run.   The pulsing strobe light and ultra-loud 130db siren pierce through the air like a jet engine. It can be activated in a split second simply by pulling the cap. Don't put yourself at risk of saying "what if" should a nightmare scenario happen to someone you love. Protect them with Hootie. The deal: Personal protection shouldn't break the bank. That's why their buy 3, get 2 FREE deal saves you $60. Get one for yourself and give the others to friends or family who often walk or hike alone. Buy from Hootie #2: Bleame: Gift her the PAIN-FREE way to remove unwanted hair (without waxing) Bleame Do you know someone who hates shaving? (On second thought, that question might not narrow down your list much. 😁) Most of us don't enjoy shaving, but laser hair removal is expensive and waxing HURTS. This year, give them the gift of PAIN-FREE hair removal. All they have to do is rub Bleame in a circular motion on any area of their body where they want hair removed. The result? Silky smooth, exfoliated skin without a trace of painful razor bumps.  Bleame's Nano-Crystalline technology even discourages FUTURE hair growth. The deal: Are you interested in trying out Bleame for yourself, too? You're in luck! Today they're offering a buy 1, get 1 50% off special including free U.S. shipping! Buy from Bleame #3: AquaPure: The easy way to remove 99.9% of pesticides from fruits and veggies AquaPure Is it me, or are fruits and vegetables getting bigger every year? (When I was a kid, apples were half the size they are now!) Something about grocery store produce sections just doesn't seem… natural anymore. Fight back against the potentially harmful chemicals and fertilizers used to grow modern produce. AquaPure removes 99.9% of nasty pesticides from your food. Using it couldn't be easier! Just grab a bowl, tap water, and salt — that's it! AquaPure uses electrolysis to blast away the dirt you can see AND the bacteria you can't. Get this for someone who loves eating fresh produce! The deal: Only need one? You'll save $70 by purchasing from the link below. Want to use 1 or 2 as gifts? Take advantage of their limited-time buy 1, get 1 50% off sale! Buy from AquaPure #4: Omega DataCube: Automatically backup photos & videos while your phone is charging  Omega We all have that friend who loves taking pictures. (Even if they're not always the most flattering of us. 😏) But what would happen if their favorite pictures disappeared from their phone? Phones are lost, stolen, or just stop working ALL the time. Are their photos and videos backed up, or would they be lost forever? Help them out with Omega DataCube. It's an ultra-simple storage solution that automatically backs up your photos while your phone is charging. All they have to do is plug it into their existing charger and they can sleep easy knowing their photos and videos are backed up and SAFE. P.S. Omega DataCube requires no technical expertise, so it's a great gift for someone of any age. The deal: Getting this for someone with a ton of photos? The 128GB version can handle over 50,000 photos and videos! And right now, it's available for $50 off! (Each additional unit is 40% off, too, so you can save even more if you're getting more than one.) Buy from Omega #5: Alleyoop: This 4-in-1 makeup essential helps ladies get ready faster on the go Alleyoop Hands up if you know someone who's ALWAYS running late… (No shame if that's you!) Putting on makeup before leaving the house takes a lot of time. But what if it didn't have to? The Alleyoop Multi-Tasker helps anyone get ready faster. It combines 4 makeup essentials in one convenient tool: * A large angled brush perfect for blush, contour, and highlighting * A replaceable sponge for concealer * A rounded eyeshadow brush * A small angled brush for lining your eyes and defining your brows The deal: Order now to grab one for you AND your best friends! Grommet readers have access to a special buy 2, get 1 FREE promotion with free U.S. shipping.  Buy from Alleyoop More Amazing Gifts for Everyone on Your List Presented by the Grommmet Holiday Gift Guide iwjf Explore these and dozens of other great gifts for him in Grommet's Holiday Gift Guide. Discover More Gifts for Him 👨 Discover More Gifts for Her 👩 facebook   YouTube   Instagram The Grommet may collect a share of sales if you decide to shop the products we feature online and inside of our newsletter. Prices are accurate and items in stock as of time of publication Grommet | 20 N Oak Street Ventura, CA 93001 US
Show all
The Latest Emails Sent By The Grommet
More Emails, Deals & Coupons From The Grommet
Email Offers, Discounts & Promos From Our Top Stores