Special Guest, USC's Joe Way - THIS Weds., April 26 - Webcast: High-Quality Live Production
SmartBrief sent this email to their subscribers on April 24, 2023.
ADVERTISEMENT


(Future)
Join the Discussion, Weds., April 26
From virtual production studios for classrooms and training rooms to broadcasting town halls, to corporate and sporting events, high-quality productions have become a necessity. This panel discusses products, solutions and best practices for ensuring quality recording and streaming. Video walls and projection mapping create engaging and memorable indoor and outdoor experiences.
REGISTER NOW!
Easily Bring AV Signals into Popular Software
Capturing HDMI or SDI signals over a USB 3.0 interface, Magewell's plug-and-play USB Capture devices are the easiest and most reliable way to bring AV sources into Windows®, macOS®, Linux®, and Chrome OS® software for streaming, video conferencing, lecture capture and much more. Learn more.
ADVERTISEMENT: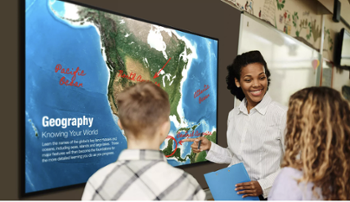 (Sharp NEC)
Introducing a new line of AQUOS BOARD displays for boardrooms and classrooms.
Full Story:
AV Network
(4/20)
New York legislators are pushing for increased funds for college students with disabilities. The proposed increase to $15 million per year would help provide adequate educators and equipment to ensure equity and success for the state's 86,000 students with disabilities in higher education.
Full Story:
WICU-TV/WSEE-TV (Erie, Pa.)
(4/21)

(Boston Globe/Getty Images)
Seattle schools, like others nationwide, blocked students from using ChatGPT in December on school-issued devices, but it may not be an effective approach, says Jason Yip, a professor at the University of Washington, who compares it to "using a piece of paper to block this flood that is coming."
Full Story:
The Seattle Times (tiered subscription model)
(4/23)
KSAL-AM/FM (Salina, Kan.)

(4/23)
The New York Times

(4/23)
Free eBooks and Resources
Free eBooks and resources brought to you by our sponsors
Sharing EduWire SmartBrief in Partnership with HETMA with your network keeps the quality of content high and these newsletters free.
Help Spread the Word
SHARE
Or copy and share your personalized link:
smartbrief.com/eduwire/?referrerId=ojmWxpWGsv
Doodling is a dot that leads to more dots to more ideas, that gel at some point. You never know where it's going to go.
Edward Koren,
cartoonist, illustrator


1935-2023
Future US LLC ©
Full 7th Floor, 130 West 42nd Street, New York, NY, 10036
Text-only version of this email
Created for
[email protected]
 |  Web Version April 24, 2023 eduwire SmartBrief in Partnership with HETMA eduwire HETMA SmartBrief Technology for Higher EducationSIGN UP ⋅   SHARE ADVERTISEMENT Extron Virtual Control is Here AV Control for 50 Rooms from a Single Device Extron Featured Story Special Guest, USC's Joe Way - THIS Weds., April 26 - Webcast: High-Quality Live Production Special Guest, USC's Joe Way - THIS Weds., April 26 - Webcast: High-Quality Live Production ; HIGH-QUALITY LIVE PRODUCTION Lo LIV (Future) Join the Discussion, Weds., April 26 From virtual production studios for classrooms and training rooms to broadcasting town halls, to corporate and sporting events, high-quality productions have become a necessity. This panel discusses products, solutions and best practices for ensuring quality recording and streaming. Video walls and projection mapping create engaging and memorable indoor and outdoor experiences. REGISTER NOW! LinkedIn Twitter Facebook Email Easily Bring AV Signals into Popular Software Capturing HDMI or SDI signals over a USB 3.0 interface, Magewell's plug-and-play USB Capture devices are the easiest and most reliable way to bring AV sources into Windows®, macOS®, Linux®, and Chrome OS® software for streaming, video conferencing, lecture capture and much more. Learn more. ADVERTISEMENT: Top Stories These Four New Sharp NEC Interactive Displays Enhance Collaboration These Four New Sharp NEC Interactive Displays Enhance Collaboration (Sharp NEC) Introducing a new line of AQUOS BOARD displays for boardrooms and classrooms. Full Story: AV Network (4/20)  LinkedIn Twitter Facebook Email N.Y. mulls special-education funding boost for colleges New York legislators are pushing for increased funds for college students with disabilities. The proposed increase to $15 million per year would help provide adequate educators and equipment to ensure equity and success for the state's 86,000 students with disabilities in higher education. Full Story: WICU-TV/WSEE-TV (Erie, Pa.) (4/21)  LinkedIn Twitter Facebook Email Are schools' ChatGPT bans effective? Are schools' ChatGPT bans effective? (Boston Globe/Getty Images) Seattle schools, like others nationwide, blocked students from using ChatGPT in December on school-issued devices, but it may not be an effective approach, says Jason Yip, a professor at the University of Washington, who compares it to "using a piece of paper to block this flood that is coming." Full Story: The Seattle Times (tiered subscription model) (4/23)  LinkedIn Twitter Facebook Email Industry Roundup * Gates: AI chatbots could help improve students' grades CNBC (4/22)  * $100K to go to music program at Bethany College KSAL-AM/FM (Salina, Kan.) (4/23)  * Why Those Super Low College Admissions Rates Can Be Misleading The New York Times (4/23)  Free eBooks and Resources Free eBooks and resources brought to you by our sponsors * 13 Android Tips & Tricks You Probably Didn't Know About * How to Start Your Own Successful Podcast * The Evolution of Music Consumption: How We Got Here * 2022 State of Streaming: Key Trends and Insights Across Video and Audio * On Air: Set Up Your Own Online Broadcast Sharing EduWire SmartBrief in Partnership with HETMA with your network keeps the quality of content high and these newsletters free. Help Spread the Word SHARE Or copy and share your personalized link: smartbrief.com/eduwire/?referrerId=ojmWxpWGsv Doodling is a dot that leads to more dots to more ideas, that gel at some point. You never know where it's going to go. Edward Koren, cartoonist, illustrator 1935-2023 LinkedIn Twitter Facebook Email CHARLES TYRWHITT JERMYN STREET LONDON INTRODUCTORY OFFER 3 Shirts or Polos for $99 SHOP NOW PLUS FREE SHIPPING SmartBrief publishes more than 200 free industry newsletters - Browse our portfolio Sign Up  |      |    Advertise with SmartBrief   |    CONTACT US: FEEDBACK  |    ADVERTISE Smart Future US LLC © Full 7th Floor, 130 West 42nd Street, New York, NY, 10036
Show all
The Latest Emails Sent By SmartBrief
More Emails, Deals & Coupons From SmartBrief
Email Offers, Discounts & Promos From Our Top Stores