The Monocle Weekend Edition – Sunday 2 July 2023
monocle.com sent this email to their subscribers on July 2, 2023.
London / Zürich / Toronto /
Los Angeles / Hong Kong / Tokyo
IN PARTNERSHIP WITH

Best of all worlds
This week we splash out on a new villa in Les Goudes at Marseille's beloved Tuba Club and stay at a nature-inspired hotel in Mallorca. We also recommend three fine bottles of wine to try this summer, meet the neighbourhood-making retailers bringing people together in Brentwood, Los Angeles, and rustle up a fuss-free take on ravioli. But first off, Tyler Brûlé tells us about a whirlwind week.
---
The faster lane /

Tyler Brûlé
Week of wonder
We start this Sunday by wishing our readers from St John's to Vancouver a very happy Canada Day weekend and – for those living south of the border – a happy early Fourth of July. Now that the pleasantries are out of the way, let's get down to business.
On Tuesday, I took the mid-morning TGV Lyria from Zürich to Paris. As I climbed the stairs to the upper deck of the carriage, a question came to mind. Aside from disputes over Taiwan, a fondness for detaining portions of their populations and an insatiable hunger for resources, what else do the world's two largest economies have in common? Their citizens have no idea how to pack, particularly for rail journeys at the height of summer. Do they think that they will never be able to return home because of an airstrike on Chengdu or a beach assault on San Diego? Is that why they are blocking aisles and platforms with their rolling trunks and wheeled backpacks? Or is there a more subtle explanation, such as the size of your luggage needing to match the scale of your economy? Cue the little old Swiss lady with a tiny duffel bag parked at her feet or the Portuguese couple that shares a Rimowa between them. Here is an idea: a masterclass series for Chinese and American travellers explaining the benefits of hotel laundry, the joys of mastering a pared-down personal style and the delights of boarding a high-speed train with minimal sweat and fluster.
On Wednesday, I found myself browsing the very well-stocked shelves of the kiosk in front of Le Bon Marché food hall on rue de Sèvres. The number of exquisite kiosks in France might be dwindling, with many turned into oversized, overly-lit refrigerators dispensing Coke Zero and tourist tat, but there are still plenty of gems to be found. This particular branch happens to be one of them. While they do a fine job making sure that Monocle and its sister publication, Konfekt, are front and centre, they do an even better job of ensuring that both frequent and infrequent visitors see the latest French releases. It only takes a light knowledge of the French newstrade to recognise that this is a nation still launching magazines. The new female-focused version of l'Etiquette is an outstanding addition to the market. It's also worth pointing out that the wonderfully executed Regain – a celebration of a very niche, modern take on French rural life – just celebrated its fifth anniversary.
Later in the day, I made it to rue Marseille. It's official: French men between the ages of 27 and 37 have the best summer style. On the street was a young chap (let's say he was 31) wearing a boxy white t-shirt, shortish beige shorts, cream mid-calf socks (pulled up, not slouchy) and brown Paraboot brogues. He sported a light tan and watched the neighbourhood go by with a cigarette in hand. He was pulling off the best look I have seen on my travels of late.
In the evening, in a tiny hidden courtyard off the fumoir of la Réserve hotel, Monocle and Konfekt were hosting summer drinks. "I didn't know this existed, how did you find it?" By the time we'd heard this from the fifth or 15th Parisian guest, we knew we were on to something; our little gathering of readers, designers, advertisers, writers and photographers was officially a success. Monsieur Reybier's properties do a very good job of creating unique and private places like this. We highly recommend them.
On Thursday morning, I left Paris. The Eurostar at Gare du Nord is a last-chance saloon at this time of day. Anyone who can figure out how to improve it deserves a Légion d'honneur, an OBE and a big fat cheque from the organisations that are currently running this shit-show. How do you say that in French?
After arriving in London, I made it to Midori House where sunny skies and a gentle breeze were blowing through the courtyard. It was the last stop on the Monocle and Konfekt summer-party tour – and what a night for it. Everyone was up for another glass (or bottle) of Domaine de l'Ile rosé (merci to our friends at Chanel!), a fresh intro to yet another handsome or pretty guest and maybe an invite to further festivities after. Monocle's social committee is taking a well-earned break for the next few weeks but it will be back in full swing for our event at Merano on 28 July. If you are in South Tirol next month then we look forward to seeing you on Via Dante.
---
Extended stay /

Tuba Club, Les Goudes, Marseille
Going coastal
In the few years since it opened, the Tuba Club in Les Goudes – a pretty, windswept fishing village just southeast of Marseille – has become a summer institution in France's second city (writes Annick Weber). Its founders, Marseillais restaurateur Greg Gassa and film producer Fabrice Denizot, saw the potential of the former swimming club to attract a smart, younger crowd.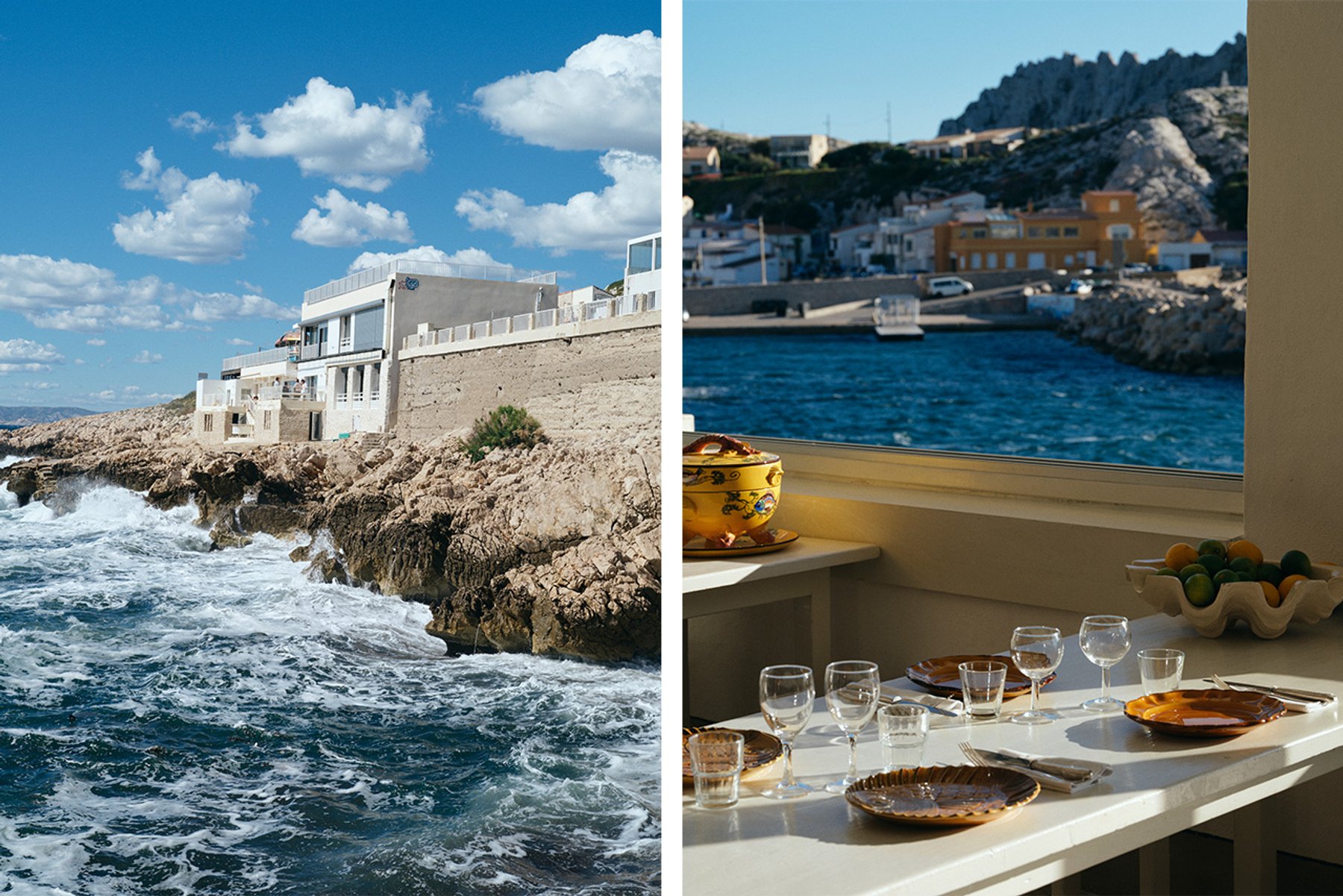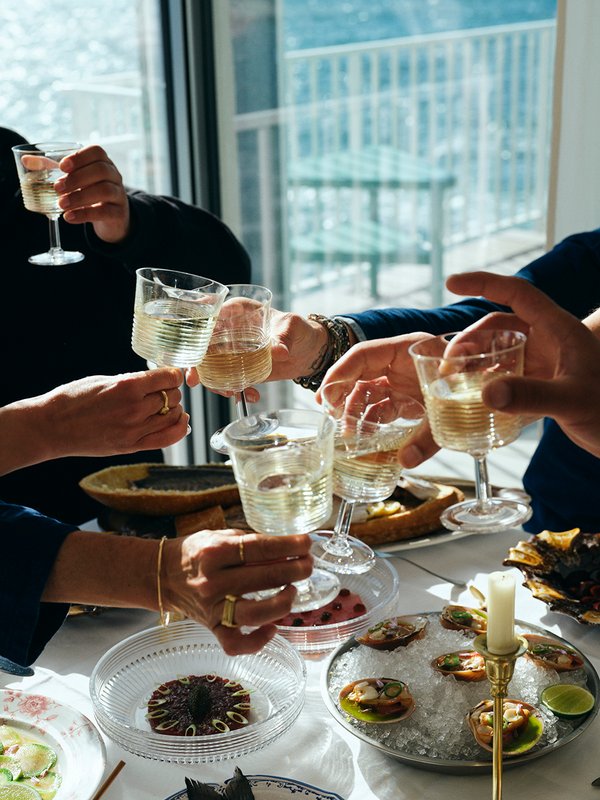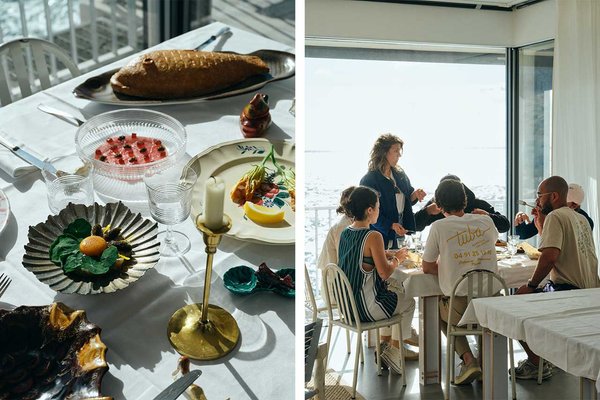 This season the Tuba Club's three new suites make their debut; housed in an extension above the original cabin, they're considerably more spacious than the five cabanon-style rooms. The new villa is the perfect place to dive in to chef Sylvain Roucayrol's magnificent cookery, which is best enjoyed as a private seafood feast for up to 12 diners in the ocean-facing living room.
tuba-club.com
For more on Marseille's first-class food scene, buy a copy of the July/August issue of Monocle, which is out now.
---
Neighbourhood business /

Brentwood Country Mart
Home comforts
In this new series, we profile businesses that are helping to bind their communities together. First stop: Brentwood, Los Angeles.
"Generations of customers have come through here," says Celia Goli, who has run the shoe repair shop at Brentwood Country Mart with her husband, Samir, for more than 40 years. The Country Mart, which opened in 1948, was once frequented by Elizabeth Taylor. Today it is home to barn-like boutiques for brands such as James Perse and Sid Mashburn.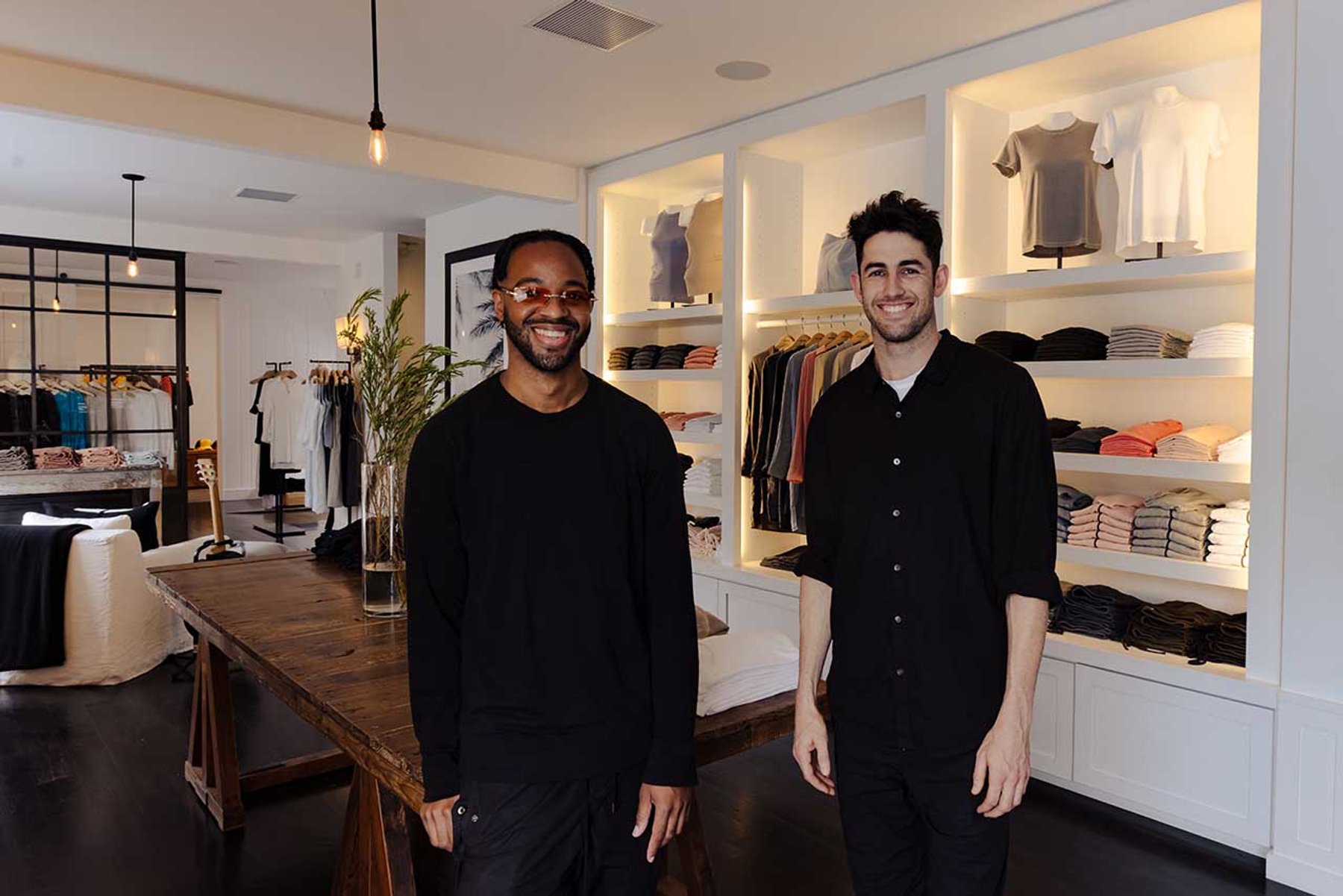 Alongside these labels are businesses that every neighbourhood needs: Lloyd's does a hot-towel shave and Farmshop is the place for pantry essentials and Sunday brunch. "Brentwood Country Mart is fast becoming a community centre," wrote the Los Angeles Examiner in 1953 – and so it has remained.brentwoodcountrymart.com
For more businesses every neighbourhood needs, pick up a copy of the July/August issue of Monocle. Or so you never miss an issue.
---
Sunday Roast /

Olivia Francis
Subtle arts
Olivia Francis, worked in advertising before founding her timeless menswear brand Hamilton + Hare in 2014. She then opened her flagship shop on Chiltern Street in Marylebone – not far from the Monocle Café – in 2016. Here, she tells us about fabric mills in Portugal, the joy of granola with plum compote and the virtues of mixing your drinks.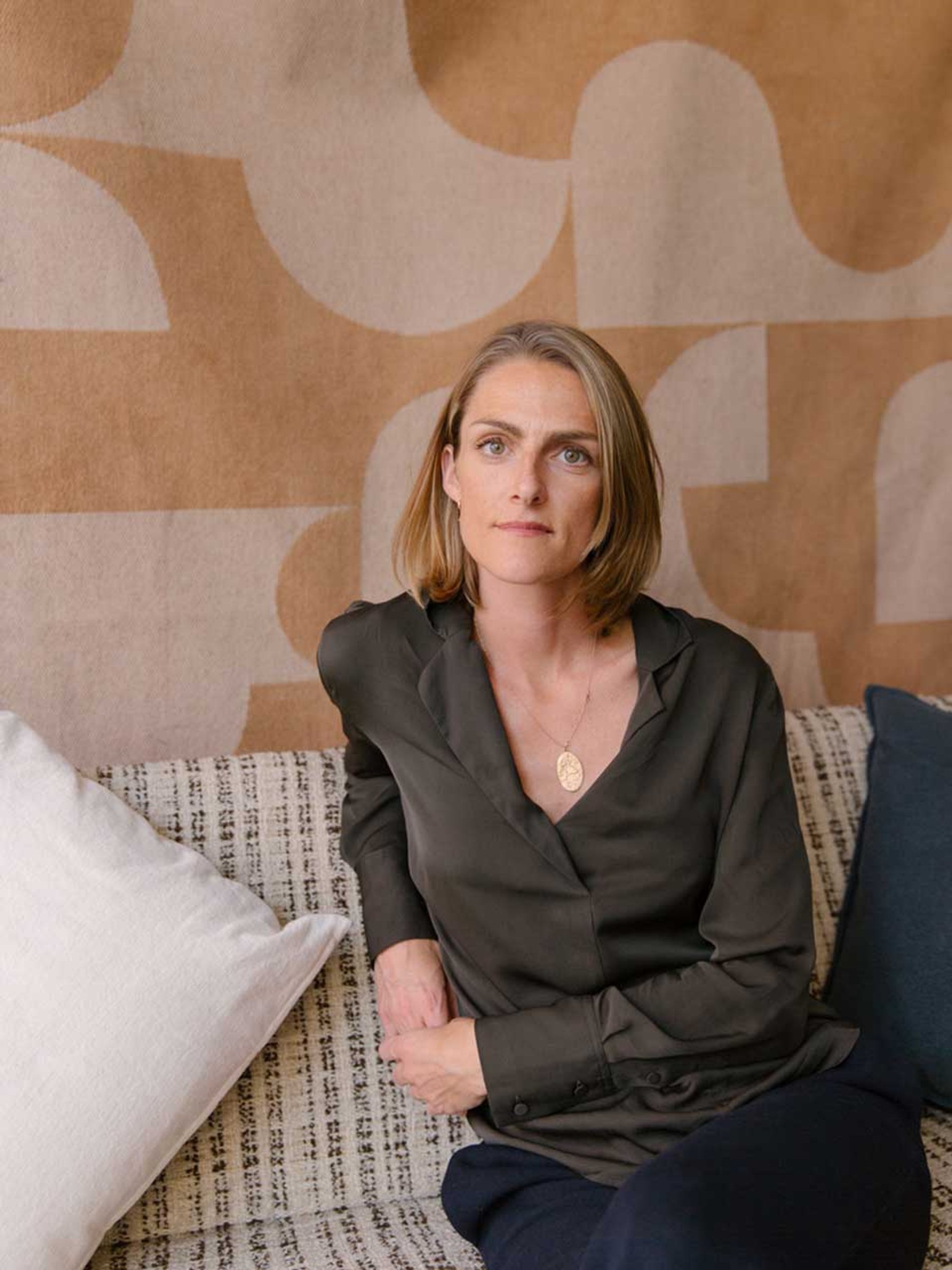 Where do we find you this weekend?
At home in Hampshire. Then I'm flying to Porto in the evening to visit our fabric mills for a few days.
What is your ideal way to begin a Sunday – a gentle start or a jolt?
A gentle start. But it's quite challenging with three young children, though recently, courtesy of Netflix, I do get a slower start on Sundays. My weekend luxury is a cup of tea and the newspapers in bed, followed by a morning run if I'm feeling energetic.
Downward dog or walk the dog?
Downward dog for me. Pets are not my thing but yoga definitely is.
What's for breakfast?
This question allows me to answer like a domestic goddess but it's literally the only thing of the sort that I do: I make my own granola and plum compote in large batches. The combination is delicious for breakfast with vanilla yoghurt. My husband has made it a condition of our marriage that we never run out.
A pantry essential?
I love a jar of shakshuka made by a small company called The Tomato Stall, which grows all of its tomatoes on the Isle of Wight. It's the most delicious dinner with spinach, eggs and some nice flatbreads, and you can have it on the table in five minutes.
A Sunday culture must?
I love going to art galleries. That's probably what I miss most about living in London. I enjoy the luxury of being able to wander into any number of galleries, often for free – though I often end up spending a fortune in their shops.
What's on the evening menu?
Some nutritionists might tell you that eating carbs in the evening is a terrible idea but I love pasta and find it hard not to have it every day. My favourite way to serve it right now is with fresh crabmeat, chilli and coriander.
A glass of something you recommend?
I love brandy and also champagne. There's a cocktail that was a favourite of my late father that combines the two, called a charlotta. You put a sugar cube in a glass, add a few drops of Angostura bitters and a splash of brandy, then top it up with champagne. It's delicious – and dangerous.
Any Sunday-evening routine?
We often get lovely sunsets. I try to take the time to watch it from our garden overlooking the fields.
Your soundtrack of choice?
I listen to a lot of music and always have several playlists on the go, one of which is an eclectic mix of Fleetwood Mac, Khruangbin and Pillowtalk, among others.
News or no news?
I read the supplements for pleasure and also the comment pieces, then pass off their wisdom as my own all week.
Will you lay out your outfit for Monday?
Yes. We are a family of outfit-layers. Mornings are always a bit rushed and sorting out what we're going to wear the night before takes a lot of the stress out of things. I also love clothes, so outfit planning is never a chore for me.
---
Recipe /

Ralph Schelling
Ricotta and marjoram ravioli
Our Swiss chef Ralph Schelling has whipped up a simple, fuss-free take on ravioli. Every pasta parcel is filled with a delicate combination of marjoram and ricotta, and finished with a garlicky tomatoes. Enjoy.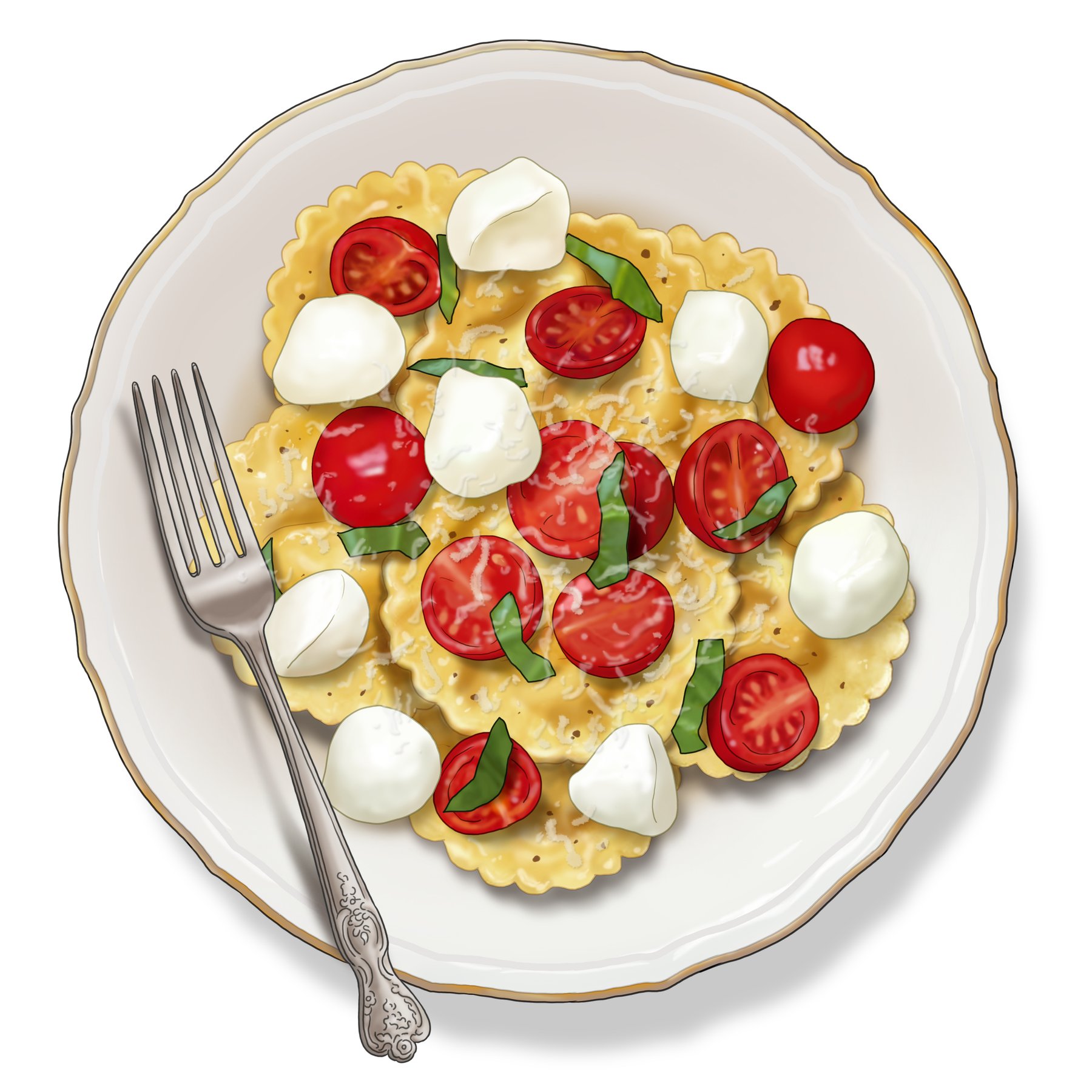 Serves 4 as a main
Ingredients
For the pasta:
300ml water
900g flour
For the sauce:
2 cloves garlic, peeled and chopped
3 tbsps olive oil
400g peeled cherry tomatoes
15g bunch of basil
1 tbsp butter
For the filling:
900g ricotta
140g parmesan cheese
2 eggs
15g bunch of marjoram leaves
Method
1
Begin with the dough for the pasta. Use a kettle or a small saucepan to bring the water to a boil.
2
Pour the flour onto a clean work surface. Use your hands to create a steep well in the middle of the flour. Carefully pour the boiling water into the well a little at a time and, using a fork, gradually mix the flour and water together until combined. Check that it's cool enough to touch and then knead for about 5 minutes. Let the dough rest while preparing the filling.
3
Now move on to the tomatoes. In a medium saucepan, fry the garlic in olive oil until golden brown. Add the tomatoes and leave them to sweat for 20 minutes while you assemble your pasta.
4
In another bowl, mix together the filling ingredients.
5
Using a rolling pin, flatten the pasta dough to a thickness of 2mm or 3mm. Cut in half to make two equal-sized pieces.
6
Place one sheet of dough on the work surface. Spoon small mounds of filling onto the sheet, leaving 2cm gaps between each. When finished, place the other sheet of dough on top and press the edges together with a fork to seal.
7
With a knife or pasta wheel, cut out every ravioli, using a little water to seal if required.
8
Bring a large pot of water to the boil. When it begins to bubble, add a handful of salt. Put the ravioli in and cook until done; they will float when they're ready.
9
Return to the medium saucepan and add the basil, butter and salt to the tomatoes. Stir until the ingredients have combined. Add the drained pasta and mix until it is well coated.
ralphschelling.com
---
All travel information at a glance, the latest updates on your trip direct to your mobile phone, quick answers from our Chat Assistant – all this and much more are yours with the SWISS app. In addition, your personal Travel ID provides numerous advantages when booking, checking-in and taking your trip. For example, personal details and preferences can be stored for future flights and, in the event of flight disruptions, notifications will be sent at the earliest opportunity. The travel ID also gives you access to all the digital channels from Lufthansa, Austrian Airlines and Brussels Airlines.
Download the SWISS app and register now for Travel ID.
On the case /

Wines of the week
Summer tipples
As well as breaking stories and meeting key political and urban leaders, Monocle's editors also keep an eye on the finer things in life. Our European editor at large, Ed Stocker, is a veteran of Italian wine fairs, from Verona's Vinitaly every April to smaller gatherings including the two-day Summa fair in South Tyrol. Here are three tips for tipples to try this summer.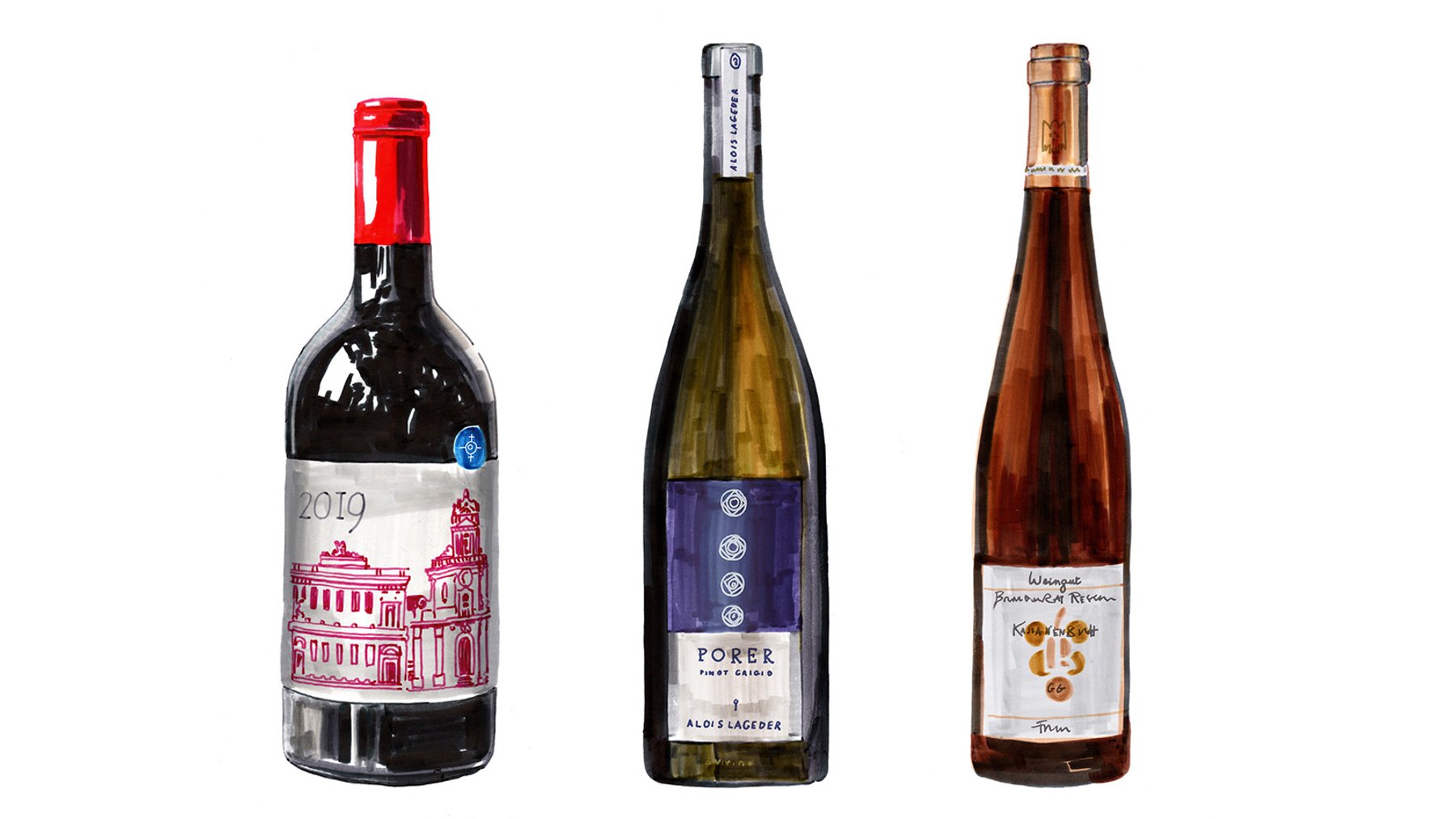 1
Cerasuolo di Vittoria 2019
Azienda Agricola Cos
A punchy Sicilian red with plenty of summer fruitiness.
2
Porer Pinot Grigio 2021
Alois Lageder
Pairing perfectly with seafood, this is a dry aromatic white from the slopes of South Tyrol.
3
Riesling Kastanienbusch GG 2017
Ökonomierat Rebholz
A crisp, zesty white from Germany with the Pfalz region's distinctive minerality.
---
Weekend plans? /

Hotel Corazón, Mallorca
Heart and soul
On the road from Sóller to Deià, just before it dips down to the sea, you'll find the newly opened Hotel Corazón, housed in a glorious finca with sublime views (writes Andrew Tuck). Finca hotels – and good ones – might not be rare in Mallorca but this venue is out to attract guests who want a slightly hippier, laid-back take on luxury. It's a place for people who like being surrounded by art and eating local food.
The hotel belongs to British fashion photographer Kate Bellm and her partner, multidisciplinary artist Edgar Lopez. As Bellm shows us around, it's clear how her skills as an in-demand photographer have helped to shape the project: she is used to organising complicated shoots for demanding clients, has a clear visual style and understands how to set a scene. She and Lopez have been grafting and not just overseeing the building's transformation. Lopez, for example, has been working on the gardens, planting cactuses and plants that can endure the dry summers.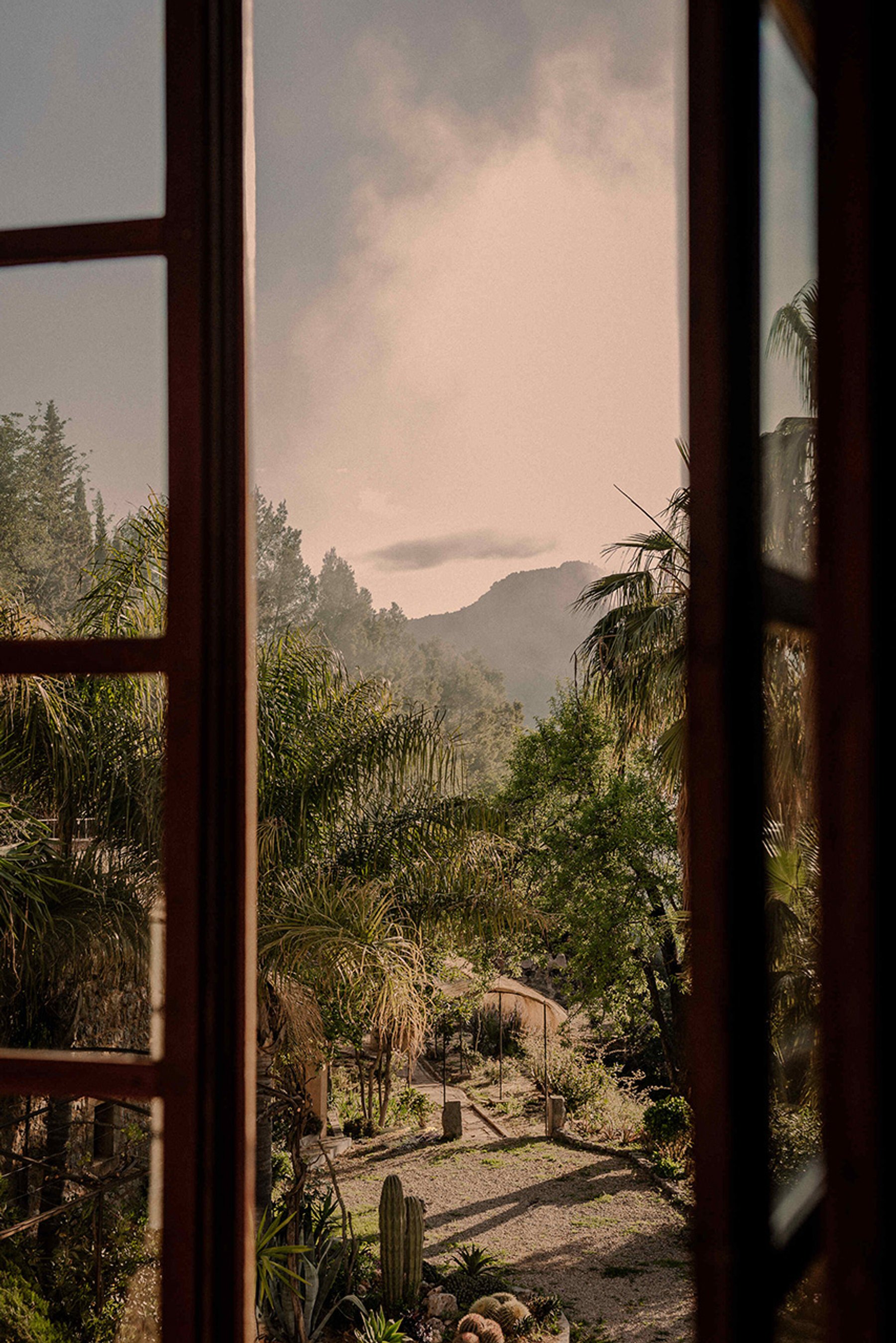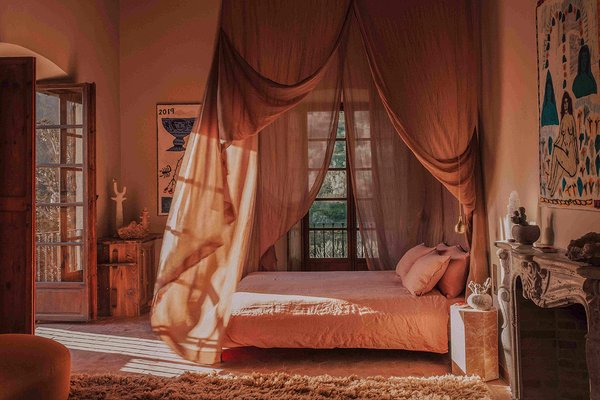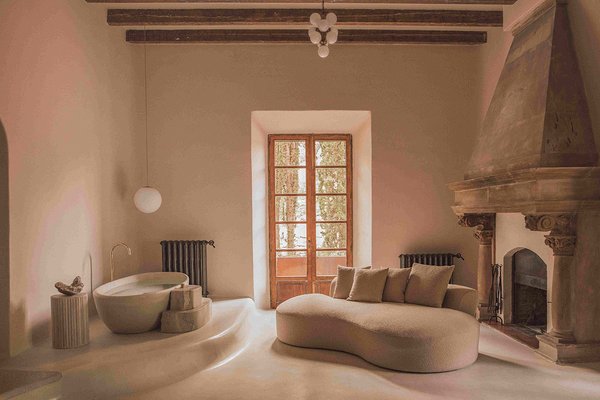 Inside the house, the rooms are all soft, organic shapes and smooth stone. "We curved everything – we hate square rooms," says Bellm. Colour has been unleashed too: pink and sage walls and bed linens are plentiful. "Our aesthetic is quite rock'n'roll but we, as people, are very into nature." In the design of the hotel, they have been aided by Moredesign, Deià-based architects known for their work across the Balearics. And the hotel has another appeal: Grace Berrow, the chef who started cult restaurant Patiki Beach in Port de Sóller, is running the kitchen and you can book to come here just for the food. There's a focus on ingredients from Mallorca; indeed, many are from the kitchen garden that Bellm has been busy planting.
Once a remote village and home to poet and writer Robert Graves, Deià has become a rich mix of the wealthy and the local. Yet, up in the mountains, it still retains a bohemian edge and a network of fascinating people. It's this sensibility that Hotel Corazón celebrates with flair.
hotelcorazon.com
---
Parting shot /

Monocle's perfect city
Living the dream
Our perfect city is at once a daydream and a rallying cry for people to consider their urban spaces more closely (writes Josh Fehnert). In our Quality of Life-themed July/August issue, which is out now, we have gathered 25 ideas from around the world to entertain and nudge architects, entrepreneurs and developers to delve deeper into what makes cities tick. To start with, here are three tips.
Space for refreshment
We have always looked admiringly at Lisbon's quiosques, where people congregate for a bica (Portuguese espresso) or a chilled suco de maçã (apple juice). Our ideal city has plenty of trees and a decent canopy under which to recline. Plus, there's sturdy wooden street furniture from Czech practice Mmcité on which to settle. There's a range of spaces in which people can leaf through a newspaper and natter with friends; in the square, you'll find children letting off steam. So many "must-see" city stop-offs are ho-hum – boring bits of infrastructure, rather than real places to meet. So what can be done to enliven squares, piazzas and pedestrianised areas? Somewhere to sit, some shade and something to sip. Simple.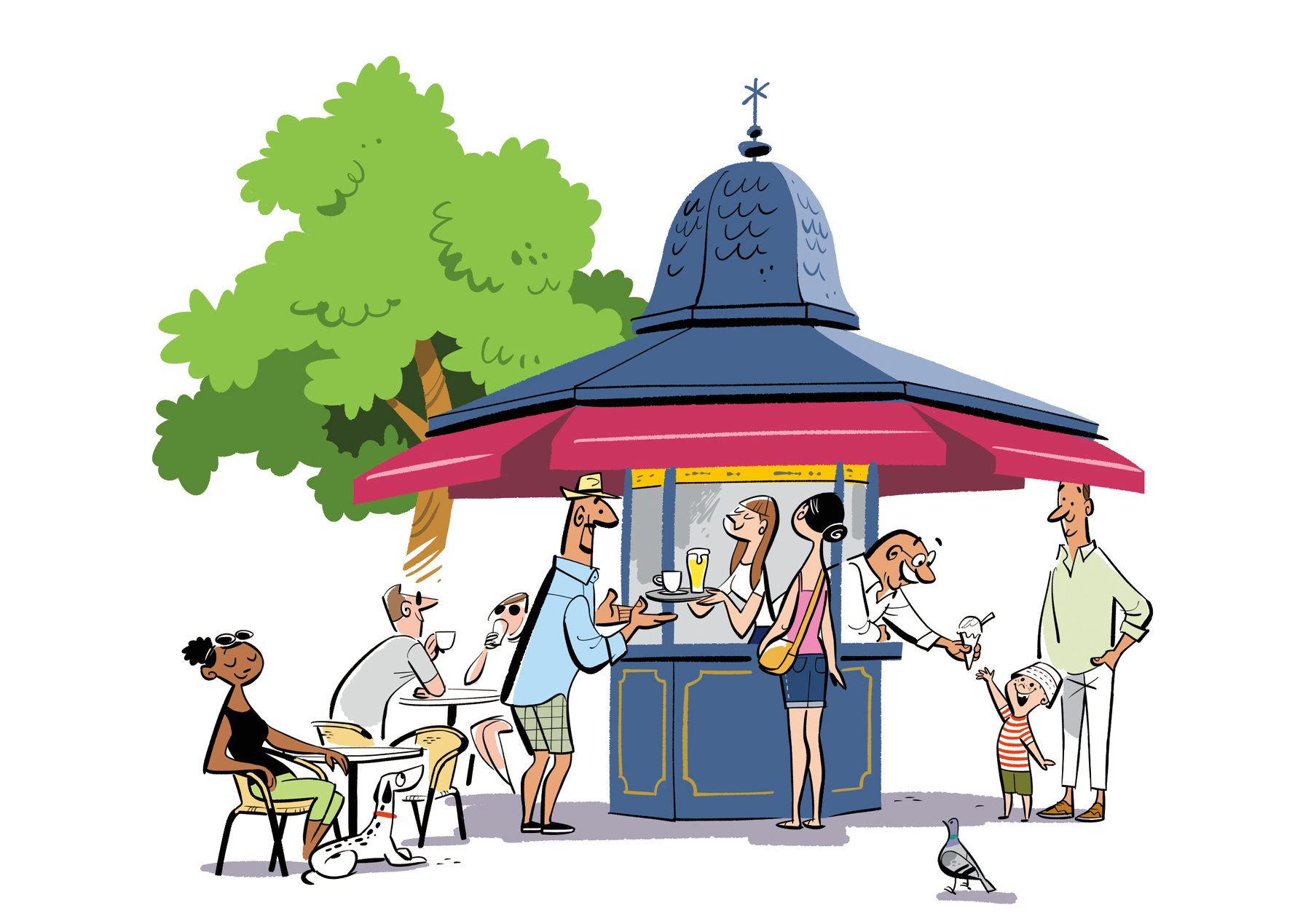 Somewhere to splash out
Not all cities are blessed with beautiful beaches. But having somewhere to strip off and take a dip can transform urban life and it's a great social leveller too. See how Stockholmers seek out secluded corners of Lake Mälaren and Varsovians clink glasses on the banks of the Vistula river – these are places to commune. Our ideal city has plenty of spots to paddle, from lidos to a lake and a clean harbour, plus a beach within a short hop. Water can cool tempers and combat the heat-island effect created by all of that concrete. There's also something transformative about the presence of water. A trip to Lake Zürich, Vienna's Gänsehäufel or Copenhagen's harbour on a hot day will cure you of your cynicism.
Gentle relief
When nature calls, good design should oblige and we're flush with ideas on this one. Our editors have been impressed by Tokyo's investment in public conveniences, which are clean, airy and always immaculately maintained, so you'll never be caught short. Our perfect city will start with a series of guest-designed loos by our favourite design studios. Toyo Ito could make one in the main park; David Chipperfield for the museum quarter; and why not Tosin Oshinowo and Isay Weinfeld for long list for stops on the main drag? You can say we're on a roll. Better public services are sorely missing in many cities – let's get to the bottom of it.
For more of our Quality of Life special, our top-20 cities to call home and plenty more sunny suggestions, pick up a copy of the July/August issue. Oh, and have a super Sunday.
---
newsletter /

join us
Welcome to our world
Has this been forwarded to you by a friend? Sign up to The Monocle Minute and Monocle Weekend Editions to receive your own bulletin of weekday news and weekend treats.
Images: Nathalie Mohadjer, Tracy Nguyen, Anna Malmberg. Illustration: Xiha, Holly Wales, Satoshi Hashimoto
from The Monocle Minute & Weekend Edition
To stop receiving all Monocle newsletters, please click here
This email is from Monocle whose registered office is at Midori House, 1 Dorset Street, London, W1U 4EG. You have received this email because you have previously provided us with your email address and subscribed to Monocle bulletins.
© 2023 Monocle.
Text-only version of this email
London / Zürich / Toronto / Los Angeles / Hong Kong / Tokyo Sunday. 02/07/23 Monocle Weekend Edition: Sunday IN PARTNERSHIP WITH SWISS Monocle BEST OF ALL WORLDS This week we splash out on a new villa in Les Goudes at Marseille's beloved Tuba Club and stay at a nature-inspired hotel in Mallorca. We also recommend three fine bottles of wine to try this summer, meet the neighbourhood-making retailers bringing people together in Brentwood, Los Angeles, and rustle up a fuss-free take on ravioli. But first off, Tyler Brûlé tells us about a whirlwind week. ---------------------------------------------------------------------------------------------------------------------------------- THE FASTER LANE / TYLER BRÛLÉ WEEK OF WONDER We start this Sunday by wishing our readers from St John's to Vancouver a very happy Canada Day weekend and – for those living south of the border – a happy early Fourth of July. Now that the pleasantries are out of the way, let's get down to business. On Tuesday, I took the mid-morning TGV Lyria from Zürich to Paris. As I climbed the stairs to the upper deck of the carriage, a question came to mind. Aside from disputes over Taiwan, a fondness for detaining portions of their populations and an insatiable hunger for resources, what else do the world's two largest economies have in common? Their citizens have no idea how to pack, particularly for rail journeys at the height of summer. Do they think that they will never be able to return home because of an airstrike on Chengdu or a beach assault on San Diego? Is that why they are blocking aisles and platforms with their rolling trunks and wheeled backpacks? Or is there a more subtle explanation, such as the size of your luggage needing to match the scale of your economy? Cue the little old Swiss lady with a tiny duffel bag parked at her feet or the Portuguese couple that shares a Rimowa between them. Here is an idea: a masterclass series for Chinese and American travellers explaining the benefits of hotel laundry, the joys of mastering a pared-down personal style and the delights of boarding a high-speed train with minimal sweat and fluster. On Wednesday, I found myself browsing the very well-stocked shelves of the kiosk in front of Le Bon Marché food hall on rue de Sèvres. The number of exquisite kiosks in France might be dwindling, with many turned into oversized, overly-lit refrigerators dispensing Coke Zero and tourist tat, but there are still plenty of gems to be found. This particular branch happens to be one of them. While they do a fine job making sure that Monocle and its sister publication, Konfekt, are front and centre, they do an even better job of ensuring that both frequent and infrequent visitors see the latest French releases. It only takes a light knowledge of the French newstrade to recognise that this is a nation still launching magazines. The new female-focused version of l'Etiquette is an outstanding addition to the market. It's also worth pointing out that the wonderfully executed Regain – a celebration of a very niche, modern take on French rural life – just celebrated its fifth anniversary. Later in the day, I made it to rue Marseille. It's official: French men between the ages of 27 and 37 have the best summer style. On the street was a young chap (let's say he was 31) wearing a boxy white t-shirt, shortish beige shorts, cream mid-calf socks (pulled up, not slouchy) and brown Paraboot brogues. He sported a light tan and watched the neighbourhood go by with a cigarette in hand. He was pulling off the best look I have seen on my travels of late. In the evening, in a tiny hidden courtyard off the fumoir of la Réserve hotel, Monocle and Konfekt were hosting summer drinks. "I didn't know this existed, how did you find it?" By the time we'd heard this from the fifth or 15th Parisian guest, we knew we were on to something; our little gathering of readers, designers, advertisers, writers and photographers was officially a success. Monsieur Reybier's properties do a very good job of creating unique and private places like this. We highly recommend them. On Thursday morning, I left Paris. The Eurostar at Gare du Nord is a last-chance saloon at this time of day. Anyone who can figure out how to improve it deserves a Légion d'honneur, an OBE and a big fat cheque from the organisations that are currently running this shit-show. How do you say that in French? After arriving in London, I made it to Midori House where sunny skies and a gentle breeze were blowing through the courtyard. It was the last stop on the Monocle and Konfekt summer-party tour – and what a night for it. Everyone was up for another glass (or bottle) of Domaine de l'Ile rosé (merci to our friends at Chanel!), a fresh intro to yet another handsome or pretty guest and maybe an invite to further festivities after. Monocle's social committee is taking a well-earned break for the next few weeks but it will be back in full swing for our event at Merano on 28 July. If you are in South Tirol next month then we look forward to seeing you on Via Dante. ---------------------------------------------------------------------------------------------------------------------------------- EXTENDED STAY / TUBA CLUB, LES GOUDES, MARSEILLE GOING COASTAL In the few years since it opened, the Tuba Club in Les Goudes – a pretty, windswept fishing village just southeast of Marseille – has become a summer institution in France's second city (writes Annick Weber). Its founders, Marseillais restaurateur Greg Gassa and film producer Fabrice Denizot, saw the potential of the former swimming club to attract a smart, younger crowd. This season the Tuba Club's three new suites make their debut; housed in an extension above the original cabin, they're considerably more spacious than the five cabanon-style rooms. The new villa is the perfect place to dive in to chef Sylvain Roucayrol's magnificent cookery, which is best enjoyed as a private seafood feast for up to 12 diners in the ocean-facing living room. tuba-club.com For more on Marseille's first-class food scene, buy a copy of the July/August issue of Monocle, which is out now. ---------------------------------------------------------------------------------------------------------------------------------- NEIGHBOURHOOD BUSINESS / BRENTWOOD COUNTRY MART HOME COMFORTS In this new series, we profile businesses that are helping to bind their communities together. First stop: Brentwood, Los Angeles. "Generations of customers have come through here," says Celia Goli, who has run the shoe repair shop at Brentwood Country Mart with her husband, Samir, for more than 40 years. The Country Mart, which opened in 1948, was once frequented by Elizabeth Taylor. Today it is home to barn-like boutiques for brands such as James Perse and Sid Mashburn. Alongside these labels are businesses that every neighbourhood needs: Lloyd's does a hot-towel shave and Farmshop is the place for pantry essentials and Sunday brunch. "Brentwood Country Mart is fast becoming a community centre," wrote the Los Angeles Examiner in 1953 – and so it has remained.brentwoodcountrymart.com For more businesses every neighbourhood needs, pick up a copy of the July/August issue of Monocle. Or so you never miss an issue. ---------------------------------------------------------------------------------------------------------------------------------- SPONSORED BY SWISS ---------------------------------------------------------------------------------------------------------------------------------- SUNDAY ROAST / OLIVIA FRANCIS SUBTLE ARTS Olivia Francis, worked in advertising before founding her timeless menswear brand Hamilton + Hare in 2014. She then opened her flagship shop on Chiltern Street in Marylebone – not far from the Monocle Café – in 2016. Here, she tells us about fabric mills in Portugal, the joy of granola with plum compote and the virtues of mixing your drinks. Where do we find you this weekend? At home in Hampshire. Then I'm flying to Porto in the evening to visit our fabric mills for a few days. What is your ideal way to begin a Sunday – a gentle start or a jolt? A gentle start. But it's quite challenging with three young children, though recently, courtesy of Netflix, I do get a slower start on Sundays. My weekend luxury is a cup of tea and the newspapers in bed, followed by a morning run if I'm feeling energetic. Downward dog or walk the dog? Downward dog for me. Pets are not my thing but yoga definitely is. What's for breakfast? This question allows me to answer like a domestic goddess but it's literally the only thing of the sort that I do: I make my own granola and plum compote in large batches. The combination is delicious for breakfast with vanilla yoghurt. My husband has made it a condition of our marriage that we never run out. A pantry essential? I love a jar of shakshuka made by a small company called The Tomato Stall, which grows all of its tomatoes on the Isle of Wight. It's the most delicious dinner with spinach, eggs and some nice flatbreads, and you can have it on the table in five minutes. A Sunday culture must? I love going to art galleries. That's probably what I miss most about living in London. I enjoy the luxury of being able to wander into any number of galleries, often for free – though I often end up spending a fortune in their shops. What's on the evening menu? Some nutritionists might tell you that eating carbs in the evening is a terrible idea but I love pasta and find it hard not to have it every day. My favourite way to serve it right now is with fresh crabmeat, chilli and coriander. A glass of something you recommend? I love brandy and also champagne. There's a cocktail that was a favourite of my late father that combines the two, called a charlotta. You put a sugar cube in a glass, add a few drops of Angostura bitters and a splash of brandy, then top it up with champagne. It's delicious – and dangerous. Any Sunday-evening routine? We often get lovely sunsets. I try to take the time to watch it from our garden overlooking the fields. Your soundtrack of choice? I listen to a lot of music and always have several playlists on the go, one of which is an eclectic mix of Fleetwood Mac, Khruangbin and Pillowtalk, among others. News or no news? I read the supplements for pleasure and also the comment pieces, then pass off their wisdom as my own all week. Will you lay out your outfit for Monday? Yes. We are a family of outfit-layers. Mornings are always a bit rushed and sorting out what we're going to wear the night before takes a lot of the stress out of things. I also love clothes, so outfit planning is never a chore for me. ---------------------------------------------------------------------------------------------------------------------------------- RECIPE / RALPH SCHELLING RICOTTA AND MARJORAM RAVIOLI Our Swiss chef Ralph Schelling has whipped up a simple, fuss-free take on ravioli. Every pasta parcel is filled with a delicate combination of marjoram and ricotta, and finished with a garlicky tomatoes. Enjoy. Serves 4 as a main Ingredients For the pasta: 300ml water 900g flour For the sauce: 2 cloves garlic, peeled and chopped 3 tbsps olive oil 400g peeled cherry tomatoes 15g bunch of basil 1 tbsp butter For the filling: 900g ricotta 140g parmesan cheese 2 eggs 15g bunch of marjoram leaves Method 1 Begin with the dough for the pasta. Use a kettle or a small saucepan to bring the water to a boil. 2 Pour the flour onto a clean work surface. Use your hands to create a steep well in the middle of the flour. Carefully pour the boiling water into the well a little at a time and, using a fork, gradually mix the flour and water together until combined. Check that it's cool enough to touch and then knead for about 5 minutes. Let the dough rest while preparing the filling. 3 Now move on to the tomatoes. In a medium saucepan, fry the garlic in olive oil until golden brown. Add the tomatoes and leave them to sweat for 20 minutes while you assemble your pasta. 4 In another bowl, mix together the filling ingredients. 5 Using a rolling pin, flatten the pasta dough to a thickness of 2mm or 3mm. Cut in half to make two equal-sized pieces. 6 Place one sheet of dough on the work surface. Spoon small mounds of filling onto the sheet, leaving 2cm gaps between each. When finished, place the other sheet of dough on top and press the edges together with a fork to seal. 7 With a knife or pasta wheel, cut out every ravioli, using a little water to seal if required. 8 Bring a large pot of water to the boil. When it begins to bubble, add a handful of salt. Put the ravioli in and cook until done; they will float when they're ready. 9 Return to the medium saucepan and add the basil, butter and salt to the tomatoes. Stir until the ingredients have combined. Add the drained pasta and mix until it is well coated. ralphschelling.com ---------------------------------------------------------------------------------------------------------------------------------- SWISS   MONOCLE All travel information at a glance, the latest updates on your trip direct to your mobile phone, quick answers from our Chat Assistant – all this and much more are yours with the SWISS app. In addition, your personal Travel ID provides numerous advantages when booking, checking-in and taking your trip. For example, personal details and preferences can be stored for future flights and, in the event of flight disruptions, notifications will be sent at the earliest opportunity. The travel ID also gives you access to all the digital channels from Lufthansa, Austrian Airlines and Brussels Airlines. Download the SWISS app and register now for Travel ID.  discover more ON THE CASE / WINES OF THE WEEK SUMMER TIPPLES As well as breaking stories and meeting key political and urban leaders, Monocle's editors also keep an eye on the finer things in life. Our European editor at large, Ed Stocker, is a veteran of Italian wine fairs, from Verona's Vinitaly every April to smaller gatherings including the two-day Summa fair in South Tyrol. Here are three tips for tipples to try this summer. ALoIs LAGEIER @ ALOIS LAGEDER 1 Cerasuolo di Vittoria 2019 Azienda Agricola Cos A punchy Sicilian red with plenty of summer fruitiness. 2 Porer Pinot Grigio 2021 Alois Lageder Pairing perfectly with seafood, this is a dry aromatic white from the slopes of South Tyrol. 3 Riesling Kastanienbusch GG 2017 Ökonomierat Rebholz A crisp, zesty white from Germany with the Pfalz region's distinctive minerality. ---------------------------------------------------------------------------------------------------------------------------------- WEEKEND PLANS? / HOTEL CORAZÓN, MALLORCA HEART AND SOUL On the road from Sóller to Deià, just before it dips down to the sea, you'll find the newly opened Hotel Corazón, housed in a glorious finca with sublime views (writes Andrew Tuck). Finca hotels – and good ones – might not be rare in Mallorca but this venue is out to attract guests who want a slightly hippier, laid-back take on luxury. It's a place for people who like being surrounded by art and eating local food. The hotel belongs to British fashion photographer Kate Bellm and her partner, multidisciplinary artist Edgar Lopez. As Bellm shows us around, it's clear how her skills as an in-demand photographer have helped to shape the project: she is used to organising complicated shoots for demanding clients, has a clear visual style and understands how to set a scene. She and Lopez have been grafting and not just overseeing the building's transformation. Lopez, for example, has been working on the gardens, planting cactuses and plants that can endure the dry summers. Inside the house, the rooms are all soft, organic shapes and smooth stone. "We curved everything – we hate square rooms," says Bellm. Colour has been unleashed too: pink and sage walls and bed linens are plentiful. "Our aesthetic is quite rock'n'roll but we, as people, are very into nature." In the design of the hotel, they have been aided by Moredesign, Deià-based architects known for their work across the Balearics. And the hotel has another appeal: Grace Berrow, the chef who started cult restaurant Patiki Beach in Port de Sóller, is running the kitchen and you can book to come here just for the food. There's a focus on ingredients from Mallorca; indeed, many are from the kitchen garden that Bellm has been busy planting. Once a remote village and home to poet and writer Robert Graves, Deià has become a rich mix of the wealthy and the local. Yet, up in the mountains, it still retains a bohemian edge and a network of fascinating people. It's this sensibility that Hotel Corazón celebrates with flair. hotelcorazon.com ---------------------------------------------------------------------------------------------------------------------------------- PARTING SHOT / MONOCLE'S PERFECT CITY LIVING THE DREAM Our perfect city is at once a daydream and a rallying cry for people to consider their urban spaces more closely (writes Josh Fehnert). In our Quality of Life-themed July/August issue, which is out now, we have gathered 25 ideas from around the world to entertain and nudge architects, entrepreneurs and developers to delve deeper into what makes cities tick. To start with, here are three tips. Space for refreshment We have always looked admiringly at Lisbon's quiosques, where people congregate for a bica (Portuguese espresso) or a chilled suco de maçã (apple juice). Our ideal city has plenty of trees and a decent canopy under which to recline. Plus, there's sturdy wooden street furniture from Czech practice Mmcité on which to settle. There's a range of spaces in which people can leaf through a newspaper and natter with friends; in the square, you'll find children letting off steam. So many "must-see" city stop-offs are ho-hum – boring bits of infrastructure, rather than real places to meet. So what can be done to enliven squares, piazzas and pedestrianised areas? Somewhere to sit, some shade and something to sip. Simple. Somewhere to splash out Not all cities are blessed with beautiful beaches. But having somewhere to strip off and take a dip can transform urban life and it's a great social leveller too. See how Stockholmers seek out secluded corners of Lake Mälaren and Varsovians clink glasses on the banks of the Vistula river – these are places to commune. Our ideal city has plenty of spots to paddle, from lidos to a lake and a clean harbour, plus a beach within a short hop. Water can cool tempers and combat the heat-island effect created by all of that concrete. There's also something transformative about the presence of water. A trip to Lake Zürich, Vienna's Gänsehäufel or Copenhagen's harbour on a hot day will cure you of your cynicism. Gentle relief When nature calls, good design should oblige and we're flush with ideas on this one. Our editors have been impressed by Tokyo's investment in public conveniences, which are clean, airy and always immaculately maintained, so you'll never be caught short. Our perfect city will start with a series of guest-designed loos by our favourite design studios. Toyo Ito could make one in the main park; David Chipperfield for the museum quarter; and why not Tosin Oshinowo and Isay Weinfeld for long list for stops on the main drag? You can say we're on a roll. Better public services are sorely missing in many cities – let's get to the bottom of it. For more of our Quality of Life special, our top-20 cities to call home and plenty more sunny suggestions, pick up a copy of the July/August issue. Oh, and have a super Sunday. ---------------------------------------------------------------------------------------------------------------------------------- NEWSLETTER / JOIN US WELCOME TO OUR WORLD Has this been forwarded to you by a friend? Sign up to The Monocle Minute and Monocle Weekend Editions to receive your own bulletin of weekday news and weekend treats.  sign up now   Feedback? get in touch   Read this email online   Manage Newsletters   Share on Twitter   Share on LinkedIn Images: Nathalie Mohadjer, Tracy Nguyen, Anna Malmberg. Illustration: Xiha, Holly Wales, Satoshi Hashimoto  from The Monocle Minute & Weekend Edition To stop receiving all Monocle newsletters, please click here This email is from Monocle whose registered office is at Midori House, 1 Dorset Street, London, W1U 4EG. You have received this email because you have previously provided us with your email address and subscribed to Monocle bulletins. © 2023 Monocle. M
Show all
The Latest Emails Sent By monocle.com
More Emails, Deals & Coupons From monocle.com
Email Offers, Discounts & Promos From Our Top Stores