The Monocle Weekend Edition – Saturday 23 September 2023
monocle.com sent this email to their subscribers on September 23, 2023.
London | Zürich | Milan | Tokyo |

Bangkok | Singapore | Los Angeles
All change
Want to dress like an Italian? Head to Milan, where ladies of a certain age are proving that dressing well isn't only the preserve of the young. Plus: we get the inside story on the auction of a French author's works and make a case for Toronto picnics before the weather turns cold. But first, Andrew Tuck with a departure from the summer season – and the friends that come with it.
---
The opener

|

Andrew Tuck
Last of the summer wine
I have two colleagues whose names I will not reveal for fear of offending them. Oh, OK, Josh Fehnert and Tom Edwards. Over the years they have perfected the art of what I believe you can still call the "French exit". Though given Josh's heritage, he says that he's a proud player of the "Irish exit". You know the type: one minute the life and soul of the party; the next – vanished. And not for fear of paying for a drink; just not keen on the old goodbyes.
At Monocle's recent Quality of Life Conference in Munich, they both somehow managed to drift away like flotsam on the night's tide, leaving everyone with the impression that they must be somewhere around, that we just couldn't quite see them at that point. While people who should know better were attempting audacious dancefloor manoeuvres, they were already tucked up in bed in their pyjamas, facemasks on, big Ted tucked under one arm (as in teddy, not Mr T Edwards). Look, I get it. I had a mother who conducted 90 per cent of her evening's social chit-chat while putting on her coat and saying her goodbyes. Often you would find it easier to give in, park your bum and have another vol-au-vent.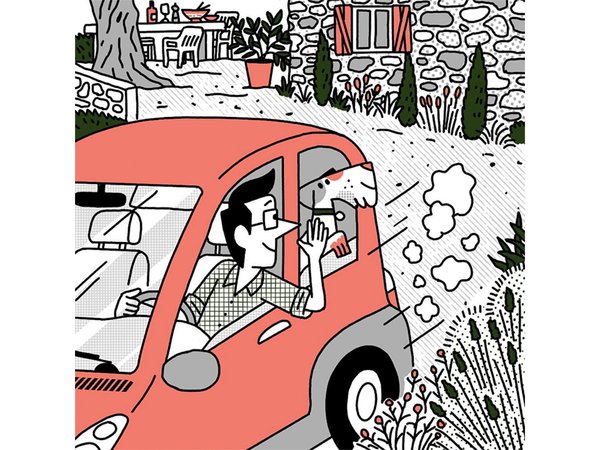 Last summer, a friend and his partner sent an email inviting us to come and stay with them in the south of France for a few days. It was a suggestion that they had sent to a large group of their friends and the idea was that various waves of people would come and go, overlapping, perhaps disappearing off on other French adventures. Our friend said that the invitation was to "celebrate life and making it through". Four of us – my partner David and I, friends Paul and Peter – took the train to Avignon and then picked up a car and headed into the sun-baked countryside.
Our friends had rented a large house with a pool. There was a long table under the shade of a tree where we had breakfast, ate dinners cooked together (not to be trusted, I was on napkin-folding duty), opened one more bottle of rosé. There were competitive Wordle sessions, magazines, boules, music, summer heat, excursions, a dog, siestas and fields of lavender.
How many summers? Say you will get 80 in your life; now deduct the ones that you have already had. Summers should not be wasted. Sure, people remember particular winters, usually because they were tough, or perhaps a spring that delivered change. But summers are there to be bottled, with corks jammed into their necks come the first whisper of autumn, then put away safely to be savoured another day.
On Monday I messaged Paul, who is just a better person than me – always there for everyone – because I knew that he would know what was best. "Do you think it would be OK to send an email?" I asked. "They'd appreciate that," he texted. The next morning, he messaged me again. Our host, the man on that sun-baked terrace, had died in the night.
His story is not mine to tell but I have been thinking all week about that gesture, that invitation. About gatherings and farewells. About a very different type of French exit. About finding time to say goodbye. Of summer vintages.
---
The Look

|

'Sciure'
Style for the ages
Since going to Milan at the end of August to report on sciure – a mythical aristocratic breed of stylish older women who are endemic to the Italian city – I have been feeling inspired to make more of an effort with my office outfits and step up my sartorial game (writes Grace Charlton). Meeting these high priestesses of taste confirmed some base truths that are always worth reminding yourself of: trust your own taste, purchase items for longevity and avoid ripped jeans at all costs.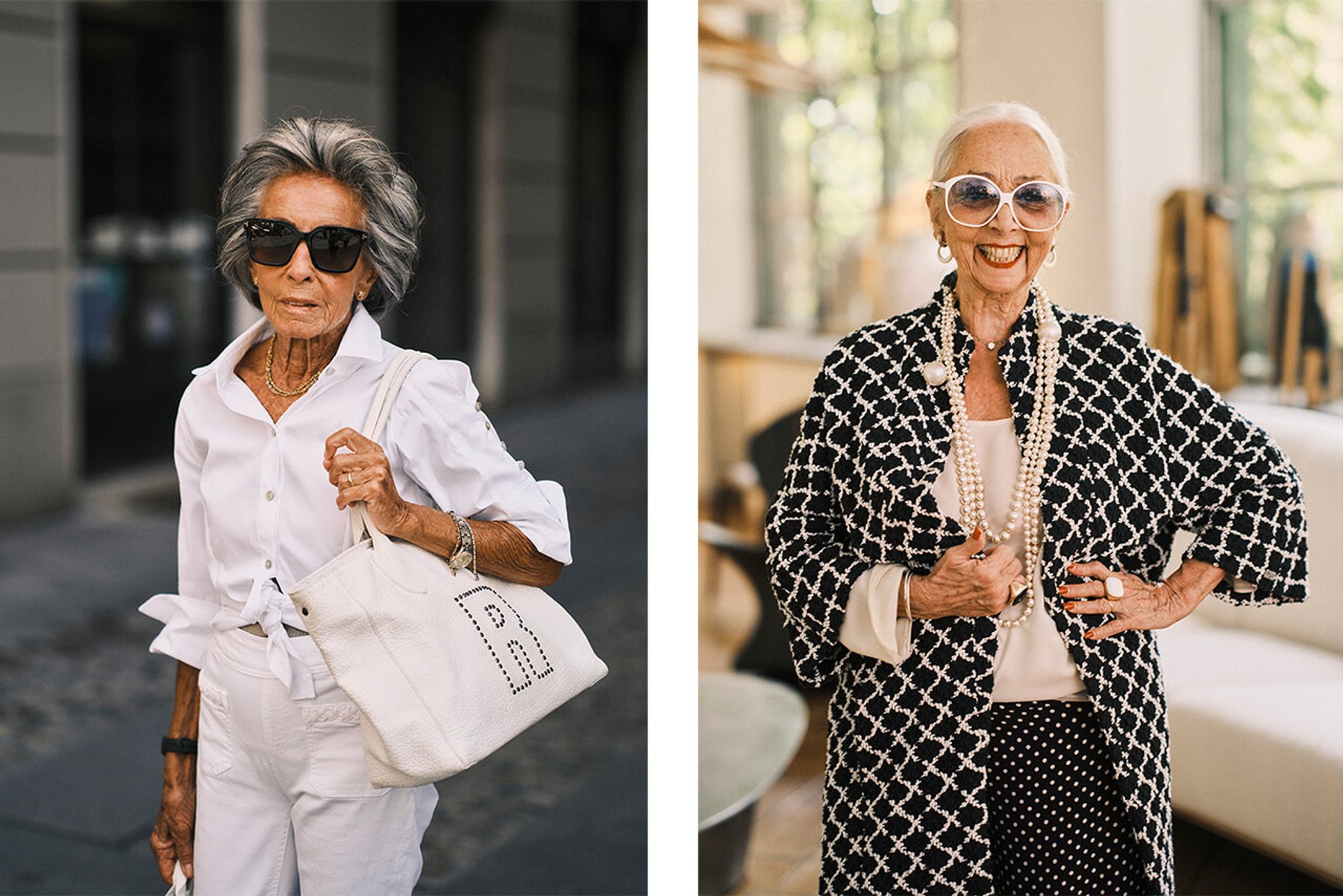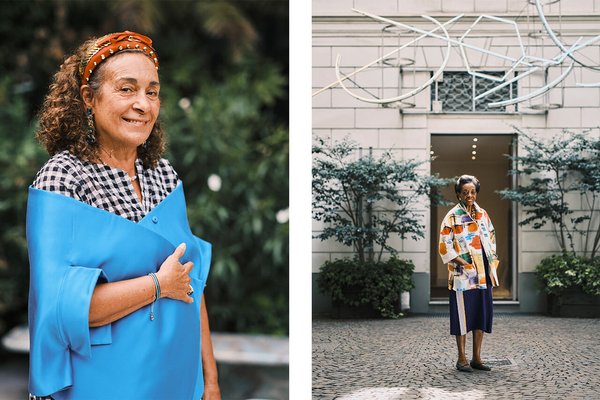 Luckily, I parted with slashed denim for good years ago but the wisdom of these women has influenced me to reach for shirts, loafers and accessories such as silk scarves and sunglasses. On the streets of the Milanese neighbourhood of Brera, I spotted silky blouses, gold doorknocker earrings and kitten heels that exuded perennial chicness. As many of these women preached, dressing well is a sign of respect for yourself and the people around you.
For Monocle's full Expo on the 'sciure' of Milan, pick up a copy of our October issue, which is available on newsstands now.
---
How we live

|

Park drinking
Raise a glass
Picnic season has been a perky affair in Toronto's public parks this summer thanks, in part, to a loosening of the laws that have long prohibited the city's residents from, well, getting a little loose (writes Tomos Lewis). Pairing a picnic spread with an alcoholic tipple or two has, for the first time, been legalised in 27 of Toronto's public green spaces as part of a pilot project launched by city hall, which runs until 9 October. Despite opponents' predictions that Biblical-scale upheaval would follow the permitting of corks to be popped or cans to be cracked in public, the results have been merry.
Toronto has long clutched its pearls when it comes to allowing its residents to drink outdoors – a remnant of its puritan past. It was as recent as the year 2000 that the last remaining "dry" neighbourhood was finally permitted to sell alcohol. The city's unofficial nickname is, after all, the piously pleasant "Toronto the good" rather than "Toronto the fun".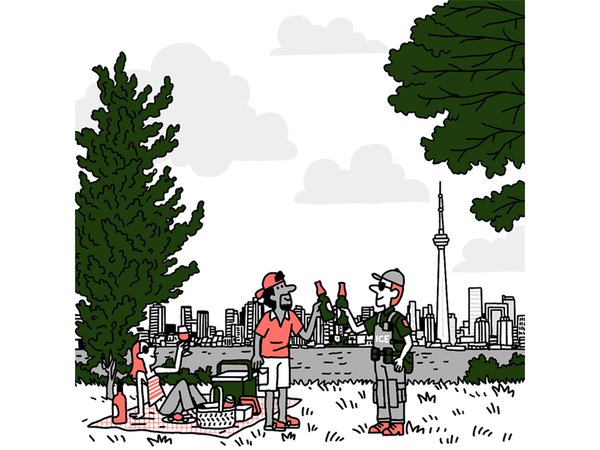 The lifting of the familiar spectre of a police officer looming over you, penalty notice in hand, as you sneakily sip a beer has not only lifted spirits but has also given park-goers an additional excuse to pick up bottles by the region's independent drink-makers; a burgeoning roster that has blossomed since the easing of Ontario's rigid alcohol-sales rules during the coronavirus pandemic.
If you're in the city this weekend, where a final flush of warmth has been forecast, pop to your nearest bottle shop (Grape Witches or I Deal Coffee are good places to try) and head to a park to toast the end of summer – and the simple pleasure of being able to do so in Toronto's great outdoors.
---
Brioni MONOCLE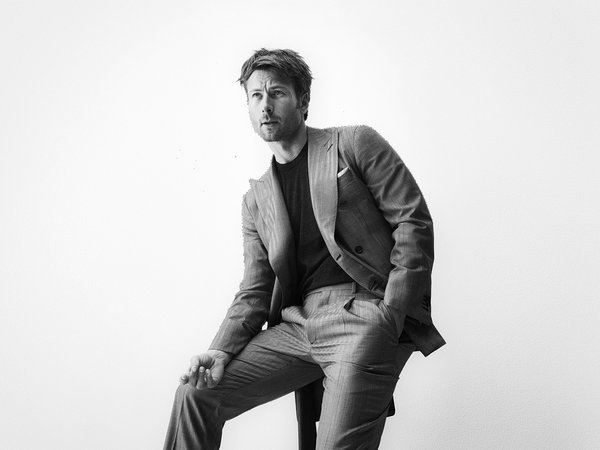 THE BRIONI BESPOKE EXPERIENCE FEATURING GLEN POWELL
The Hollywood actor and director stars in the tailoring service's first campaign.
A friend of the luxury Italian menswear house and one of the most versatile Hollywood actors of his generation, Glen Powell perfectly embodies the Brioni man: modern and elegant; charismatic and spirited.
The pinnacle of Brioni's art, the Bespoke experience offers one-of-a-kind tailoring in a beautiful synergy between self-expression and masterful craftsmanship. As the story unfolds, we witness the pleasure of co-creating something extraordinary, as well as the powerful fascination of the human touch in this deeply personal, sartorial process.
The Interrogator

|

Muyiwa Oki
Straight to the top
Muyiwa Oki is the youngest-ever president of the Royal Institute of British Architects (Riba) and has worked on large-scale infrastructure including HS2 Euston and the North London Heat and Power Project. Here, he tells us about his morning rituals, his go-to podcasts and what he watches to decompress.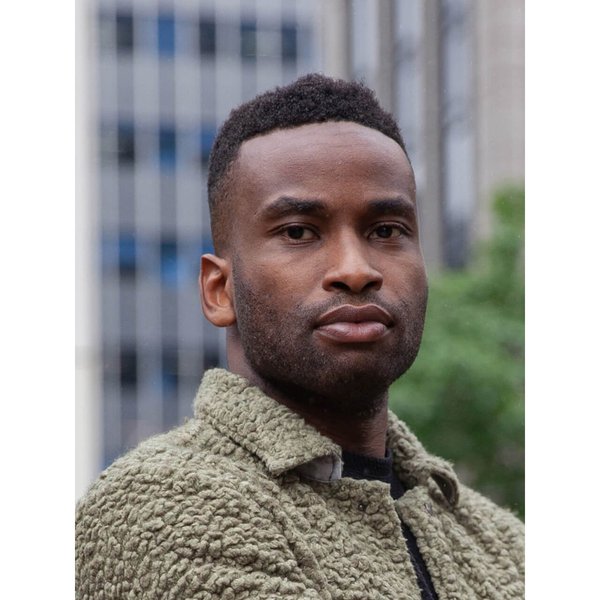 How do you start your day?
By meditating. Then I like to listen to a 15-minute summary on Blinkist. It's an app that gives you audio summaries of non-fiction books. It's a helpful way of discovering perspectives on topics that I might not have encountered otherwise. I check my to-do list while I'm getting ready. I choose my outfit for the day quite whimsically; sometimes I feel the need to buy more clothes, so perhaps it's for the best that I have limited storage. Adapting my style to my new role as Riba's president has added another layer to the process. I'm considering modelling my new look on the late, great [British-Italian architect] Richard Rogers. For the past 15 years, I've been cycling to work every day. I often say that I have the best commute in the world. Cycling started as a cheap way to get around London but now it's a part of my fitness routine and something that I can't live without.
Coffee, tea or something pressed to go with the headlines?
Sometimes none of these. I often don't eat breakfast at home. Today I ate at my desk because I needed to catch up on things. I often cycle to where I need to be and eat there.
Something from the FM dial or Spotify for your tunes?
I currently listen to more radio than Spotify but I go through phases. I use Spotify for months on end when I'm into a particular artist or genre. Right now I'm more into radio: NPR, BBC Radio 4 and Talksport, especially after the weekend for the football news.
Do you enjoy podcasts?
I love listening to Reasons to Be Cheerful, with Ed Miliband and Geoff Lloyd. It does what it says on the tin: I come away feeling more positive and hopeful about the world. Subjects such as politics and economics can feel very distant and abstract, so I like how Geoff prompts Ed to explain how they affect people's everyday lives. That's important in terms of giving people a sense of agency.
What's the best thing that you have seen on TV recently?
Top Boy. I recently saw the first episode at the Screening Our Unseen Lives festival on London's South Bank. I'm looking forward to binge-watching the full series tonight – another good way to decompress after a busy week.
What's on the airwaves before you drift off?
I wash my face and go to bed. That's it. By that point, I've usually had two dinners – a natural sedative.
---
Fashion update

|

Arthur Arbesser
Viennese whirl
Arthur Arbesser, one of the most prominent fixtures of Milan's creative scene, is always moving between fashion, furniture and costume design. When Max Mara asked him to be the new collaborator for its Weekend line, he jumped at the opportunity to bring his different worlds together and tell stories of his Viennese heritage. During the unveiling of his collection, held at a gallery in Brera this week, Arbesser tells Monocle about the dance and art movements that inspired his elegant Phantasie line of breezy silk dresses and exuberant patterns.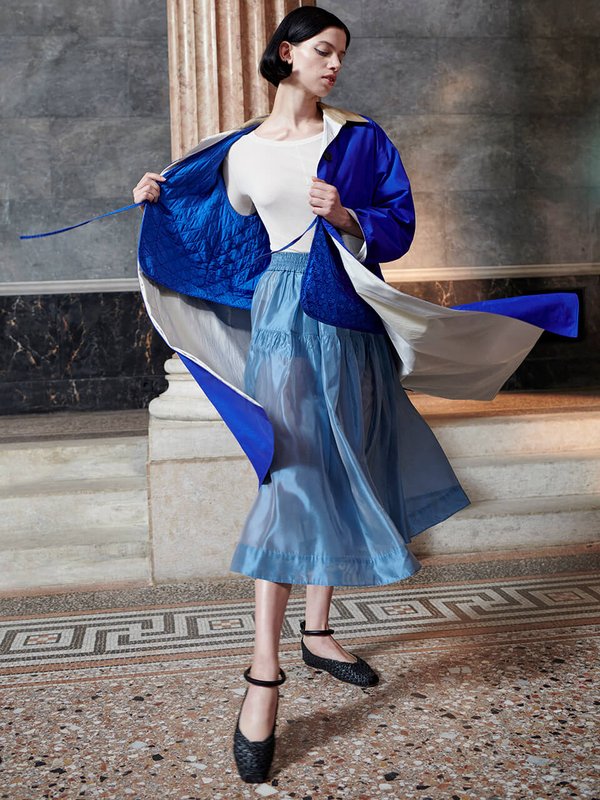 Why did you decide to take on this project with Max Mara?
As a designer living in Milan, I have observed the brand's series of collaborations from afar and knew that it had worked with great people, including the architect Patricia Urquiola and stylist Lucinda Chambers. I was so happy when I got the call, especially because Max Mara wanted more of my perspective as a costume and furniture designer and less as a fashion designer.
How does dance influence your work?
Dance clothes are always designed to work in tandem with the body. We created a dress that's essentially a big piece of lace; I used a similar pattern for a ballet production that I did in Vienna a few years ago. It's a cut that moves effortlessly. Dance is about movement – when you choose the right material and silhouette, that's when magic happens.
How have memories of growing up in Vienna shaped you as a creative?
I left Vienna more than 10 years ago but the further away I was from the city, the more I wanted to return to it. Vienna remains a constant source of inspiration – I can't help it. Black and white stripes, chequerboard patterns and piping are all elements that I associate with the city's Secession art movement from the early 1900s. I love the fantasy of that time as well as the work of Josef Hoffmann and Egon Schiele.
---
What am I bid?

|

Dumas auction
The three auctioneers
Among the 244 lots of Alexandre Dumas' work being offered by Artcurial on 27 September, the greatest hits are well-represented: an eight-volume first edition of Les Trois Mousquetaires from 1844 is expected to fetch between €10,000 and €15,000. The priciest item is likely to be a calligraphed velvet-bound 1839 edition of The Alchemist, with a small painting by Eugène Isabey embedded in the cover behind a wooden door and further original illustrations by Adrien Dauzats, Jules Dupré, Louis Boulanger and Théodore Masson. This extraordinary one-off gift, which is expected to sell for €80,000, is signed by Dumas and dedicated to its recipient, Tsar Nicholas I of Russia.
At the lower end of the range, some plausible Christmas gifts for the Dumas fan in your life are available, including a beautiful 1849 edition of Napoléon (€150) and a door-stopping, nine-volume Louis XIV and His Century from 1845 (€180). The lots are from the collection of Geneviève and Jean-Paul Kahn, and make a fair fist of the impossible task of representing the author's prodigious output and peculiar life. A copy of the poster advertising the castle furniture that Dumas was obliged to sell when financial difficulties descended in 1848 is estimated to fetch between €2,000 and €3,000.
---
Newsletter

|

join us
Welcome to our world
Has this been forwarded to you by a friend? Sign up to The Monocle Minute and Monocle Weekend Editions to receive your own bulletin of weekday news and weekend treats.
Image credits:

Mathieu de Muizon, Andrea Pugiotto, Nicholas Menniss, Arthur Arbesser, Artcurial
from The Monocle Minute & Weekend Edition.
This email is from Monocle whose registered office is at Midori House, 1 Dorset Street, London, W1U 4EG. You have received this email because you have previously provided us with your email address and subscribed to Monocle bulletins.
Text-only version of this email
Monocle London | Zürich | Milan | Tokyo | Bangkok | Singapore | Los Angeles Saturday 23/09/23 The Weekend Edition: Saturday Sponsored by BRIONI ALL CHANGE Want to dress like an Italian? Head to Milan, where ladies of a certain age are proving that dressing well isn't only the preserve of the young. Plus: we get the inside story on the auction of a French author's works and make a case for Toronto picnics before the weather turns cold. But first, Andrew Tuck with a departure from the summer season – and the friends that come with it. ---------------------------------------------------------------------------------------------------------------------------------- THE OPENER | ANDREW TUCK LAST OF THE SUMMER WINE I have two colleagues whose names I will not reveal for fear of offending them. Oh, OK, Josh Fehnert and Tom Edwards. Over the years they have perfected the art of what I believe you can still call the "French exit". Though given Josh's heritage, he says that he's a proud player of the "Irish exit". You know the type: one minute the life and soul of the party; the next – vanished. And not for fear of paying for a drink; just not keen on the old goodbyes. At Monocle's recent Quality of Life Conference in Munich, they both somehow managed to drift away like flotsam on the night's tide, leaving everyone with the impression that they must be somewhere around, that we just couldn't quite see them at that point. While people who should know better were attempting audacious dancefloor manoeuvres, they were already tucked up in bed in their pyjamas, facemasks on, big Ted tucked under one arm (as in teddy, not Mr T Edwards). Look, I get it. I had a mother who conducted 90 per cent of her evening's social chit-chat while putting on her coat and saying her goodbyes. Often you would find it easier to give in, park your bum and have another vol-au-vent. Last summer, a friend and his partner sent an email inviting us to come and stay with them in the south of France for a few days. It was a suggestion that they had sent to a large group of their friends and the idea was that various waves of people would come and go, overlapping, perhaps disappearing off on other French adventures. Our friend said that the invitation was to "celebrate life and making it through". Four of us – my partner David and I, friends Paul and Peter – took the train to Avignon and then picked up a car and headed into the sun-baked countryside. Our friends had rented a large house with a pool. There was a long table under the shade of a tree where we had breakfast, ate dinners cooked together (not to be trusted, I was on napkin-folding duty), opened one more bottle of rosé. There were competitive Wordle sessions, magazines, boules, music, summer heat, excursions, a dog, siestas and fields of lavender. How many summers? Say you will get 80 in your life; now deduct the ones that you have already had. Summers should not be wasted. Sure, people remember particular winters, usually because they were tough, or perhaps a spring that delivered change. But summers are there to be bottled, with corks jammed into their necks come the first whisper of autumn, then put away safely to be savoured another day. On Monday I messaged Paul, who is just a better person than me – always there for everyone – because I knew that he would know what was best. "Do you think it would be OK to send an email?" I asked. "They'd appreciate that," he texted. The next morning, he messaged me again. Our host, the man on that sun-baked terrace, had died in the night. His story is not mine to tell but I have been thinking all week about that gesture, that invitation. About gatherings and farewells. About a very different type of French exit. About finding time to say goodbye. Of summer vintages. Share this story. ---------------------------------------------------------------------------------------------------------------------------------- THE LOOK | 'SCIURE' STYLE FOR THE AGES Since going to Milan at the end of August to report on sciure – a mythical aristocratic breed of stylish older women who are endemic to the Italian city – I have been feeling inspired to make more of an effort with my office outfits and step up my sartorial game (writes Grace Charlton). Meeting these high priestesses of taste confirmed some base truths that are always worth reminding yourself of: trust your own taste, purchase items for longevity and avoid ripped jeans at all costs. Rossana Orlandi (on right) is founder and curator of gallery Spazio Rossana Orlandi in Milan Nina Yashar (on left) is founder of Nilufar, a hub of contemporary and historic design in Milan Luckily, I parted with slashed denim for good years ago but the wisdom of these women has influenced me to reach for shirts, loafers and accessories such as silk scarves and sunglasses. On the streets of the Milanese neighbourhood of Brera, I spotted silky blouses, gold doorknocker earrings and kitten heels that exuded perennial chicness. As many of these women preached, dressing well is a sign of respect for yourself and the people around you. For Monocle's full Expo on the 'sciure' of Milan, pick up a copy of our October issue, which is available on newsstands now. Share this story. ---------------------------------------------------------------------------------------------------------------------------------- HOW WE LIVE | PARK DRINKING RAISE A GLASS Picnic season has been a perky affair in Toronto's public parks this summer thanks, in part, to a loosening of the laws that have long prohibited the city's residents from, well, getting a little loose (writes Tomos Lewis). Pairing a picnic spread with an alcoholic tipple or two has, for the first time, been legalised in 27 of Toronto's public green spaces as part of a pilot project launched by city hall, which runs until 9 October. Despite opponents' predictions that Biblical-scale upheaval would follow the permitting of corks to be popped or cans to be cracked in public, the results have been merry. Toronto has long clutched its pearls when it comes to allowing its residents to drink outdoors – a remnant of its puritan past. It was as recent as the year 2000 that the last remaining "dry" neighbourhood was finally permitted to sell alcohol. The city's unofficial nickname is, after all, the piously pleasant "Toronto the good" rather than "Toronto the fun". The lifting of the familiar spectre of a police officer looming over you, penalty notice in hand, as you sneakily sip a beer has not only lifted spirits but has also given park-goers an additional excuse to pick up bottles by the region's independent drink-makers; a burgeoning roster that has blossomed since the easing of Ontario's rigid alcohol-sales rules during the coronavirus pandemic. If you're in the city this weekend, where a final flush of warmth has been forecast, pop to your nearest bottle shop (Grape Witches or I Deal Coffee are good places to try) and head to a park to toast the end of summer – and the simple pleasure of being able to do so in Toronto's great outdoors. Share this story. ---------------------------------------------------------------------------------------------------------------------------------- BRIONI   MONOCLE THE BRIONI BESPOKE EXPERIENCE FEATURING GLEN POWELL The Hollywood actor and director stars in the tailoring service's first campaign. A friend of the luxury Italian menswear house and one of the most versatile Hollywood actors of his generation, Glen Powell perfectly embodies the Brioni man: modern and elegant; charismatic and spirited. The pinnacle of Brioni's art, the Bespoke experience offers one-of-a-kind tailoring in a beautiful synergy between self-expression and masterful craftsmanship. As the story unfolds, we witness the pleasure of co-creating something extraordinary, as well as the powerful fascination of the human touch in this deeply personal, sartorial process. Discover more THE INTERROGATOR | MUYIWA OKI STRAIGHT TO THE TOP Muyiwa Oki is the youngest-ever president of the Royal Institute of British Architects (Riba) and has worked on large-scale infrastructure including HS2 Euston and the North London Heat and Power Project. Here, he tells us about his morning rituals, his go-to podcasts and what he watches to decompress. How do you start your day? By meditating. Then I like to listen to a 15-minute summary on Blinkist. It's an app that gives you audio summaries of non-fiction books. It's a helpful way of discovering perspectives on topics that I might not have encountered otherwise. I check my to-do list while I'm getting ready. I choose my outfit for the day quite whimsically; sometimes I feel the need to buy more clothes, so perhaps it's for the best that I have limited storage. Adapting my style to my new role as Riba's president has added another layer to the process. I'm considering modelling my new look on the late, great [British-Italian architect] Richard Rogers. For the past 15 years, I've been cycling to work every day. I often say that I have the best commute in the world. Cycling started as a cheap way to get around London but now it's a part of my fitness routine and something that I can't live without. Coffee, tea or something pressed to go with the headlines? Sometimes none of these. I often don't eat breakfast at home. Today I ate at my desk because I needed to catch up on things. I often cycle to where I need to be and eat there. Something from the FM dial or Spotify for your tunes? I currently listen to more radio than Spotify but I go through phases. I use Spotify for months on end when I'm into a particular artist or genre. Right now I'm more into radio: NPR, BBC Radio 4 and Talksport, especially after the weekend for the football news. Do you enjoy podcasts? I love listening to Reasons to Be Cheerful, with Ed Miliband and Geoff Lloyd. It does what it says on the tin: I come away feeling more positive and hopeful about the world. Subjects such as politics and economics can feel very distant and abstract, so I like how Geoff prompts Ed to explain how they affect people's everyday lives. That's important in terms of giving people a sense of agency. What's the best thing that you have seen on TV recently? Top Boy. I recently saw the first episode at the Screening Our Unseen Lives festival on London's South Bank. I'm looking forward to binge-watching the full series tonight – another good way to decompress after a busy week. What's on the airwaves before you drift off? I wash my face and go to bed. That's it. By that point, I've usually had two dinners – a natural sedative. Share this story. ---------------------------------------------------------------------------------------------------------------------------------- ---------------------------------------------------------------------------------------------------------------------------------- FASHION UPDATE | ARTHUR ARBESSER VIENNESE WHIRL Arthur Arbesser, one of the most prominent fixtures of Milan's creative scene, is always moving between fashion, furniture and costume design. When Max Mara asked him to be the new collaborator for its Weekend line, he jumped at the opportunity to bring his different worlds together and tell stories of his Viennese heritage. During the unveiling of his collection, held at a gallery in Brera this week, Arbesser tells Monocle about the dance and art movements that inspired his elegant Phantasie line of breezy silk dresses and exuberant patterns. Why did you decide to take on this project with Max Mara? As a designer living in Milan, I have observed the brand's series of collaborations from afar and knew that it had worked with great people, including the architect Patricia Urquiola and stylist Lucinda Chambers. I was so happy when I got the call, especially because Max Mara wanted more of my perspective as a costume and furniture designer and less as a fashion designer. How does dance influence your work? Dance clothes are always designed to work in tandem with the body. We created a dress that's essentially a big piece of lace; I used a similar pattern for a ballet production that I did in Vienna a few years ago. It's a cut that moves effortlessly. Dance is about movement – when you choose the right material and silhouette, that's when magic happens. How have memories of growing up in Vienna shaped you as a creative? I left Vienna more than 10 years ago but the further away I was from the city, the more I wanted to return to it. Vienna remains a constant source of inspiration – I can't help it. Black and white stripes, chequerboard patterns and piping are all elements that I associate with the city's Secession art movement from the early 1900s. I love the fantasy of that time as well as the work of Josef Hoffmann and Egon Schiele. Share this story. ---------------------------------------------------------------------------------------------------------------------------------- ---------------------------------------------------------------------------------------------------------------------------------- ---------------------------------------------------------------------------------------------------------------------------------- WHAT AM I BID? | DUMAS AUCTION THE THREE AUCTIONEERS Among the 244 lots of Alexandre Dumas' work being offered by Artcurial on 27 September, the greatest hits are well-represented: an eight-volume first edition of Les Trois Mousquetaires from 1844 is expected to fetch between €10,000 and €15,000. The priciest item is likely to be a calligraphed velvet-bound 1839 edition of The Alchemist, with a small painting by Eugène Isabey embedded in the cover behind a wooden door and further original illustrations by Adrien Dauzats, Jules Dupré, Louis Boulanger and Théodore Masson. This extraordinary one-off gift, which is expected to sell for €80,000, is signed by Dumas and dedicated to its recipient, Tsar Nicholas I of Russia. At the lower end of the range, some plausible Christmas gifts for the Dumas fan in your life are available, including a beautiful 1849 edition of Napoléon (€150) and a door-stopping, nine-volume Louis XIV and His Century from 1845 (€180). The lots are from the collection of Geneviève and Jean-Paul Kahn, and make a fair fist of the impossible task of representing the author's prodigious output and peculiar life. A copy of the poster advertising the castle furniture that Dumas was obliged to sell when financial difficulties descended in 1848 is estimated to fetch between €2,000 and €3,000. Share this story. ---------------------------------------------------------------------------------------------------------------------------------- NEWSLETTER | JOIN US WELCOME TO OUR WORLD Has this been forwarded to you by a friend? Sign up to The Monocle Minute and Monocle Weekend Editions to receive your own bulletin of weekday news and weekend treats. Sign up now Read this email online Send us your feedback Share on linkedin Share on twitter Image credits: Mathieu de Muizon, Andrea Pugiotto, Nicholas Menniss, Arthur Arbesser, Artcurial  from The Monocle Minute & Weekend Edition. This email is from Monocle whose registered office is at Midori House, 1 Dorset Street, London, W1U 4EG. You have received this email because you have previously provided us with your email address and subscribed to Monocle bulletins. © 2023 Monocle
Show all
The Latest Emails Sent By monocle.com
More Emails, Deals & Coupons From monocle.com
Email Offers, Discounts & Promos From Our Top Stores