The Monocle Minute – Wednesday 29 March 2023
monocle.com sent this email to their subscribers on March 29, 2023.
London / Zürich / Toronto /
Los Angeles / Hong Kong / Tokyo

SPONSORED BY

Opinion /

Christopher Cermak
Trial and error
The first Summit for Democracy, hosted in Washington by Joe Biden (pictured) in December 2021, was designed to be a reset of sorts – an attempt to put the US back at the centre of the global democracy movement after a few tumultuous years. For the second summit, which started yesterday, the spotlight is more diffuse. Biden and the leaders of South Korea, the Netherlands, Zambia and Costa Rica are co-hosting events in their home countries.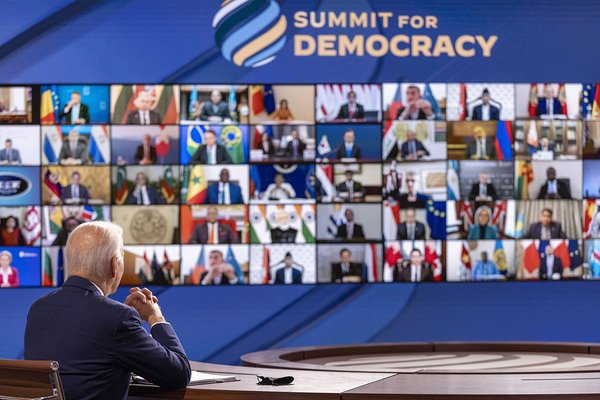 The approach risks diluting the summit's takeaways. A gathering across five countries, coupled with dozens of online events, doesn't lend itself to reaching a grand consensus on the perilous state of global democracy or which issues to focus on. A case in point is Tunisia, whose president, Kais Saied, is busy undoing the final remnants of the Arab Spring. "There is no better litmus test for the Biden administration's commitment to democracy than Tunisia," Monica Marks, an assistant professor at NYU Abu Dhabi, told a gathering hosted by the Tunisian United Network here in Washington. Her plea for greater US engagement is likely to be drowned out by the dizzying number of other democratic challenges being discussed over the course of the week.
Perhaps that's inevitable. Democracy, by its nature, isn't about one country or one leader. If there's anything that the US has learned from wars in Iraq and Afghanistan, it's that democracy cannot be imposed; it requires a groundswell of grass-roots support. But shifting the focus away from Washington also feels like a tacit recognition that, even under Biden, the US is no longer a shining beacon that deserves to lead a global democracy movement. Every nation needs to figure out its own system of government but it helps to have role models. Either the US, or someone else, will need to step up.
Christopher Cermak is Monocle's Washington correspondent. For more opinion, analysis and insight, to Monocle today.
---
Geopolitics /

Asia
Good neighbour policy
Cherry blossoms aren't the only sign of warming temperatures in east Asia. Less than two weeks after South Korea's president, Yoon Suk-yeol, sat down with Japan's prime minister, Fumio Kishida (pictured, on right, with Yoon), for a make-up beer in Tokyo, a Chinese envoy has expressed Beijing's openness to a trilateral summit with the two nations.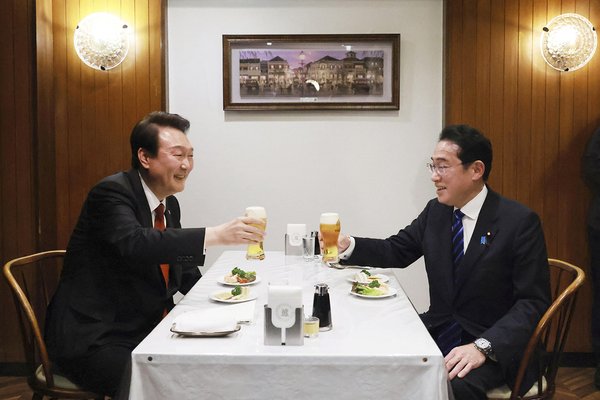 The prospect of a diplomatic thaw between the three countries, which last held talks in 2019 before relations soured, will come as a relief to the entire region. All sides share concerns about an increasingly bellicose North Korea and appear to be interested in lowering tensions over Taiwan. Yoon has taken on the role of peacemaker and China's ambassador to South Korea, Xing Haiming, commended Seoul for its efforts. With Beijing's wolf-warrior diplomats firmly in the doghouse, the US might have to adapt its cold-war rhetoric or risk looking like the aggressor.
---
Neste MONOCLE
Positive energy
In a fast-changing world, Neste can adapt to the evolving needs of people and societies. This agility has seen the Finnish refiner become a world-leading producer of renewable fuels.
Diplomacy /

Germany & UK
Charm offensive
King Charles III will make his first overseas trip as Britain's monarch today with a visit to Germany. He will be joined by the queen consort, Camilla, at the invitation of Germany's president, Frank-Walter Steinmeier (pictured, on right, with King Charles), and will become the first UK monarch to address German politicians at the Bundestag.
The visit, an effort to rebuild relations following Brexit, was intended to be part of a six-day trip beginning in Paris but protests and social unrest in France following Emmanuel Macron's pension reform caused that section of the trip to be cancelled – at least for now. King Charles will receive a royal welcome at Berlin's Brandenburg Gate and pay a visit to St Nikolai Memorial Cathedral in Hamburg, a church that was bombed by the Allies during the Second World War. All in all, it looks like a much smoother itinerary without Paris. Rebuilding relations with France will just have to wait.
---
Society /

Australia
Going for gold
Australia might be home to the world's largest reserves of gold but finding a large nugget of it is, as you might expect, not a common occurrence. So when amateur prospector Darren Kemp quite literally struck gold, discovering a 4.6kg rock (pictured) that contained AU$240,000 (€148,000) worth of the precious metal, it caused a media storm and a rush of interest in Victoria's goldfields.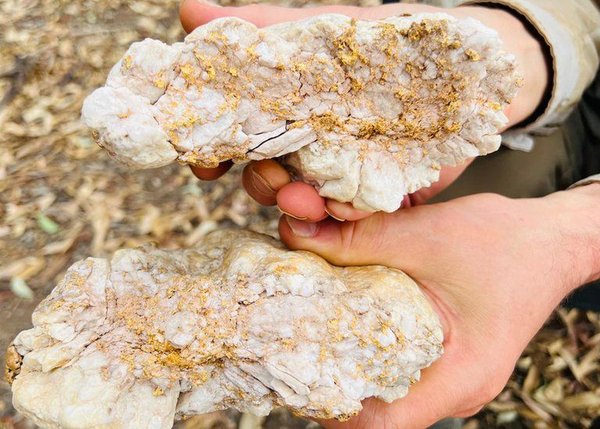 The state was the epicentre of Australia's gold rush in the 1800s. The official geological survey of the area estimates that its fields could still hold more than 2,000,000kg of the metal. Prospectors in the area believe that recent rain and floods have made it more likely that undiscovered gold is sitting closer to the surface. "With the rocketing value of gold because of global market instability, there has never been a better time to get out and find it," Rachel Pupazzoni, national business reporter and presenter at ABC News, tells The Monocle Minute. The rush might be back on.
---
Culture /

Switzerland
Back from the dead
The Tyrannosaurus rex never stepped foot on Swiss soil but the skeletal frame of Trx-293 (pictured), better known as Trinity, will be sold at Koller auction house in Zürich on 18 April. The dinosaur will be on display at the city's Tonhalle until it goes under the hammer.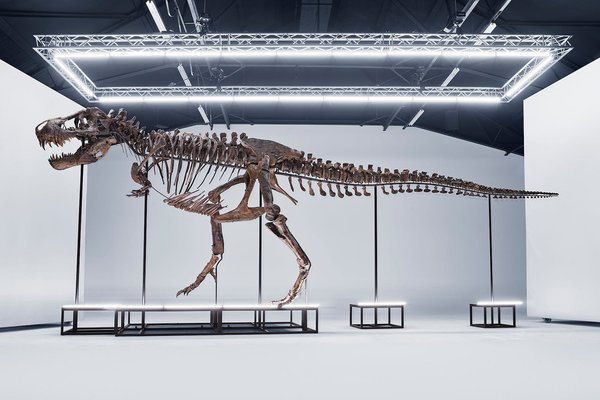 T-rex auctions aren't a common occurrence, with only two recorded worldwide, neither of them in Europe. The nearly 4-metre-tall, more than 11-metre-long T-rex is actually an amalgamation of bones from three different reptiles (hence the odd name), with the skeleton parts unearthed between 2008 and 2013 in the US states of Montana and Wyoming. Interest in the T-rex could be big – especially if the sale of Stan, auctioned in 2020 for $30m (€28m), is anything to go by. Whatever the case, there are remains to be seen.
---
Monocle 24 /

The Menu
Finnjavel and Antakya
How Finnish restaurant Finnjavel is making waves in London's fine-dining scene. Plus: one chef's plan for post-earthquake gastronomic recovery in Antakya, Turkey.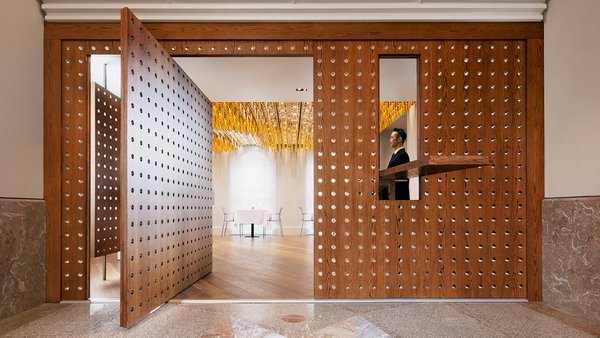 Monocle Films /

Germany
Inside the airship industry
Airships, once tipped to be the future of flight, are now largely used as costly billboards that drift across cities or over major sporting events. We travelled to Friedrichshafen in Germany to take a peek inside one of the world's few commercial operations and explore this niche area of aviation. Read more on the story in the November issue of Monocle magazine.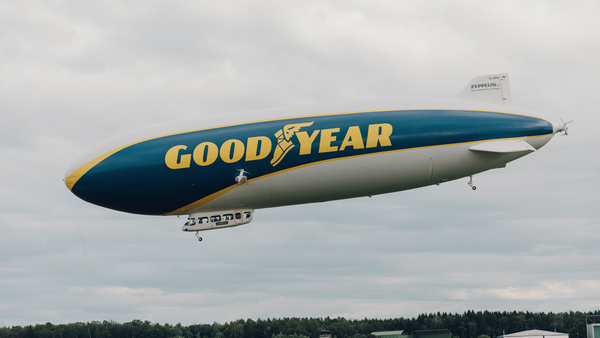 newsletter /

join us
Welcome to our world
Has this been forwarded to you by a friend? Sign up to The Monocle Minute and Monocle Weekend Editions to receive your own bulletin of weekday news and weekend treats.
Image credits: Shutterstock, Reuters, Getty Images, Darren Kamp, Koller Auctions / SWNS, COMO The Halkin
from The Monocle Minute & Weekend Edition
To stop receiving all Monocle newsletters, please click here
This email is from Monocle whose registered office is at Midori House, 1 Dorset Street, London, W1U 4EG. You have received this email because you have previously provided us with your email address and subscribed to Monocle bulletins.
© 2023 Monocle.
Text-only version of this email
London / Zürich / Toronto Los Angeles / Hong Kong / Tokyo Wednesday. 29/03/23 The Monocle Minute SPONSORED BY NESTE Monocle OPINION / CHRISTOPHER CERMAK TRIAL AND ERROR The first Summit for Democracy, hosted in Washington by Joe Biden (pictured) in December 2021, was designed to be a reset of sorts – an attempt to put the US back at the centre of the global democracy movement after a few tumultuous years. For the second summit, which started yesterday, the spotlight is more diffuse. Biden and the leaders of South Korea, the Netherlands, Zambia and Costa Rica are co-hosting events in their home countries. . The approach risks diluting the summit's takeaways. A gathering across five countries, coupled with dozens of online events, doesn't lend itself to reaching a grand consensus on the perilous state of global democracy or which issues to focus on. A case in point is Tunisia, whose president, Kais Saied, is busy undoing the final remnants of the Arab Spring. "There is no better litmus test for the Biden administration's commitment to democracy than Tunisia," Monica Marks, an assistant professor at NYU Abu Dhabi, told a gathering hosted by the Tunisian United Network here in Washington. Her plea for greater US engagement is likely to be drowned out by the dizzying number of other democratic challenges being discussed over the course of the week. Perhaps that's inevitable. Democracy, by its nature, isn't about one country or one leader. If there's anything that the US has learned from wars in Iraq and Afghanistan, it's that democracy cannot be imposed; it requires a groundswell of grass-roots support. But shifting the focus away from Washington also feels like a tacit recognition that, even under Biden, the US is no longer a shining beacon that deserves to lead a global democracy movement. Every nation needs to figure out its own system of government but it helps to have role models. Either the US, or someone else, will need to step up. Christopher Cermak is Monocle's Washington correspondent. For more opinion, analysis and insight, to Monocle today. ---------------------------------------------------------------------------------------------------------------------------------- GEOPOLITICS / ASIA GOOD NEIGHBOUR POLICY Cherry blossoms aren't the only sign of warming temperatures in east Asia. Less than two weeks after South Korea's president, Yoon Suk-yeol, sat down with Japan's prime minister, Fumio Kishida (pictured, on right, with Yoon), for a make-up beer in Tokyo, a Chinese envoy has expressed Beijing's openness to a trilateral summit with the two nations. The prospect of a diplomatic thaw between the three countries, which last held talks in 2019 before relations soured, will come as a relief to the entire region. All sides share concerns about an increasingly bellicose North Korea and appear to be interested in lowering tensions over Taiwan. Yoon has taken on the role of peacemaker and China's ambassador to South Korea, Xing Haiming, commended Seoul for its efforts. With Beijing's wolf-warrior diplomats firmly in the doghouse, the US might have to adapt its cold-war rhetoric or risk looking like the aggressor. ---------------------------------------------------------------------------------------------------------------------------------- NESTE  MONOCLE POSITIVE ENERGY In a fast-changing world, Neste can adapt to the evolving needs of people and societies. This agility has seen the Finnish refiner become a world-leading producer of renewable fuels.  find out more DIPLOMACY / GERMANY & UK CHARM OFFENSIVE King Charles III will make his first overseas trip as Britain's monarch today with a visit to Germany. He will be joined by the queen consort, Camilla, at the invitation of Germany's president, Frank-Walter Steinmeier (pictured, on right, with King Charles), and will become the first UK monarch to address German politicians at the Bundestag. The visit, an effort to rebuild relations following Brexit, was intended to be part of a six-day trip beginning in Paris but protests and social unrest in France following Emmanuel Macron's pension reform caused that section of the trip to be cancelled – at least for now. King Charles will receive a royal welcome at Berlin's Brandenburg Gate and pay a visit to St Nikolai Memorial Cathedral in Hamburg, a church that was bombed by the Allies during the Second World War. All in all, it looks like a much smoother itinerary without Paris. Rebuilding relations with France will just have to wait. ---------------------------------------------------------------------------------------------------------------------------------- SPONSORED BY NESTE ---------------------------------------------------------------------------------------------------------------------------------- SOCIETY / AUSTRALIA GOING FOR GOLD Australia might be home to the world's largest reserves of gold but finding a large nugget of it is, as you might expect, not a common occurrence. So when amateur prospector Darren Kemp quite literally struck gold, discovering a 4.6kg rock (pictured) that contained AU$240,000 (€148,000) worth of the precious metal, it caused a media storm and a rush of interest in Victoria's goldfields. The state was the epicentre of Australia's gold rush in the 1800s. The official geological survey of the area estimates that its fields could still hold more than 2,000,000kg of the metal. Prospectors in the area believe that recent rain and floods have made it more likely that undiscovered gold is sitting closer to the surface. "With the rocketing value of gold because of global market instability, there has never been a better time to get out and find it," Rachel Pupazzoni, national business reporter and presenter at ABC News, tells The Monocle Minute. The rush might be back on. ---------------------------------------------------------------------------------------------------------------------------------- Listen now MONOCLE @ The Concierge Tips, tricks and global recommendations. Introducing The Concierge, a travel show that goes the extra mile. ON % AR ---------------------------------------------------------------------------------------------------------------------------------- CULTURE / SWITZERLAND BACK FROM THE DEAD The Tyrannosaurus rex never stepped foot on Swiss soil but the skeletal frame of Trx-293 (pictured), better known as Trinity, will be sold at Koller auction house in Zürich on 18 April. The dinosaur will be on display at the city's Tonhalle until it goes under the hammer. T-rex auctions aren't a common occurrence, with only two recorded worldwide, neither of them in Europe. The nearly 4-metre-tall, more than 11-metre-long T-rex is actually an amalgamation of bones from three different reptiles (hence the odd name), with the skeleton parts unearthed between 2008 and 2013 in the US states of Montana and Wyoming. Interest in the T-rex could be big – especially if the sale of Stan, auctioned in 2020 for $30m (€28m), is anything to go by. Whatever the case, there are remains to be seen. ---------------------------------------------------------------------------------------------------------------------------------- MONOCLE 24 / THE MENU FINNJAVEL AND ANTAKYA How Finnish restaurant Finnjavel is making waves in London's fine-dining scene. Plus: one chef's plan for post-earthquake gastronomic recovery in Antakya, Turkey.  listen to the episode (30 mins) MONOCLE FILMS / GERMANY INSIDE THE AIRSHIP INDUSTRY Airships, once tipped to be the future of flight, are now largely used as costly billboards that drift across cities or over major sporting events. We travelled to Friedrichshafen in Germany to take a peek inside one of the world's few commercial operations and explore this niche area of aviation. Read more on the story in the November issue of Monocle magazine.  watch the film (6 mins) NEWSLETTER / JOIN US WELCOME TO OUR WORLD Has this been forwarded to you by a friend? Sign up to The Monocle Minute and Monocle Weekend Editions to receive your own bulletin of weekday news and weekend treats.  sign up now   Feedback? get in touch   Read this email online   Manage Newsletters   Share on Twitter   Share on LinkedIn Image credits: Shutterstock, Reuters, Getty Images, Darren Kamp, Koller Auctions / SWNS, COMO The Halkin  from The Monocle Minute & Weekend Edition To stop receiving all Monocle newsletters, please click here This email is from Monocle whose registered office is at Midori House, 1 Dorset Street, London, W1U 4EG. You have received this email because you have previously provided us with your email address and subscribed to Monocle bulletins. © 2023 Monocle. M
Show all
The Latest Emails Sent By monocle.com
More Emails, Deals & Coupons From monocle.com
Email Offers, Discounts & Promos From Our Top Stores