The Monocle Minute – Wednesday 12 July 2023
monocle.com sent this email to their subscribers on July 12, 2023.
Opinion /

Michael Booth
Talking points
There was some unexpectedly lively debate in Copenhagen last week at the Obel Award Talks, a series of lectures and roundtables arranged as part of the UIA World Congress of Architects. The discussions explored some of the existential threats facing humanity and their potential architectural solutions, and ranged from Nairobi-based Cave_bureau on the merits of burying cable networks to talks about wellbeing featuring Junya Ishigami, winner of the inaugural Obel in 2019 for his Mizuniwa water garden.
The most active sessions took place during an innocuous-sounding "architecture as mending" panel, at which MacArthur Genius Grant-winner Jeanne Gang discussed cleaning up US industrial river sites. Xu Tiantian also spoke about projects in rural Chinese communities, while the 2020 Obel Award-winner, Anna Heringer, made an emotional apology on behalf of the Global North to the South for "colonising" the idea of the dream home.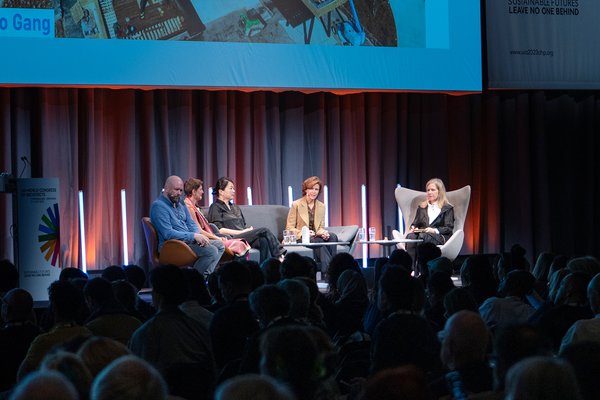 Another panellist, Reinier de Graaf (pictured, on far left) of Dutch firm OMA, perhaps failed to read the room. He called out the industry for its "excessive demonstrations of virtue" and what he considered to be self-congratulatory greenwashing. Then he went on to dismiss the "fetishising" of small-scale projects, saying, "Being a catalyst is not enough." He also compared local starchitect Bjarke Ingels to Michael Jackson for his messianic posturing and produced a photo of the UN's face of sustainable architecture boarding a private jet. "The word 'sustainability' should be banned – it has become so corrupted as to be meaningless," said De Graaf, before taking a pop at architectural awards that were given to "business-as-usual buildings".
This year's prizes will be given out in October in Sydney. De Graaf might or might not be welcome but – like it or not – his straight-talking is exactly what the industry needs.
Michael Booth is Monocle's Copenhagen correspondent. For more opinion, analysis and insight, to Monocle today.
---
Affairs /

Nato
Requirements for entry
One of the key questions hanging over this year's Nato summit in Vilnius has been answered: a last-minute magnanimous gesture by Turkey's president, Recep Tayyip Erdogan, has cleared the way for Sweden to join the military alliance. The focus has now shifted to the more complex issue of Ukraine's potential candidacy. Volodymyr Zelensky (pictured, second from left) has denounced allies for stopping short of offering Kyiv a concrete path to joining the alliance; Ukraine's president is pushing for an unequivocal affirmation of Ukraine's destiny as a member.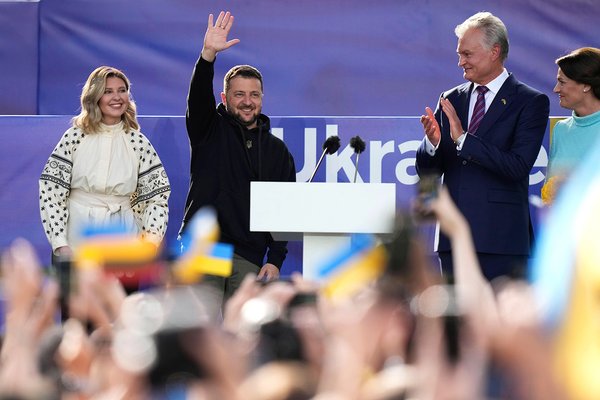 Speaking to The Monocle Minute as the summit began, Finland's recently appointed foreign minister, Elina Valtonen, noted the establishment of a new Nato-Ukraine Council. "It shows that Nato is strongly committed to co-operating with Ukraine when it is fighting an aggressor in their country," she said. "I'm very committed to having the country in Nato in the future but it's very difficult to draw an exact timeline of when this should happen."
---
Trade /

Hong Kong & Japan
Muddy waters
Yesterday, Hong Kong's chief executive, John Lee Ka-chiu, said that it will expand its ban on seafood from the Tohoku region to many Japanese prefectures if Tokyo discharges radioactive water from the Fukushima nuclear power station into the ocean. Though a safety review by the International Atomic Energy Agency (IAEA) recently concluded that the plan would have "negligible radiological impact", it has been met with stiff opposition from neighbouring countries.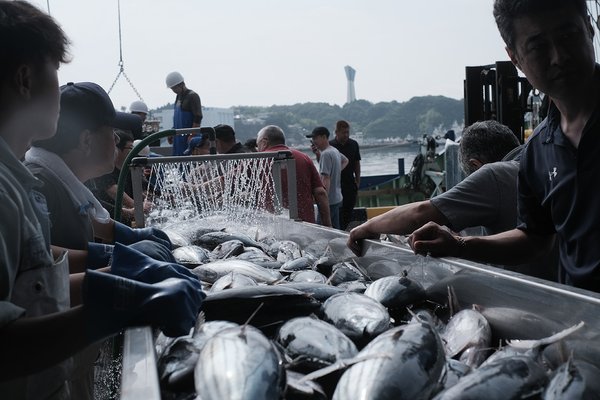 Critics have cast doubt on the IAEA's ruling, accusing Japan – one of the agency's biggest donors – of pressuring it into publishing a positive report. The country's chief cabinet secretary, Hirokazu Matsuno, has dismissed such claims as groundless, pointing out that Tokyo's contribution to the IAEA is half that of Beijing. Scepticism of the agency's findings speaks of a growing lack of trust in neutral intergovernmental organisations – but with regional rivalries intensifying, such bodies are needed more than ever.
---
Urbanism /

USA
Fresh tracks
A huge US infrastructure project is one step closer to becoming a reality. The federal government announced that it is awarding a $6.9bn (€6.3bn) grant – the most it has ever committed to mass transit – for the construction of the Hudson Tunnel. Connecting New York to New Jersey, the project comprises a new two-tube tunnel under the Hudson, as well as new terminal and rail crossings over the Hackensack River, such as the Portal North bridgen (pictured).
Construction will begin next year and the tunnel is expected to double train capacity across the Hudson. It will also allow for a high-speed rail service when it is completed in 2035. Widely considered to be one of the country's most important infrastructure projects, it will allow the existing tracks, which have been deteriorating since Hurricane Sandy in 2012, to close and finally be repaired. After years of delays and hesitance by the federal government to fund the project, it seems that "Amtrak Joe" is laying the foundations for success.
---
Swimming /

France
Taking the plunge
For the first time in more than a century, Parisians and tourists alike will soon be able to take a dip in the Seine. In 1923 a swimming ban was introduced as a result of the river's poor water quality but the city's current mayor, Anne Hidalgo, has announced that it will finally be lifted in 2025. Three designated swimming zones will open to the public after the Olympics: Bras Marie in the 4th arrondissement, Bras de Grenelle in the 15th and Bercy in the 12th will be watched over by lifeguards and marked out by buoys.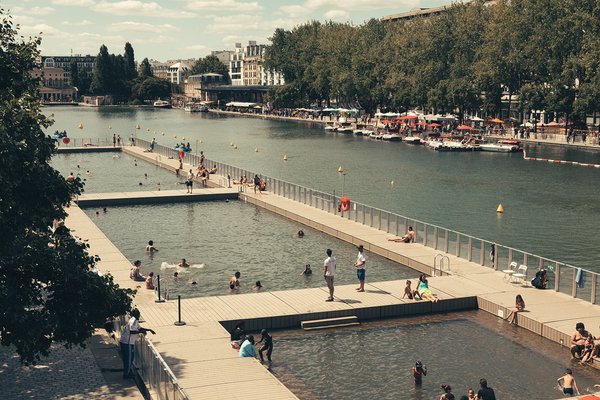 Over the past seven years local authorities have invested around €1.4bn in a clean-up operation, which has helped to reduce waterborne bacteria from sewage to safe levels. When it comes to preserving the heritage of the Olympics, Paris is swimming ahead.
---
Enjoy your summer with Trunk Clothiers. From chic linen shirts to light blazers and beach bags, the destination menswear shop and label has everything that you need to embrace sunnier days with style. Shop the spring-summer sale and receive a 30% discount on select clothing, footwear and accessories – in store and online now.
Monocle Radio /

The Big Interview
Erna Solberg
The former prime minister of Norway sits down with Andrew Mueller to discuss her political career and the future of Europe's relationship with Russia.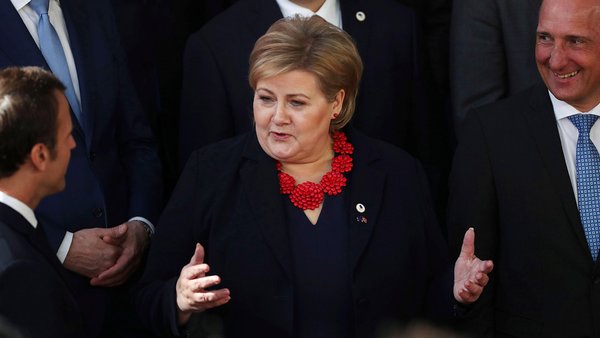 Monocle Films /

Culture
Portuguese problem-solving
Lisbon-based architect and artist Joana Astolfi takes us on a journey into the Portuguese concept of desenrascanço, which means "finding an improvised solution to a problem". She explains what it tells us about Portuguese culture and how it is embodied in an unusual structure in Comporta.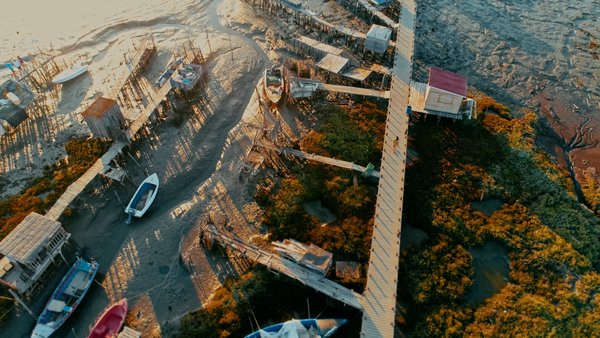 newsletter /

join us
Welcome to our world
Has this been forwarded to you by a friend? Sign up to The Monocle Minute and Monocle Weekend Editions to receive your own bulletin of weekday news and weekend treats.
Image credits: UIA, Alamy, Getty Images, Marc Glucksman, Romain Laprade
from The Monocle Minute & Weekend Edition
To stop receiving all Monocle newsletters, please click here
This email is from Monocle whose registered office is at Midori House, 1 Dorset Street, London, W1U 4EG. You have received this email because you have previously provided us with your email address and subscribed to Monocle bulletins.
© 2023 Monocle.
Text-only version of this email
London / Zürich / Toronto Los Angeles / Hong Kong / Tokyo Wednesday. 12/07/23 The Monocle Minute SPONSORED BY TRUNK Monocle OPINION / MICHAEL BOOTH TALKING POINTS There was some unexpectedly lively debate in Copenhagen last week at the Obel Award Talks, a series of lectures and roundtables arranged as part of the UIA World Congress of Architects. The discussions explored some of the existential threats facing humanity and their potential architectural solutions, and ranged from Nairobi-based Cave_bureau on the merits of burying cable networks to talks about wellbeing featuring Junya Ishigami, winner of the inaugural Obel in 2019 for his Mizuniwa water garden. The most active sessions took place during an innocuous-sounding "architecture as mending" panel, at which MacArthur Genius Grant-winner Jeanne Gang discussed cleaning up US industrial river sites. Xu Tiantian also spoke about projects in rural Chinese communities, while the 2020 Obel Award-winner, Anna Heringer, made an emotional apology on behalf of the Global North to the South for "colonising" the idea of the dream home. Another panellist, Reinier de Graaf (pictured, on far left) of Dutch firm OMA, perhaps failed to read the room. He called out the industry for its "excessive demonstrations of virtue" and what he considered to be self-congratulatory greenwashing. Then he went on to dismiss the "fetishising" of small-scale projects, saying, "Being a catalyst is not enough." He also compared local starchitect Bjarke Ingels to Michael Jackson for his messianic posturing and produced a photo of the UN's face of sustainable architecture boarding a private jet. "The word 'sustainability' should be banned – it has become so corrupted as to be meaningless," said De Graaf, before taking a pop at architectural awards that were given to "business-as-usual buildings". This year's prizes will be given out in October in Sydney. De Graaf might or might not be welcome but – like it or not – his straight-talking is exactly what the industry needs. Michael Booth is Monocle's Copenhagen correspondent. For more opinion, analysis and insight, to Monocle today. ---------------------------------------------------------------------------------------------------------------------------------- AFFAIRS / NATO REQUIREMENTS FOR ENTRY One of the key questions hanging over this year's Nato summit in Vilnius has been answered: a last-minute magnanimous gesture by Turkey's president, Recep Tayyip Erdogan, has cleared the way for Sweden to join the military alliance. The focus has now shifted to the more complex issue of Ukraine's potential candidacy. Volodymyr Zelensky (pictured, second from left) has denounced allies for stopping short of offering Kyiv a concrete path to joining the alliance; Ukraine's president is pushing for an unequivocal affirmation of Ukraine's destiny as a member. Speaking to The Monocle Minute as the summit began, Finland's recently appointed foreign minister, Elina Valtonen, noted the establishment of a new Nato-Ukraine Council. "It shows that Nato is strongly committed to co-operating with Ukraine when it is fighting an aggressor in their country," she said. "I'm very committed to having the country in Nato in the future but it's very difficult to draw an exact timeline of when this should happen." ---------------------------------------------------------------------------------------------------------------------------------- ER The Mono ---------------------------------------------------------------------------------------------------------------------------------- TRADE / HONG KONG & JAPAN MUDDY WATERS Yesterday, Hong Kong's chief executive, John Lee Ka-chiu, said that it will expand its ban on seafood from the Tohoku region to many Japanese prefectures if Tokyo discharges radioactive water from the Fukushima nuclear power station into the ocean. Though a safety review by the International Atomic Energy Agency (IAEA) recently concluded that the plan would have "negligible radiological impact", it has been met with stiff opposition from neighbouring countries. Critics have cast doubt on the IAEA's ruling, accusing Japan – one of the agency's biggest donors – of pressuring it into publishing a positive report. The country's chief cabinet secretary, Hirokazu Matsuno, has dismissed such claims as groundless, pointing out that Tokyo's contribution to the IAEA is half that of Beijing. Scepticism of the agency's findings speaks of a growing lack of trust in neutral intergovernmental organisations – but with regional rivalries intensifying, such bodies are needed more than ever. ---------------------------------------------------------------------------------------------------------------------------------- URBANISM / USA FRESH TRACKS A huge US infrastructure project is one step closer to becoming a reality. The federal government announced that it is awarding a $6.9bn (€6.3bn) grant – the most it has ever committed to mass transit – for the construction of the Hudson Tunnel. Connecting New York to New Jersey, the project comprises a new two-tube tunnel under the Hudson, as well as new terminal and rail crossings over the Hackensack River, such as the Portal North bridgen (pictured). Construction will begin next year and the tunnel is expected to double train capacity across the Hudson. It will also allow for a high-speed rail service when it is completed in 2035. Widely considered to be one of the country's most important infrastructure projects, it will allow the existing tracks, which have been deteriorating since Hurricane Sandy in 2012, to close and finally be repaired. After years of delays and hesitance by the federal government to fund the project, it seems that "Amtrak Joe" is laying the foundations for success. ---------------------------------------------------------------------------------------------------------------------------------- SWIMMING / FRANCE TAKING THE PLUNGE For the first time in more than a century, Parisians and tourists alike will soon be able to take a dip in the Seine. In 1923 a swimming ban was introduced as a result of the river's poor water quality but the city's current mayor, Anne Hidalgo, has announced that it will finally be lifted in 2025. Three designated swimming zones will open to the public after the Olympics: Bras Marie in the 4th arrondissement, Bras de Grenelle in the 15th and Bercy in the 12th will be watched over by lifeguards and marked out by buoys. Over the past seven years local authorities have invested around €1.4bn in a clean-up operation, which has helped to reduce waterborne bacteria from sewage to safe levels. When it comes to preserving the heritage of the Olympics, Paris is swimming ahead. ---------------------------------------------------------------------------------------------------------------------------------- TRUNK   MONOCLE Enjoy your summer with Trunk Clothiers. From chic linen shirts to light blazers and beach bags, the destination menswear shop and label has everything that you need to embrace sunnier days with style. Shop the spring-summer sale and receive a 30% discount on select clothing, footwear and accessories – in store and online now.  discover more MONOCLE RADIO / THE BIG INTERVIEW ERNA SOLBERG The former prime minister of Norway sits down with Andrew Mueller to discuss her political career and the future of Europe's relationship with Russia.  listen to the episode (30 mins) MONOCLE FILMS / CULTURE PORTUGUESE PROBLEM-SOLVING Lisbon-based architect and artist Joana Astolfi takes us on a journey into the Portuguese concept of desenrascanço, which means "finding an improvised solution to a problem". She explains what it tells us about Portuguese culture and how it is embodied in an unusual structure in Comporta.  watch the film (4 mins) NEWSLETTER / JOIN US WELCOME TO OUR WORLD Has this been forwarded to you by a friend? Sign up to The Monocle Minute and Monocle Weekend Editions to receive your own bulletin of weekday news and weekend treats.  sign up now   Feedback? get in touch   Read this email online   Manage Newsletters   Share on Twitter   Share on LinkedIn Image credits: UIA, Alamy, Getty Images, Marc Glucksman, Romain Laprade  from The Monocle Minute & Weekend Edition To stop receiving all Monocle newsletters, please click here This email is from Monocle whose registered office is at Midori House, 1 Dorset Street, London, W1U 4EG. You have received this email because you have previously provided us with your email address and subscribed to Monocle bulletins. © 2023 Monocle. M
Show all
The Latest Emails Sent By monocle.com
More Emails, Deals & Coupons From monocle.com
Email Offers, Discounts & Promos From Our Top Stores