The Monocle Minute – Tuesday 8 August 2023
monocle.com sent this email to their subscribers on August 8, 2023.
London / Zürich / Milan / Tokyo /
Bangkok / Singapore / Los Angeles

SPONSORED BY

Opinion /

Mary Fitzgerald
Life through a lens
Few countries have suffered more from the one-dimensional narratives conveyed by news headlines than Libya. Media reporting of the chaos that followed Muammar Gaddafi's overthrow in 2011 has too often obscured how ordinary Libyans have navigated life in the years since. Moreover, Libya was so isolated under Gaddafi that the country's social fabric and culture remain little known to the outside world. When I joined photographer Rena Effendi to report from Tripoli for Monocle in 2021, it was Rena's scenes of daily life in the Libyan capital that captivated readers who were eager to learn more.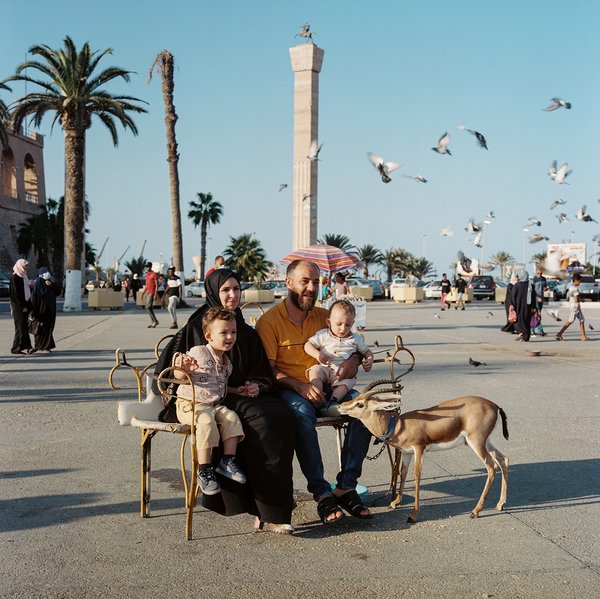 For these reasons, I was delighted to hear about the Album Libya project, launched this month by the Arete Foundation for Arts and Culture. Its curators, including poet Khaled Mattawa, asked Libyans to share images from their family photo albums and personal stories that tell a larger story of the country's past and present. Some of the photographs date back to the pre-Gaddafi 1950s and 1960s, while others are more recent. Together, they are a reminder of the quotidian, intimate realities often lost in the footnotes of a nation's history. The Arete Foundation describes the project as "a collective love poem ignited by the spark of heartbreak and grief". The hope is that sharing memories in this way can help to heal societal wounds caused by years of civil conflict.
Album Libya, which is supported by the Arab Fund for Arts and Culture, is available online and in book form, with an English translation coming soon. Its recent launch in Tripoli included an exhibition of photographs from the project with accompanying testimonies. The Arete Foundation has said that it wants to take the exhibition overseas and I hope that it does. It would help to open Libya up to the world.
Mary Fitzgerald is Monocle's North Africa correspondent. For more opinion, analysis and insight, to Monocle today.
---
Space /

Russia
Reaching for the moon
Russia is preparing to launch its first lunar lander mission in nearly half a century. According to the Roscosmos Space Agency, the Luna-25 space probe (pictured) will launch on Friday from the Vostochny Cosmodrome in Russia's Far East; residents of nearby villages will be evacuated for their protection. Luna-25, which will lift off on a Soyuz-2 Fregat booster, has been designed to make a soft landing on the moon's little-explored south pole and to study the surface layer and explore the region for ice.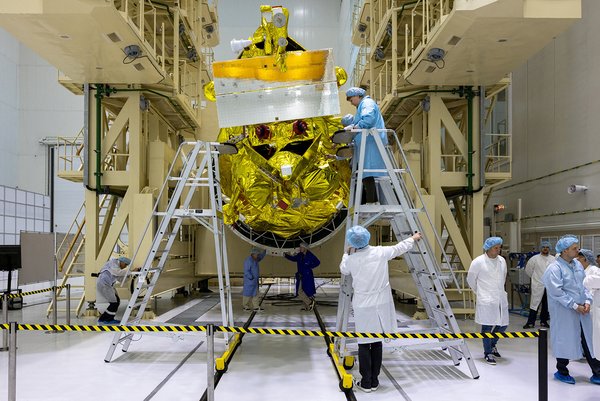 Russia's renewed space ambitions come as the country continues its brutal invasion of Ukraine, which has put a dent in international space co-operation. Moscow is expected to pull out of the International Space Station after 2024 and has ramped up bilateral co-operation with China, taking Earth's geopolitical tensions beyond the atmosphere.
---
Sponsored by Financial Times
Environment /

Brazil
Seeing the wood for the trees
Heads of state from eight Amazon nations will meet in Belém in northern Brazil today for a crucial two-day summit that seeks to protect the world's largest rainforest. The Amazon Cooperation Treaty Organization (ACTO) has not met in 14 years, during which time there has been a surge in deforestation and wildfires in the rainforest.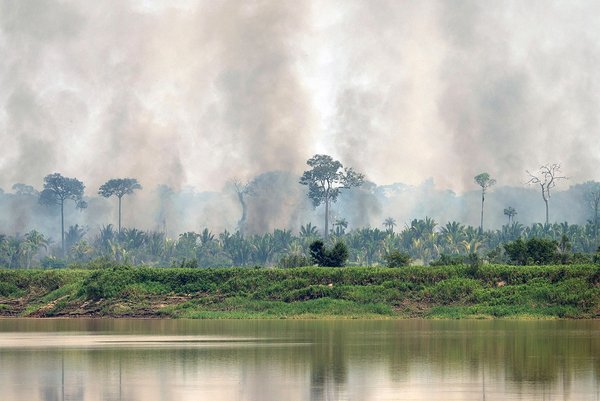 Today's summit finds the leaders of Colombia and Brazil, the group's largest nations, at loggerheads over oil development in the Amazon. Colombia's president, Gustavo Petro, has pushed his Brazilian counterpart, Luiz Inácio Lula da Silva, to block all new drilling operations in the region but the administration in Brasília is starkly divided on the issue. Lula, meanwhile, has beseeched every ACTO country to pledge an end to deforestation by 2030, which all except Bolivia and Venezuela have done. The hope is that the countries will put their differences aside and come to a consensus on both issues when the summit ends tomorrow – for the good of not just the region but the whole planet.
---
Trade /

Thailand
Capital grains
After last month's unexpected announcement by India's government that it would ban exports of non-basmati white rice, Thailand has seized the opportunity to fill the gap. India's decision followed significant crop damage from uneven rainfall during the country's monsoon season, which caused domestic rice prices to increase. Now, Thailand, the world's second-largest rice exporter after India, is experiencing a surge in business, according to the country's commerce minister, Jurin Laksanawisit.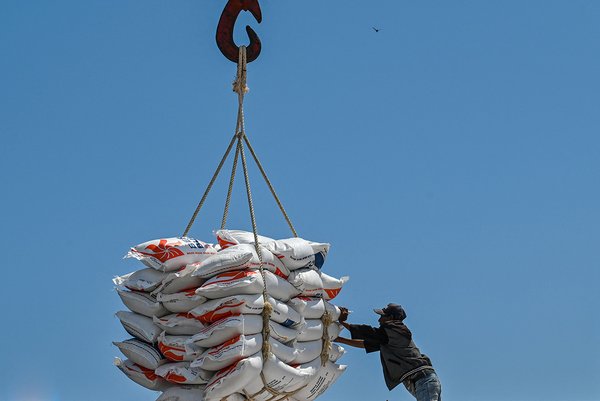 Thai officials have reassured its citizens that enough rice will be produced for domestic consumption despite the increase in exports. The country aims to trade more than eight million metric tonnes this year, up from 7.7 million last year. Though India's export ban is expected to be temporary, Thailand is clearly bowled over by this chance to help meet global demand.
---
Why is the Financial Times pink? In 1888 it started out in black and white. Five years later the FT team came up with a masterstroke. Red China clay used in the papermaking process naturally dyed it a unique salmon colour, so they stopped bleaching it – a bold move that was financially savvy and a little greener. The pink paper took risks and broke new journalistic ground. Today it celebrates 130 years of being fearlessly pink and toasts a bold future. Learn more about the FT at pink.ft.com
Stationery /

Portugal
Ink big
There are few things more important to an architect than the instrument they use to write, scribble and draw with. And now this relationship between practitioner, craft and tool is being honoured by French manufacturer Bic, which has launched a new pen to mark the 90th birthday of Pritzker Prize-winning Portuguese architect Álvaro Siza.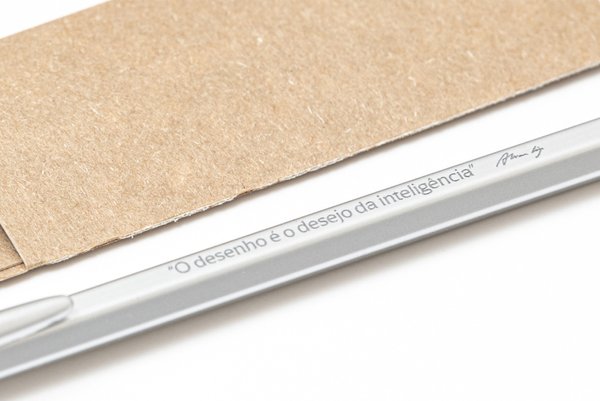 The limited-edition Bic Cristal Re'New elevates the design of the brand's classic biros to a premium level, with a matte aluminium body, refillable cartridges and laser-engraved quotes from the architect in Portuguese and English. The pen will be available exclusively from the Livraria Lello bookshop in Porto. Siza is known for using a Bic Cristal Original in his everyday life and at his sketching table – making this special edition of his favourite pen a fitting tribute to his groundbreaking achievements.
---
Monocle Radio /

The Urbanist
Udaan Park, Udaipur
Ananya Singhal of Studio Saar takes us on a tour of his firm's recently completed lakeside pocket park in the Indian city of Udaipur.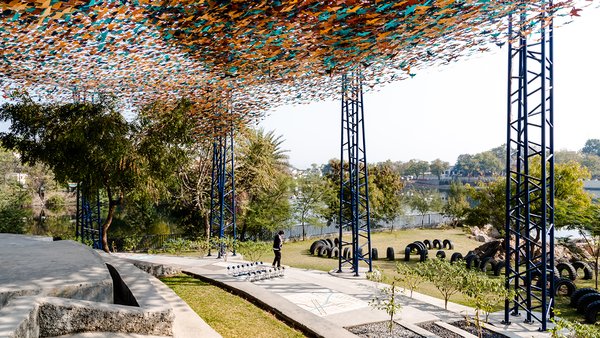 Monocle Films /

Architecture
The world's best public housing?
The world is urbanising fast. But how do you accommodate people in cities in a way that offers dignity, affordability and a sense of community? Vienna might have a solution. Explore the enduring legacy of the city's Gemeindebau apartment blocks in the latest episode of our Design Tours series.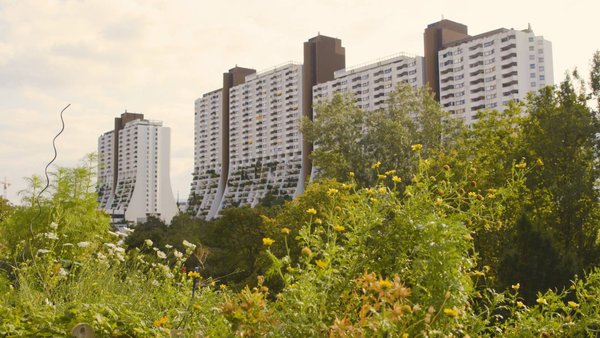 newsletter /

join us
Welcome to our world
Has this been forwarded to you by a friend? Sign up to The Monocle Minute and Monocle Weekend Editions to receive your own bulletin of weekday news and weekend treats.
Image credits: Rena Effendi, Reuters, Getty Images, Lionesa Group, Ankit Jain
from The Monocle Minute & Weekend Edition
To stop receiving all Monocle newsletters, please click here
This email is from Monocle whose registered office is at Midori House, 1 Dorset Street, London, W1U 4EG. You have received this email because you have previously provided us with your email address and subscribed to Monocle bulletins.
© 2023 Monocle.
Text-only version of this email
London / Zürich / Milan / Tokyo / Bangkok / Singapore / Los Angeles Tuesday. 08/08/23 The Monocle Minute SPONSORED BY FINANCIAL TIMES Monocle OPINION / MARY FITZGERALD LIFE THROUGH A LENS Few countries have suffered more from the one-dimensional narratives conveyed by news headlines than Libya. Media reporting of the chaos that followed Muammar Gaddafi's overthrow in 2011 has too often obscured how ordinary Libyans have navigated life in the years since. Moreover, Libya was so isolated under Gaddafi that the country's social fabric and culture remain little known to the outside world. When I joined photographer Rena Effendi to report from Tripoli for Monocle in 2021, it was Rena's scenes of daily life in the Libyan capital that captivated readers who were eager to learn more. For these reasons, I was delighted to hear about the Album Libya project, launched this month by the Arete Foundation for Arts and Culture. Its curators, including poet Khaled Mattawa, asked Libyans to share images from their family photo albums and personal stories that tell a larger story of the country's past and present. Some of the photographs date back to the pre-Gaddafi 1950s and 1960s, while others are more recent. Together, they are a reminder of the quotidian, intimate realities often lost in the footnotes of a nation's history. The Arete Foundation describes the project as "a collective love poem ignited by the spark of heartbreak and grief". The hope is that sharing memories in this way can help to heal societal wounds caused by years of civil conflict. Album Libya, which is supported by the Arab Fund for Arts and Culture, is available online and in book form, with an English translation coming soon. Its recent launch in Tripoli included an exhibition of photographs from the project with accompanying testimonies. The Arete Foundation has said that it wants to take the exhibition overseas and I hope that it does. It would help to open Libya up to the world. Mary Fitzgerald is Monocle's North Africa correspondent. For more opinion, analysis and insight, to Monocle today. ---------------------------------------------------------------------------------------------------------------------------------- SPACE / RUSSIA REACHING FOR THE MOON Russia is preparing to launch its first lunar lander mission in nearly half a century. According to the Roscosmos Space Agency, the Luna-25 space probe (pictured) will launch on Friday from the Vostochny Cosmodrome in Russia's Far East; residents of nearby villages will be evacuated for their protection. Luna-25, which will lift off on a Soyuz-2 Fregat booster, has been designed to make a soft landing on the moon's little-explored south pole and to study the surface layer and explore the region for ice. Russia's renewed space ambitions come as the country continues its brutal invasion of Ukraine, which has put a dent in international space co-operation. Moscow is expected to pull out of the International Space Station after 2024 and has ramped up bilateral co-operation with China, taking Earth's geopolitical tensions beyond the atmosphere. ---------------------------------------------------------------------------------------------------------------------------------- SPONSORED BY FINANCIAL TIMES JR FINANCIAL Fearlessly pink TIMES for 130 years IS MIGHTIER 5 FINANCIAL TIMES Fearlessly pink for 130 years ---------------------------------------------------------------------------------------------------------------------------------- ENVIRONMENT / BRAZIL SEEING THE WOOD FOR THE TREES Heads of state from eight Amazon nations will meet in Belém in northern Brazil today for a crucial two-day summit that seeks to protect the world's largest rainforest. The Amazon Cooperation Treaty Organization (ACTO) has not met in 14 years, during which time there has been a surge in deforestation and wildfires in the rainforest. Today's summit finds the leaders of Colombia and Brazil, the group's largest nations, at loggerheads over oil development in the Amazon. Colombia's president, Gustavo Petro, has pushed his Brazilian counterpart, Luiz Inácio Lula da Silva, to block all new drilling operations in the region but the administration in Brasília is starkly divided on the issue. Lula, meanwhile, has beseeched every ACTO country to pledge an end to deforestation by 2030, which all except Bolivia and Venezuela have done. The hope is that the countries will put their differences aside and come to a consensus on both issues when the summit ends tomorrow – for the good of not just the region but the whole planet. ---------------------------------------------------------------------------------------------------------------------------------- TRADE / THAILAND CAPITAL GRAINS After last month's unexpected announcement by India's government that it would ban exports of non-basmati white rice, Thailand has seized the opportunity to fill the gap. India's decision followed significant crop damage from uneven rainfall during the country's monsoon season, which caused domestic rice prices to increase. Now, Thailand, the world's second-largest rice exporter after India, is experiencing a surge in business, according to the country's commerce minister, Jurin Laksanawisit. Thai officials have reassured its citizens that enough rice will be produced for domestic consumption despite the increase in exports. The country aims to trade more than eight million metric tonnes this year, up from 7.7 million last year. Though India's export ban is expected to be temporary, Thailand is clearly bowled over by this chance to help meet global demand. ---------------------------------------------------------------------------------------------------------------------------------- FINANCIAL TIMES  MONOCLE Fearlessly pink for 130 years Why is the Financial Times pink? In 1888 it started out in black and white. Five years later the FT team came up with a masterstroke. Red China clay used in the papermaking process naturally dyed it a unique salmon colour, so they stopped bleaching it – a bold move that was financially savvy and a little greener. The pink paper took risks and broke new journalistic ground. Today it celebrates 130 years of being fearlessly pink and toasts a bold future. Learn more about the FT at pink.ft.com  discover more STATIONERY / PORTUGAL INK BIG There are few things more important to an architect than the instrument they use to write, scribble and draw with. And now this relationship between practitioner, craft and tool is being honoured by French manufacturer Bic, which has launched a new pen to mark the 90th birthday of Pritzker Prize-winning Portuguese architect Álvaro Siza. The limited-edition Bic Cristal Re'New elevates the design of the brand's classic biros to a premium level, with a matte aluminium body, refillable cartridges and laser-engraved quotes from the architect in Portuguese and English. The pen will be available exclusively from the Livraria Lello bookshop in Porto. Siza is known for using a Bic Cristal Original in his everyday life and at his sketching table – making this special edition of his favourite pen a fitting tribute to his groundbreaking achievements. ---------------------------------------------------------------------------------------------------------------------------------- The Mono ---------------------------------------------------------------------------------------------------------------------------------- MONOCLE RADIO / THE URBANIST UDAAN PARK, UDAIPUR Ananya Singhal of Studio Saar takes us on a tour of his firm's recently completed lakeside pocket park in the Indian city of Udaipur.  listen to the episode (6 mins) MONOCLE FILMS / ARCHITECTURE THE WORLD'S BEST PUBLIC HOUSING? The world is urbanising fast. But how do you accommodate people in cities in a way that offers dignity, affordability and a sense of community? Vienna might have a solution. Explore the enduring legacy of the city's Gemeindebau apartment blocks in the latest episode of our Design Tours series.  watch the film (6 mins) NEWSLETTER / JOIN US WELCOME TO OUR WORLD Has this been forwarded to you by a friend? Sign up to The Monocle Minute and Monocle Weekend Editions to receive your own bulletin of weekday news and weekend treats.  sign up now   Feedback? get in touch   Read this email online   Manage Newsletters   Share on Twitter   Share on LinkedIn Image credits: Rena Effendi, Reuters, Getty Images, Lionesa Group, Ankit Jain  from The Monocle Minute & Weekend Edition To stop receiving all Monocle newsletters, please click here This email is from Monocle whose registered office is at Midori House, 1 Dorset Street, London, W1U 4EG. You have received this email because you have previously provided us with your email address and subscribed to Monocle bulletins. © 2023 Monocle. M
Show all
The Latest Emails Sent By monocle.com
More Emails, Deals & Coupons From monocle.com
Email Offers, Discounts & Promos From Our Top Stores