The Monocle Minute – Tuesday 26 September 2023
monocle.com sent this email to their subscribers on September 26, 2023.
POLITICS

|

EMMANUIL PAPAVASILEIOU
Loud and proud
Following his election as the new leader of Greece's centre-left Syriza party on Sunday, Stefanos Kasselakis (pictured) stood outside its offices in Koumoundourou Square to deliver a message of unity to a divided crowd. "I am not a phenomenon but the voice of society," he said. Syriza is the country's main opposition party but after its poor results in June's election, it has been reduced to a spent force. And Kasselakis's statement seems wrong on both counts: by Greek standards, he is indeed a phenomenon and he is certainly not the voice of society.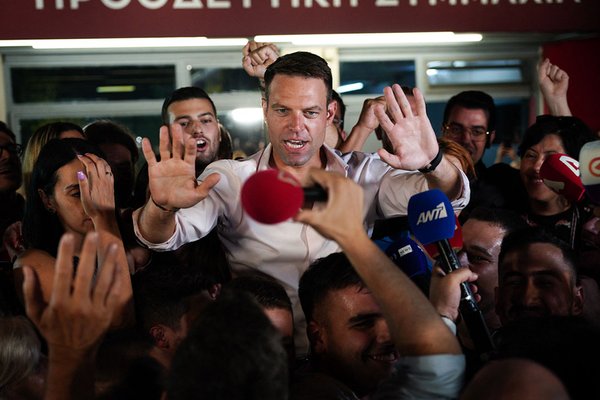 Less than six months ago, Kasselakis was a party outsider with no political experience, living and working in Miami as an entrepreneur. The announcement of his candidacy resulted in a huge media circus, with the major broadcasters seeming to neglect the country's most pressing issues in favour of almost non-stop coverage of his and his partner Tyler McBeth's daily schedules. This involved everything from their breakfast habits and trips to the gym to a controversial debate on homosexuality in a country that is still gripped by strict Orthodox ideas about sexuality. Kasselakis's rapid ascent to become the country's first openly gay party leader has shaken up the political scene. This, at least, is a positive first step towards a more modern approach.
But how can he represent the "voice of society" when he has yet to reveal his positions on issues such as the economy, immigration and foreign policy? During his leadership campaign, he mentioned the idea of abolishing obligatory military service but gave little else away. Voters are still waiting to see where he will position himself on the political spectrum and how he will perform in parliament as the main opposition leader. If this summer's election results are anything to go by, Greek society seems to be mirroring the rest of Europe by adopting a more protectionist stance. Prime minister Kyriakos Mitsotakis's tough stance on immigration, stand-offs with Turkey and focus on increasing military power are what the majority voted for. Kasselakis might find that a liberal approach will fall on deaf ears.
Emmanuil Papavasileiou is Monocle's newsletters editor. For more opinion, analysis and insight, to Monocle today.
---
DIPLOMACY

|

CHINA, JAPAN & SOUTH KOREA
Team of rivals
Senior diplomats from China, Japan and South Korea will meet in Seoul today to discuss the resumption of annual trilateral summits between their respective leaders. Though Beijing, Tokyo and Seoul agreed in 2008 that their heads of government should meet every year, the summits have not been held since December 2019 (pictured). Much has changed since then, including a historic decision by Japan and South Korea to put past disputes behind them and focus on more pressing regional threats.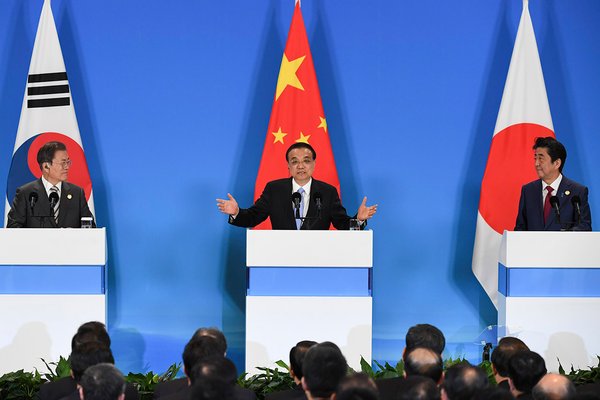 Because it was generally assumed that those threats would come from China, news of this pre-summit gathering has taken some by surprise. It might prove difficult for the participants to prevent the negotiations from becoming a case of Tokyo and Seoul versus Beijing but – in the interests of regional and, indeed, world peace – it's important that these three powers can speak to each other in a non-adversarial way.
---
Groupe ADP MONOCLE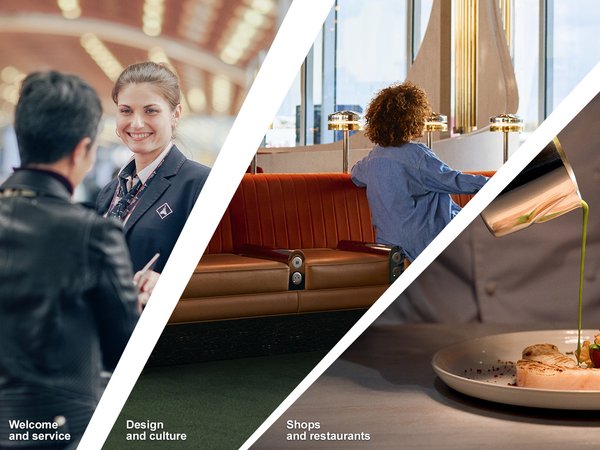 Welcome, wherever you go
Groupe ADP always aims to offer excellence in hospitality at every airport within its network. It has five airports ranked in Skytrax's top 100 airports in the world, including Paris-Charles De Gaulle and Delhi – voted "best airport in Europe" and "best airport in India and South Asia" respectively.
FOOD

|

NEW YORK
Market values
Over the past 50 years, New York's Park Slope Food Co-op – a member-run grocery shop complete with iconic neon sign – has remained a beacon of community in the rapidly changing borough of Brooklyn. In 1973, social movements were in full swing and young idealistic shoppers wanted anti-corporate alternatives. Now with almost 15,000 members, Park Slope Food Co-op (pictured) has retained its original values by focusing on organic, minimally processed foods, as well as a drive to support local businesses – the takeaway sandwiches, for example, are from the nearby Court Street Grocers, while the tomatoes come from Upstate New York.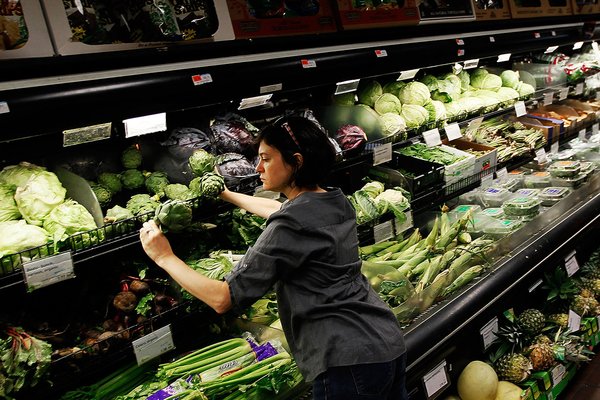 Every six weeks, members take turns to pack groceries, work on the checkouts and perform other tasks. Not only does this give them a sense of ownership but it harnesses community. At the counter, they chat as though they are among friends. "When you work next to someone in the stock room for two or three hours, you get talking," says Ann Herpel, one of the co-op's general co-ordinators, who has seen friendships and even romances bloom during her time at Park Slope. "People find it meaningful."
For more agenda-setting business stories and what makes a good shop, pick up a copy of Monocle's October issue, which is out now and features our new Retail Awards.
---
PRINT

|

SEVILLE
Off the page
The DistriPress Congress, an annual gathering of professionals who work in print media publishing, production, marketing and distribution, is under way in Seville and runs until tomorrow. At the Meliá Sevilla hotel, panellists have been tackling a series of the most pressing questions currently affecting the industry, from how European publishers should diversify and develop their businesses to where they should focus their investments. Yesterday a special panel with Krifka Steffey from Barnes & Noble and Readly's Ranj Begley explored what data retailers can gather about how customers consume content. Monocle's editorial director (and DistriPress president), Tyler Brûlé, and Monocle Radio's senior correspondent Fernando Augusto Pacheco hosted a presentation on exciting new magazines and kiosks. "Distripress is a global gathering that reminds us of both the power and the complexity of distributing print media both domestically and internationally," Brûlé tells The Monocle Minute. "After a few rough years, we are seeing demand increasing and, equally importantly, there have been plenty of new launches, particularly in the French and Spanish markets."
For Monocle's take on the world of print and the industry's most exciting new offerings, tune in to 'The Stack' on Monocle Radio.
---
Q&A

|

MICHAEL HESELTINE
Rough seas
"In the Room" is Monocle Radio's series featuring conversations with eyewitnesses and key players of historic events. In the third and final episode, we look back at the 10-week Falklands War between Argentina and the UK in 1982. Here, Andrew Mueller speaks to Michael Heseltine, former deputy prime minister of the UK and a member of Margaret Thatcher's cabinet during the conflict.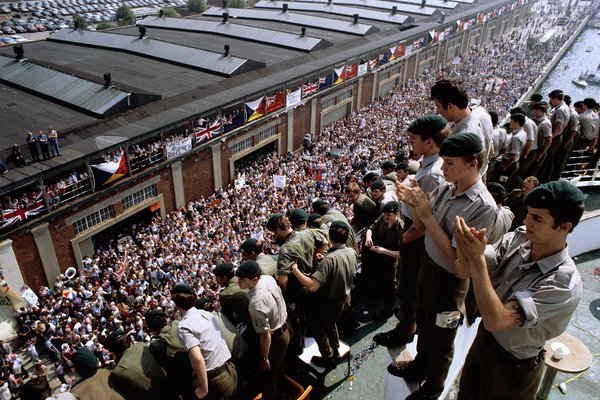 Thinking back to 1982, was there any discussion about a diplomatic solution to the crisis or was the government fixed on the idea of a military response?
There were analyses of different options as the events unfolded. There was certainly not a predisposition to go to war. That would have been the last option that the cabinet would have wanted but, in the end, it was the option that it was forced to take. It would be ludicrous to pretend otherwise.
Once it became clear that this situation would be resolved militarily, was there any discussion about what failure might mean, both for the country and for the Conservative Party?
The cabinet was united that in the circumstances of the illegal occupation of British territory, the military's advice had to be followed, which was that the option of repossession was available to us. There was an analysis of the likely cost, which was presented by Lord Lewin, who said that the casualty range would be between 250 and 750. In the end, fortunately, the lower estimate proved to be more accurate. When we were confronted with the decision, there was only one dissenting voice – that of John Biffen. The rest of the cabinet was united. At the time I said that if the fleet didn't sail, the government would fall.
You succeeded John Nott as secretary of state for defence in 1983, after the war. What lessons from the conflict did you take into the role?
The split responsibilities within the ministry, with the navy, army and air force – these were three independent groupings of power, with the secretary of state having to make often lonely decisions about their differing priorities. I succeeded in bringing them under a unified command. I worked out the structure and told the chief of defence staff of my decision without consulting him, which he was understandably very cross about. I told Margaret Thatcher [that these reforms] had been festering since the end of the Second World War and needed to be put through. No one has undone the reforms that I introduced.
To listen to the full interview, which also features David Omand, former director of the British government communications headquarters, and Admiral Lord Alan West, former commander of the 'HMS Ardent', tune in to the latest episode of 'The Foreign Desk' on Monocle Radio.
---
Monocle films

|

House news
October issue, 2023
Monocle's bumper October issue gives you plenty of bang for your buck. Our new Retail Awards honour the shopkeepers bringing refined and original ideas to the world's high streets and out autumn Style Directory will ensure that you look the part when you hit the town. Elsewhere, we meet Milan's elegantly dressed older women, question the relevance of the UN and the mayor of Dallas tells us how the city is staying safe. Order your copy today.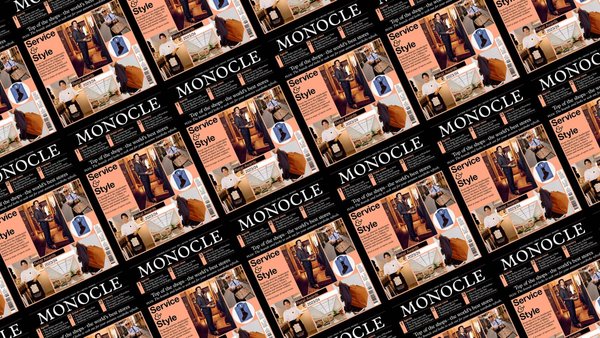 ---
Newsletter

|

join us
Welcome to our world
Has this been forwarded to you by a friend? Sign up to The Monocle Minute and Monocle Weekend Editions to receive your own bulletin of weekday news and weekend treats.
Image credits:

Getty Images
from The Monocle Minute & Weekend Edition.
This email is from Monocle whose registered office is at Midori House, 1 Dorset Street, London, W1U 4EG. You have received this email because you have previously provided us with your email address and subscribed to Monocle bulletins.
Text-only version of this email
Monocle London | Zürich | Milan | Tokyo | Bangkok | Singapore | Los Angeles Tuesday 26/09/23 The Monocle Minute Sponsored by GROUPE ADP THE OPINION POLITICS | EMMANUIL PAPAVASILEIOU LOUD AND PROUD Following his election as the new leader of Greece's centre-left Syriza party on Sunday, Stefanos Kasselakis (pictured) stood outside its offices in Koumoundourou Square to deliver a message of unity to a divided crowd. "I am not a phenomenon but the voice of society," he said. Syriza is the country's main opposition party but after its poor results in June's election, it has been reduced to a spent force. And Kasselakis's statement seems wrong on both counts: by Greek standards, he is indeed a phenomenon and he is certainly not the voice of society. Less than six months ago, Kasselakis was a party outsider with no political experience, living and working in Miami as an entrepreneur. The announcement of his candidacy resulted in a huge media circus, with the major broadcasters seeming to neglect the country's most pressing issues in favour of almost non-stop coverage of his and his partner Tyler McBeth's daily schedules. This involved everything from their breakfast habits and trips to the gym to a controversial debate on homosexuality in a country that is still gripped by strict Orthodox ideas about sexuality. Kasselakis's rapid ascent to become the country's first openly gay party leader has shaken up the political scene. This, at least, is a positive first step towards a more modern approach. But how can he represent the "voice of society" when he has yet to reveal his positions on issues such as the economy, immigration and foreign policy? During his leadership campaign, he mentioned the idea of abolishing obligatory military service but gave little else away. Voters are still waiting to see where he will position himself on the political spectrum and how he will perform in parliament as the main opposition leader. If this summer's election results are anything to go by, Greek society seems to be mirroring the rest of Europe by adopting a more protectionist stance. Prime minister Kyriakos Mitsotakis's tough stance on immigration, stand-offs with Turkey and focus on increasing military power are what the majority voted for. Kasselakis might find that a liberal approach will fall on deaf ears. Emmanuil Papavasileiou is Monocle's newsletters editor. For more opinion, analysis and insight, to Monocle today. Share this story. ---------------------------------------------------------------------------------------------------------------------------------- BRIEFINGS DIPLOMACY | CHINA, JAPAN & SOUTH KOREA TEAM OF RIVALS Senior diplomats from China, Japan and South Korea will meet in Seoul today to discuss the resumption of annual trilateral summits between their respective leaders. Though Beijing, Tokyo and Seoul agreed in 2008 that their heads of government should meet every year, the summits have not been held since December 2019 (pictured). Much has changed since then, including a historic decision by Japan and South Korea to put past disputes behind them and focus on more pressing regional threats. Because it was generally assumed that those threats would come from China, news of this pre-summit gathering has taken some by surprise. It might prove difficult for the participants to prevent the negotiations from becoming a case of Tokyo and Seoul versus Beijing but – in the interests of regional and, indeed, world peace – it's important that these three powers can speak to each other in a non-adversarial way. ---------------------------------------------------------------------------------------------------------------------------------- GROUPE ADP   MONOCLE WELCOME, WHEREVER YOU GO Groupe ADP always aims to offer excellence in hospitality at every airport within its network. It has five airports ranked in Skytrax's top 100 airports in the world, including Paris-Charles De Gaulle and Delhi – voted "best airport in Europe" and "best airport in India and South Asia" respectively. Discover more FOOD | NEW YORK MARKET VALUES Over the past 50 years, New York's Park Slope Food Co-op – a member-run grocery shop complete with iconic neon sign – has remained a beacon of community in the rapidly changing borough of Brooklyn. In 1973, social movements were in full swing and young idealistic shoppers wanted anti-corporate alternatives. Now with almost 15,000 members, Park Slope Food Co-op (pictured) has retained its original values by focusing on organic, minimally processed foods, as well as a drive to support local businesses – the takeaway sandwiches, for example, are from the nearby Court Street Grocers, while the tomatoes come from Upstate New York. Every six weeks, members take turns to pack groceries, work on the checkouts and perform other tasks. Not only does this give them a sense of ownership but it harnesses community. At the counter, they chat as though they are among friends. "When you work next to someone in the stock room for two or three hours, you get talking," says Ann Herpel, one of the co-op's general co-ordinators, who has seen friendships and even romances bloom during her time at Park Slope. "People find it meaningful." For more agenda-setting business stories and what makes a good shop, pick up a copy of Monocle's October issue, which is out now and features our new Retail Awards. Share this story. ---------------------------------------------------------------------------------------------------------------------------------- ---------------------------------------------------------------------------------------------------------------------------------- PRINT | SEVILLE OFF THE PAGE The DistriPress Congress, an annual gathering of professionals who work in print media publishing, production, marketing and distribution, is under way in Seville and runs until tomorrow. At the Meliá Sevilla hotel, panellists have been tackling a series of the most pressing questions currently affecting the industry, from how European publishers should diversify and develop their businesses to where they should focus their investments. Yesterday a special panel with Krifka Steffey from Barnes & Noble and Readly's Ranj Begley explored what data retailers can gather about how customers consume content. Monocle's editorial director (and DistriPress president), Tyler Brûlé, and Monocle Radio's senior correspondent Fernando Augusto Pacheco hosted a presentation on exciting new magazines and kiosks. "Distripress is a global gathering that reminds us of both the power and the complexity of distributing print media both domestically and internationally," Brûlé tells The Monocle Minute. "After a few rough years, we are seeing demand increasing and, equally importantly, there have been plenty of new launches, particularly in the French and Spanish markets." For Monocle's take on the world of print and the industry's most exciting new offerings, tune in to 'The Stack' on Monocle Radio. Share this story. ---------------------------------------------------------------------------------------------------------------------------------- ---------------------------------------------------------------------------------------------------------------------------------- ---------------------------------------------------------------------------------------------------------------------------------- BEYOND THE HEADLINES Q&A | MICHAEL HESELTINE ROUGH SEAS "In the Room" is Monocle Radio's series featuring conversations with eyewitnesses and key players of historic events. In the third and final episode, we look back at the 10-week Falklands War between Argentina and the UK in 1982. Here, Andrew Mueller speaks to Michael Heseltine, former deputy prime minister of the UK and a member of Margaret Thatcher's cabinet during the conflict. Thinking back to 1982, was there any discussion about a diplomatic solution to the crisis or was the government fixed on the idea of a military response? There were analyses of different options as the events unfolded. There was certainly not a predisposition to go to war. That would have been the last option that the cabinet would have wanted but, in the end, it was the option that it was forced to take. It would be ludicrous to pretend otherwise. Once it became clear that this situation would be resolved militarily, was there any discussion about what failure might mean, both for the country and for the Conservative Party? The cabinet was united that in the circumstances of the illegal occupation of British territory, the military's advice had to be followed, which was that the option of repossession was available to us. There was an analysis of the likely cost, which was presented by Lord Lewin, who said that the casualty range would be between 250 and 750. In the end, fortunately, the lower estimate proved to be more accurate. When we were confronted with the decision, there was only one dissenting voice – that of John Biffen. The rest of the cabinet was united. At the time I said that if the fleet didn't sail, the government would fall. You succeeded John Nott as secretary of state for defence in 1983, after the war. What lessons from the conflict did you take into the role? The split responsibilities within the ministry, with the navy, army and air force – these were three independent groupings of power, with the secretary of state having to make often lonely decisions about their differing priorities. I succeeded in bringing them under a unified command. I worked out the structure and told the chief of defence staff of my decision without consulting him, which he was understandably very cross about. I told Margaret Thatcher [that these reforms] had been festering since the end of the Second World War and needed to be put through. No one has undone the reforms that I introduced. To listen to the full interview, which also features David Omand, former director of the British government communications headquarters, and Admiral Lord Alan West, former commander of the 'HMS Ardent', tune in to the latest episode of 'The Foreign Desk' on Monocle Radio. Share this story. ---------------------------------------------------------------------------------------------------------------------------------- MONOCLE FILMS | HOUSE NEWS OCTOBER ISSUE, 2023 Monocle's bumper October issue gives you plenty of bang for your buck. Our new Retail Awards honour the shopkeepers bringing refined and original ideas to the world's high streets and out autumn Style Directory will ensure that you look the part when you hit the town. Elsewhere, we meet Milan's elegantly dressed older women, question the relevance of the UN and the mayor of Dallas tells us how the city is staying safe. Order your copy today. Watch the film . Share this story. ---------------------------------------------------------------------------------------------------------------------------------- NEWSLETTER | JOIN US WELCOME TO OUR WORLD Has this been forwarded to you by a friend? Sign up to The Monocle Minute and Monocle Weekend Editions to receive your own bulletin of weekday news and weekend treats. Sign up now Read this email online Send us your feedback Share on linkedin Share on twitter Image credits: Getty Images  from The Monocle Minute & Weekend Edition. This email is from Monocle whose registered office is at Midori House, 1 Dorset Street, London, W1U 4EG. You have received this email because you have previously provided us with your email address and subscribed to Monocle bulletins. © 2023 Monocle
Show all
The Latest Emails Sent By monocle.com
More Emails, Deals & Coupons From monocle.com
Email Offers, Discounts & Promos From Our Top Stores