The Monocle Minute – Tuesday 20 June 2023
monocle.com sent this email to their subscribers on June 20, 2023.
London / Zürich / Toronto /
Los Angeles / Hong Kong / Tokyo

SPONSORED BY

Opinion /

Jessica Bridger
Fund global, act local
The world's top civic leaders gathered at the Brussels Urban Summit (pictured) last week to discuss how cities can be vehicles for innovation. The inaugural event brought together more than 140 mayors, major city organisations and over 1,000 attendees from hundreds of municipalities. As the summit wrapped up, I picked up two key themes from delegates. First, that cities have more potential than national governments to be driving forces of sustainable development. Second, that they all share similar fundamental challenges.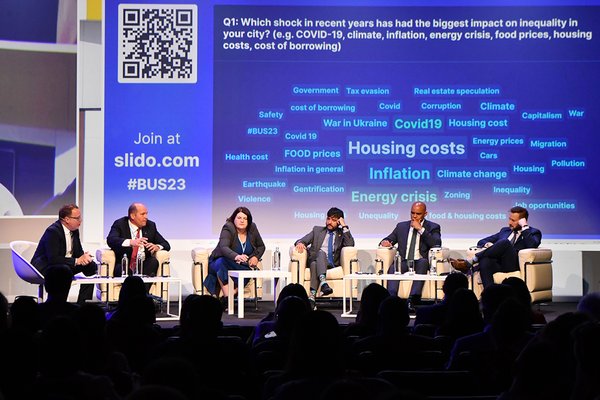 An estimated 68 per cent of people will live in urban areas by 2050 and challenges such as climate change, migration, inequality and housing, which fall into the domain of national governments, will have to be dealt with locally. Initiatives such as the UN's Agenda 2030 and its Sustainable Development Goals provide nations with blueprints to tackle issues ranging from energy to urbanism but taking specific action at a local level is often more complicated.
The summit showcased innovative public spaces in Paris and Ramallah, and there were calls for land acquisition in Montevideo and energy-saving initiatives in Hamburg. Yet regional governments often don't wield enough power to make final decisions. An exciting solution in the offing is for cities to be able to tap directly into international financial aid without the approval of national governments. Both the Asian Development Bank and the World Bank were mentioned at the summit as possible lenders. It might be too early to speculate on when or whether such a financing strategy will become a reality. But if it does, it could be a meaningful step towards a municipal revolution that gives cities the power to really cash in on change.
Jessica Bridger is an urbanist and consultant, and Monocle's contributing editor. For more opinion, analysis and insight, to Monocle today.
---
AVIATION /

PARIS
In full flight
The Paris Air Show, the world's largest international aerospace fair, opened yesterday after a four-year hiatus, featuring about 2,500 exhibitors from 47 countries. High on the agenda were efforts by plane manufacturers to raise production rates and an industry-wide aim of achieving net-zero carbon emissions by 2050. "This year's focus is on increased orders and mobility," Paul Charles, CEO of The PC Agency, tells The Monocle Minute. "Airlines expect demand for passenger jets to double over the next 20 years."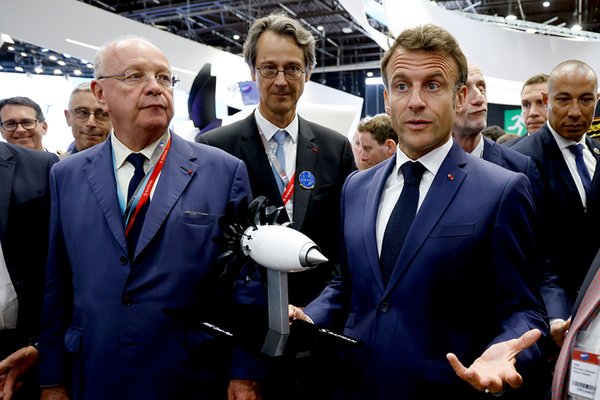 On the sidelines of the event, Emmanuel Macron (pictured, on right) gathered European defence ministers to make his case against a Germany-led plan to buy air-force technology from the US and Israel. He argued that doing so would undermine Europe's strategic autonomy. His disagreement with the 16 other European countries backing the move needs to be solved soon if European powers hope to maintain a united front in their military support for Ukraine.
For more on the Paris Air Show, tune in to Monday's edition of 'The Briefing' on Monocle Radio
---
Sponsored by Visit Copenhagen
Politics /

Australia
Voice of the people
Australia's Senate (pictured) has passed a bill paving the way for a historic national referendum on Indigenous rights. The referendum – the country's first in 24 years – is expected to take place between October and December this year. A "yes" vote would alter the constitution to grant Aboriginal and Torres Strait Islander people a dedicated "voice" in national policymaking on issues such as community-development programmes, heritage protection and employment.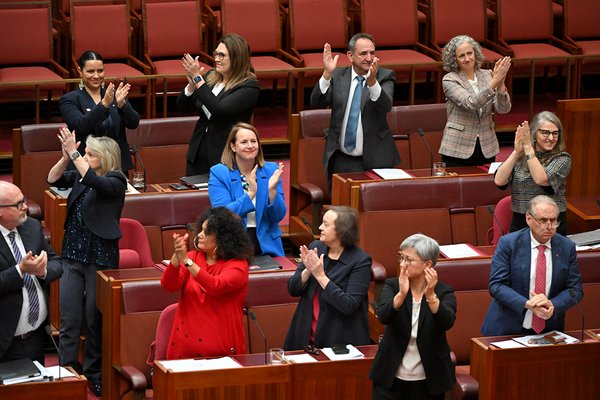 The Australian government has promised a public education campaign before the vote to answer questions about how the process will unfold. Though there are concerns that the referendum is largely symbolic, here's hoping that it can bring about some meaningful changes.
---
SOCIETY /

JAPAN
Peak season
Hikers are preparing their best gear for the start of Mount Fuji's climbing season. With the lifting of coronavirus restrictions, the opening of borders and the 10th anniversary of the dormant volcano becoming a Unesco World Heritage Site, Japan's highest peak is expected to be more crowded than ever this year.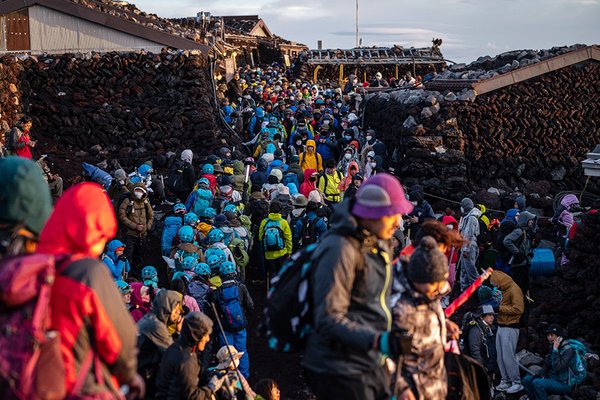 Demand for mountain lodges is already exceptionally high and there are concerns that climbers might attempt to go up and down in one go. Towns in the area have petitioned the governor of Yamanashi prefecture, calling for action to control the crowds or even restrict entry to prevent disaster. Watching the sunrise from Fuji's summit (pictured) might be an ambition of many amateurs but, at 3,776 metres, scaling the mountain is no mean feat. As the old Japanese saying goes, "A wise man climbs Mount Fuji once but only a fool climbs it twice."
---
Visit Copenhagen MONOCLE
Step into the architectural wonders of Copenhagen, the UNESCO-UIA World Capital of Architecture for 2023-'26. This title celebrates the city's legacy in architectural excellence combined with its commitment to climate resilience, human-centric urban development, and quality of life. Within Copenhagen's vibrant architectural landscape, you'll meet stellar creative studios, such as "masters of light" Henning Larsen Architects, upcycling pioneers Lendager Group and the internationally acclaimed Bjarke Ingels Group.
Plan your Copenhagen journey with the help of these gifted architects. We have asked them to share their perspectives on what sets Copenhagen apart and makes it the UNESCO-UIA World Capital of Architecture.
Culture /

South Africa
Tour guide
Johannesburg-based musician Bongeziwe Mabandla is one of South Africa's most exciting artists. His tunes cleverly mix traditional Xhosa folk with modern electro. His latest album, amaXesha (meaning "The Times") was recently released to great international acclaim. Currently on a world tour, Monocle caught up with him during a stop-off in London.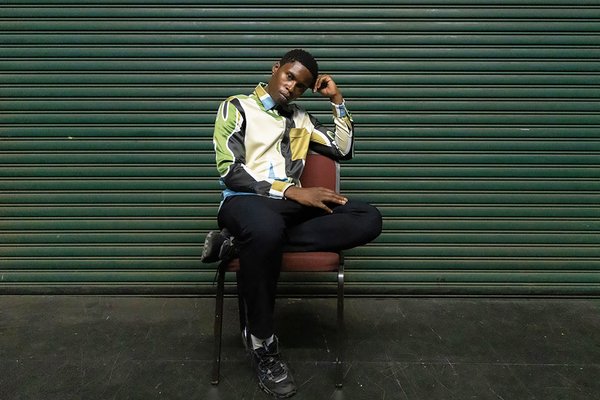 South Africa is a very interesting market for music. What makes it so different?
There are so many influences. Music and songwriting have always been part of the culture. And dance too. We have a very high level of expression in South Africa.
How would you describe your music?
Deep down it is just soul music. It contains a lot of feelings and emotions. I grew up making folk music but now I have switched to a more experimental sound. It has a lot of electro elements and some hip-hop, all infused with a very traditional South African feel.
What is your favourite track from the new album?
I love the song "Ubukho Bakho", mainly because of the lyrics. The title means "your presence" and it is about all the people who have made sacrifices for my success and for me to be here. It makes me think of my mother, my aunt and all the other people who shaped my life. It is a song of gratitude.
For the full interview with Bongeziwe, tune in to the latest edition of 'The Monocle Weekly' on Monocle Radio.
---
Monocle Radio /

The Foreign Desk
The war in Ukraine: a reality check
Almost 16 months since Russia launched its full-scale invasion of Ukraine, the war shows no signs of ending. How long will the conflict last – and is the West actually afraid of a Ukrainian victory? Andrew Mueller speaks to Philip Breedlove, Nato's former supreme allied commander Europe, Richard Shirreff, Nato's former deputy supreme allied commander Europe, and Russian opposition politician Vladimir Milov.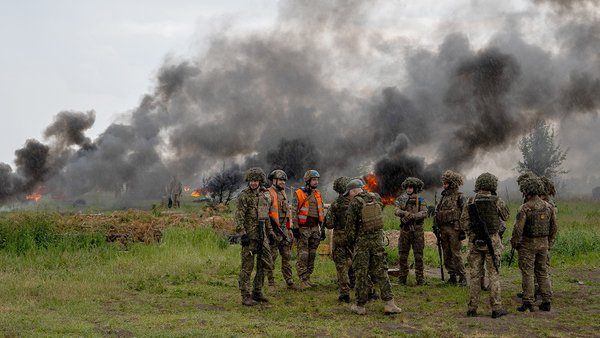 Monocle Films /

Design
The future of Japanese craftsmanship
To celebrate our book about Japan, we are presenting a film series that dives into the intriguing ecosystem that has preserved Japanese traditional skills over centuries. Meet the people who are future-proofing the age-old know-how.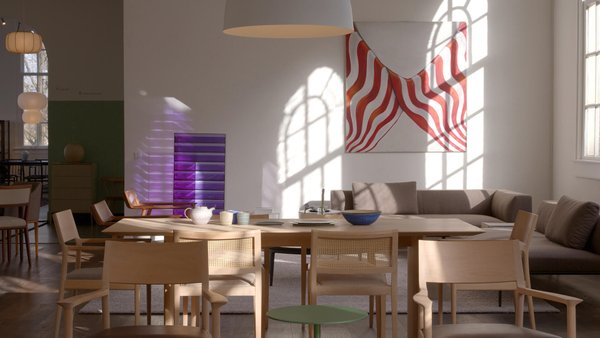 newsletter /

join us
Welcome to our world
Has this been forwarded to you by a friend? Sign up to The Monocle Minute and Monocle Weekend Editions to receive your own bulletin of weekday news and weekend treats.
Image credits: Eurocities/DIRCOM/Yannick Coppens, Shutterstock, Alamy, Getty Images
from The Monocle Minute & Weekend Edition
To stop receiving all Monocle newsletters, please click here
This email is from Monocle whose registered office is at Midori House, 1 Dorset Street, London, W1U 4EG. You have received this email because you have previously provided us with your email address and subscribed to Monocle bulletins.
© 2023 Monocle.
Text-only version of this email
London / Zürich / Toronto Los Angeles / Hong Kong / Tokyo Tuesday. 20/06/23 The Monocle Minute SPONSORED BY VISIT COPENHAGEN Monocle OPINION / JESSICA BRIDGER FUND GLOBAL, ACT LOCAL The world's top civic leaders gathered at the Brussels Urban Summit (pictured) last week to discuss how cities can be vehicles for innovation. The inaugural event brought together more than 140 mayors, major city organisations and over 1,000 attendees from hundreds of municipalities. As the summit wrapped up, I picked up two key themes from delegates. First, that cities have more potential than national governments to be driving forces of sustainable development. Second, that they all share similar fundamental challenges. Join at EICLELT B T Yourity? o9 COVID-10,cimate, fition,energy risi,food prices, housing Costs,costof borrowing .. Housing costs An estimated 68 per cent of people will live in urban areas by 2050 and challenges such as climate change, migration, inequality and housing, which fall into the domain of national governments, will have to be dealt with locally. Initiatives such as the UN's Agenda 2030 and its Sustainable Development Goals provide nations with blueprints to tackle issues ranging from energy to urbanism but taking specific action at a local level is often more complicated. The summit showcased innovative public spaces in Paris and Ramallah, and there were calls for land acquisition in Montevideo and energy-saving initiatives in Hamburg. Yet regional governments often don't wield enough power to make final decisions. An exciting solution in the offing is for cities to be able to tap directly into international financial aid without the approval of national governments. Both the Asian Development Bank and the World Bank were mentioned at the summit as possible lenders. It might be too early to speculate on when or whether such a financing strategy will become a reality. But if it does, it could be a meaningful step towards a municipal revolution that gives cities the power to really cash in on change. Jessica Bridger is an urbanist and consultant, and Monocle's contributing editor. For more opinion, analysis and insight, to Monocle today. ---------------------------------------------------------------------------------------------------------------------------------- AVIATION / PARIS IN FULL FLIGHT The Paris Air Show, the world's largest international aerospace fair, opened yesterday after a four-year hiatus, featuring about 2,500 exhibitors from 47 countries. High on the agenda were efforts by plane manufacturers to raise production rates and an industry-wide aim of achieving net-zero carbon emissions by 2050. "This year's focus is on increased orders and mobility," Paul Charles, CEO of The PC Agency, tells The Monocle Minute. "Airlines expect demand for passenger jets to double over the next 20 years." On the sidelines of the event, Emmanuel Macron (pictured, on right) gathered European defence ministers to make his case against a Germany-led plan to buy air-force technology from the US and Israel. He argued that doing so would undermine Europe's strategic autonomy. His disagreement with the 16 other European countries backing the move needs to be solved soon if European powers hope to maintain a united front in their military support for Ukraine. For more on the Paris Air Show, tune in to Monday's edition of 'The Briefing' on Monocle Radio ---------------------------------------------------------------------------------------------------------------------------------- SPONSORED BY VISIT COPENHAGEN ---------------------------------------------------------------------------------------------------------------------------------- POLITICS / AUSTRALIA VOICE OF THE PEOPLE Australia's Senate (pictured) has passed a bill paving the way for a historic national referendum on Indigenous rights. The referendum – the country's first in 24 years – is expected to take place between October and December this year. A "yes" vote would alter the constitution to grant Aboriginal and Torres Strait Islander people a dedicated "voice" in national policymaking on issues such as community-development programmes, heritage protection and employment. The Australian government has promised a public education campaign before the vote to answer questions about how the process will unfold. Though there are concerns that the referendum is largely symbolic, here's hoping that it can bring about some meaningful changes. ---------------------------------------------------------------------------------------------------------------------------------- SOCIETY / JAPAN PEAK SEASON Hikers are preparing their best gear for the start of Mount Fuji's climbing season. With the lifting of coronavirus restrictions, the opening of borders and the 10th anniversary of the dormant volcano becoming a Unesco World Heritage Site, Japan's highest peak is expected to be more crowded than ever this year. Demand for mountain lodges is already exceptionally high and there are concerns that climbers might attempt to go up and down in one go. Towns in the area have petitioned the governor of Yamanashi prefecture, calling for action to control the crowds or even restrict entry to prevent disaster. Watching the sunrise from Fuji's summit (pictured) might be an ambition of many amateurs but, at 3,776 metres, scaling the mountain is no mean feat. As the old Japanese saying goes, "A wise man climbs Mount Fuji once but only a fool climbs it twice." ---------------------------------------------------------------------------------------------------------------------------------- VISIT COPENHAGEN   MONOCLE Step into the architectural wonders of Copenhagen, the UNESCO-UIA World Capital of Architecture for 2023-'26. This title celebrates the city's legacy in architectural excellence combined with its commitment to climate resilience, human-centric urban development, and quality of life. Within Copenhagen's vibrant architectural landscape, you'll meet stellar creative studios, such as "masters of light" Henning Larsen Architects, upcycling pioneers Lendager Group and the internationally acclaimed Bjarke Ingels Group. Plan your Copenhagen journey with the help of these gifted architects. We have asked them to share their perspectives on what sets Copenhagen apart and makes it the UNESCO-UIA World Capital of Architecture. CULTURE / SOUTH AFRICA TOUR GUIDE Johannesburg-based musician Bongeziwe Mabandla is one of South Africa's most exciting artists. His tunes cleverly mix traditional Xhosa folk with modern electro. His latest album, amaXesha (meaning "The Times") was recently released to great international acclaim. Currently on a world tour, Monocle caught up with him during a stop-off in London. South Africa is a very interesting market for music. What makes it so different? There are so many influences. Music and songwriting have always been part of the culture. And dance too. We have a very high level of expression in South Africa. How would you describe your music? Deep down it is just soul music. It contains a lot of feelings and emotions. I grew up making folk music but now I have switched to a more experimental sound. It has a lot of electro elements and some hip-hop, all infused with a very traditional South African feel. What is your favourite track from the new album? I love the song "Ubukho Bakho", mainly because of the lyrics. The title means "your presence" and it is about all the people who have made sacrifices for my success and for me to be here. It makes me think of my mother, my aunt and all the other people who shaped my life. It is a song of gratitude. For the full interview with Bongeziwe, tune in to the latest edition of 'The Monocle Weekly' on Monocle Radio. ---------------------------------------------------------------------------------------------------------------------------------- MONOCLE RADIO / THE FOREIGN DESK THE WAR IN UKRAINE: A REALITY CHECK Almost 16 months since Russia launched its full-scale invasion of Ukraine, the war shows no signs of ending. How long will the conflict last – and is the West actually afraid of a Ukrainian victory? Andrew Mueller speaks to Philip Breedlove, Nato's former supreme allied commander Europe, Richard Shirreff, Nato's former deputy supreme allied commander Europe, and Russian opposition politician Vladimir Milov.  listen to the episode (30 mins) MONOCLE FILMS / DESIGN THE FUTURE OF JAPANESE CRAFTSMANSHIP To celebrate our book about Japan, we are presenting a film series that dives into the intriguing ecosystem that has preserved Japanese traditional skills over centuries. Meet the people who are future-proofing the age-old know-how.  watch the film (3 mins) NEWSLETTER / JOIN US WELCOME TO OUR WORLD Has this been forwarded to you by a friend? Sign up to The Monocle Minute and Monocle Weekend Editions to receive your own bulletin of weekday news and weekend treats.  sign up now   Feedback? get in touch   Read this email online   Manage Newsletters   Share on Twitter   Share on LinkedIn Image credits: Eurocities/DIRCOM/Yannick Coppens, Shutterstock, Alamy, Getty Images  from The Monocle Minute & Weekend Edition To stop receiving all Monocle newsletters, please click here This email is from Monocle whose registered office is at Midori House, 1 Dorset Street, London, W1U 4EG. You have received this email because you have previously provided us with your email address and subscribed to Monocle bulletins. © 2023 Monocle. M
Show all
The Latest Emails Sent By monocle.com
More Emails, Deals & Coupons From monocle.com
Email Offers, Discounts & Promos From Our Top Stores