The Monocle Minute – Thursday 8 June 2023
monocle.com sent this email to their subscribers on June 8, 2023.
Opinion /

Chiara Rimella
Objective beauty
Art and climate change have a funny relationship. Many of the people who make, buy and sell artworks display a sincere concern about the environment but they operate in an industry that, like most others, has a considerable carbon footprint. Perhaps more so than these other sectors, however, they are quick to brand themselves as hypocrites – and spend a lot of time wrestling with their own conscience.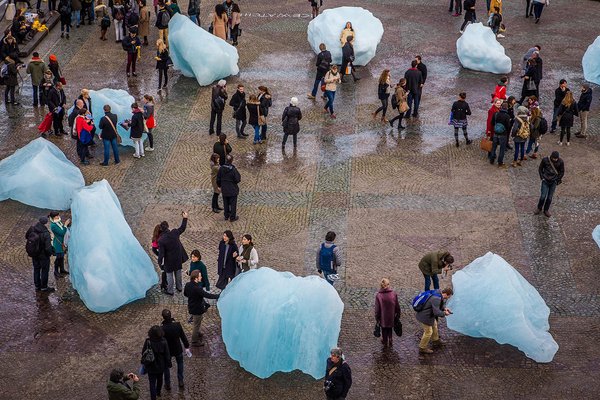 In any art fair there are plenty of pieces on display that address this topic. Artists such as the immensely popular Olafur Eliasson have made raising awareness of a changing climate, via works such as Ice Watch (pictured), a central part of their practice. But, as is often the case with any art that is committed to a cause, there's always a question: does it make a difference? It turns out that artworks about climate change can be "objectively" useful. A study recently published in science journal Nature found that artistic representations of data about climate change can be more effective in moving audiences than regular infographics. It means that these works can help to quell scepticism around the issue.
Whether that increased effectiveness is because people have a dislike of graphs or because emotional responses often work better than rational explanations, the findings reveal much about our attitudes to hard science – and hard truths. They are also instructive when it comes to thinking about strategies to get people talking about – and potentially changing their minds on – fractious topics.
Participants in the study were shown Diane Burko's Summer Heat, a painting portraying a red-hot Europe surrounded by melting glaciers and a minimalist version of a graph about the amount of carbon dioxide in the atmosphere. It's not cosy, cheerful viewing but somehow it goes one step further than the chart itself. There is room for art to be both impactful and contradictory while still making us feel better.
Chiara Rimella is Monocle's executive editor. For more opinion, analysis and insight, to Monocle today.
---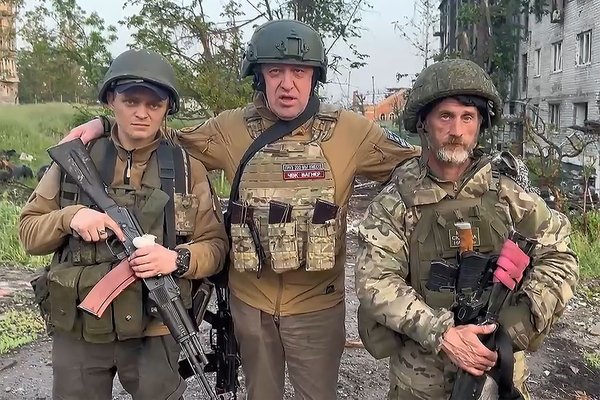 Defence /

Russia
Firing line
A video posted this week on the social media accounts of Wagner Group founder Yevgeny Prigozhin has raised further questions about the relationship between the mercenary company and the Russian army. In the video, Roman Venevitin (pictured, centre), a commander of Russia's 72nd brigade, reveals to an interrogator that he was under the influence of alcohol when he ordered his troops to fire on a Wagner convoy due to his personal dislike for them. "When Wagner is essentially kidnapping Russian army officers and forcing them into public confessions, it's an open challenge to the defence ministry and an implicit one to Putin," Mark Galeotti, Russia expert and author of The Weaponisation of Everything, tells The Monocle Minute. "The longer that he lets these two armed forces bicker and fight, the more it not only undermines the unity of the war effort but also makes Putin look irrelevant." While it is hard to verify the validity of the video, its posting highlights a deep rift in Moscow's war machine.
---
Diplomacy /

Saudi Arabia & USA
Oiling the wheels
US secretary of state Antony Blinken met crown prince Mohammed bin Salman yesterday in a bid to fix diplomatic ties between the US and Saudi Arabia. Relations between the two nations were fractured following the murder of journalist Jamal Khashoggi in 2018. The visit, which also saw Blinken (pictured, on left, with Bin Salman) take part in talks with the Gulf Cooperation Council and co-host a meeting of the Global Coalition to Defeat Isis, comes days after Saudi Arabia pledged to reduce its oil production – against US advice – and rekindle ties with Iran.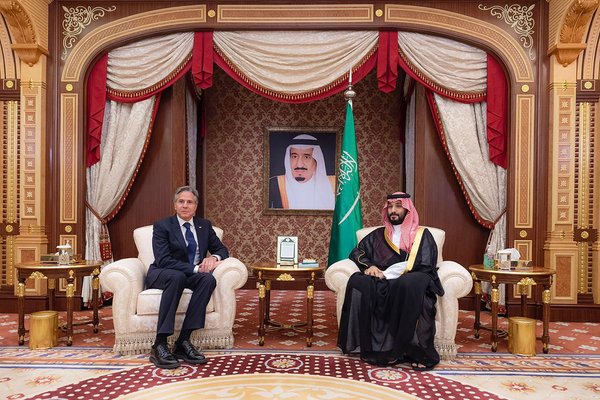 "For the US, Opec Plus [a group of 23 oil-exporting countries] and a stable oil price remain key issues and the government has invested a lot to support Saudi efforts to end the Yemen conflict," Sanam Vakil, director of the Middle East and North Africa programme at Chatham House, tells The Monocle Minute. "But Saudi Arabia is asking for incentives. They want to leverage US support for civilian nuclear technology and reactivate the Israeli-Palestinian peace process. Saudi Arabia aims to showcase its relevance through diplomatic manoeuvring and outreach but it won't give in to normalisation for nothing."
For more on Antony Blinken's visit to Saudi Arabia, listen to Wednesday's edition of 'The Globalist' on Monocle Radio.
---
Fashion /

Italy
Closer knit
Ermenegildo Zegna and Prada have each acquired a 15 per cent stake in Luigi Fedeli & Figlio SRL, the Monza-based knitwear specialist known for its fine yarns. Chairman and chief executive officer Luigi Fedeli will hold on to the remaining 70 per cent, in keeping with the family-run ethos that has guided the company since its establishment in the early 1930s.
The business is expanding rapidly: it has doubled sales over the past two years, with revenues reaching €22m in 2022. The deal with Zegna and Prada aims to accelerate this growth and is a collective effort to safeguard the future of the Italian manufacturing sector, which has been encouraging luxury competitors to become partners. In return, these major brands are gaining priority access to some of the world's best factories and futureproofing their businesses.
---
Get set for summer with Trunk Clothiers' new season collections. From chic linen shirts to light blazers and beach bags, stock up on all you need to embrace sunnier days with style.
Architecture /

Madrid
Building for the future
Norman Foster has launched a new education initiative that aims to help budding architects improve the future of cities. Based in Madrid, the Norman Foster Institute's first course will be a 36-week programme named Sustainable Cities. Students will focus on the neighbourhoods of three "pilot cities" and combine classroom theory with on-site experience.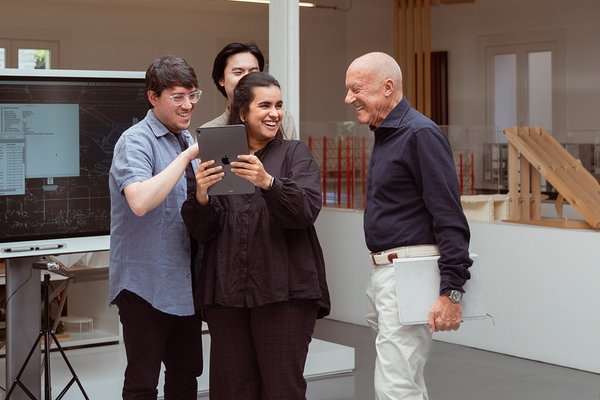 They will also interact with researchers and practitioners from the British architect's star-studded contact book, including Pritzker Prize winners Diébédo Francis Kéré and Alejandro Aravena. The focus on sustainability is natural for Foster (pictured, on right), who has considered energy-efficiency in his work since his earliest projects, from the Willis Building's insulating grass roof to the Gherkin's mixed-mode ventilation. The first Sustainable Cities cohort will start the course in January and the institute is currently seeking applications.
---
Monocle Radio /

The Entrepreneurs
Kleman
We're in Paris for the launch of heritage French shoe brand Kleman's first flagship store in Le Marais. We hear from the Cléon brothers, Alex and Mathieu, on why they prioritise investment in French manufacturing.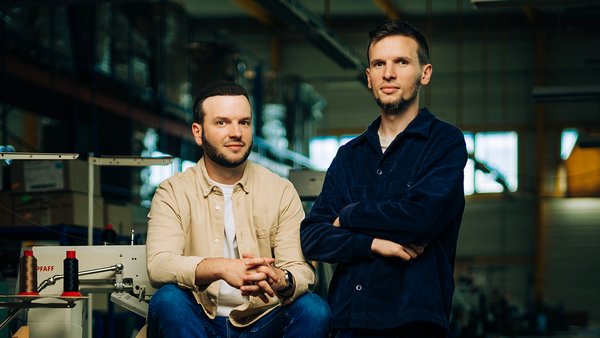 Monocle Films /

Culture
Britain's smallest radio station
Located in the northwestern corner of the Scottish Highlands, Gairloch is a coastal village of about 700 people known for its mountains, sea loch and rugged landscape. It's also where Two Lochs, reportedly the UK's smallest commercial radio station, is based. Run by a handful of volunteers, it has built a loyal fanbase of global listeners.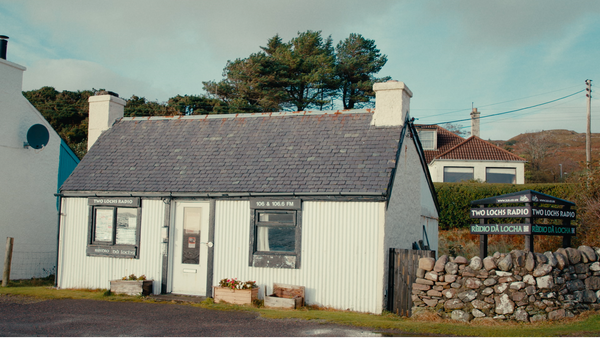 newsletter /

join us
Welcome to our world
Has this been forwarded to you by a friend? Sign up to The Monocle Minute and Monocle Weekend Editions to receive your own bulletin of weekday news and weekend treats.
Image credits: Alamy, Shutterstock, Reuters, Pablo Gómez-Ogando / Norman Foster Institute, Aurelien Morelle
from The Monocle Minute & Weekend Edition
To stop receiving all Monocle newsletters, please click here
This email is from Monocle whose registered office is at Midori House, 1 Dorset Street, London, W1U 4EG. You have received this email because you have previously provided us with your email address and subscribed to Monocle bulletins.
© 2023 Monocle.
Text-only version of this email
London / Zürich / Toronto Los Angeles / Hong Kong / Tokyo Thursday. 08/06/23 The Monocle Minute SPONSORED BY TRUNK Monocle OPINION / CHIARA RIMELLA OBJECTIVE BEAUTY Art and climate change have a funny relationship. Many of the people who make, buy and sell artworks display a sincere concern about the environment but they operate in an industry that, like most others, has a considerable carbon footprint. Perhaps more so than these other sectors, however, they are quick to brand themselves as hypocrites – and spend a lot of time wrestling with their own conscience. In any art fair there are plenty of pieces on display that address this topic. Artists such as the immensely popular Olafur Eliasson have made raising awareness of a changing climate, via works such as Ice Watch (pictured), a central part of their practice. But, as is often the case with any art that is committed to a cause, there's always a question: does it make a difference? It turns out that artworks about climate change can be "objectively" useful. A study recently published in science journal Nature found that artistic representations of data about climate change can be more effective in moving audiences than regular infographics. It means that these works can help to quell scepticism around the issue. Whether that increased effectiveness is because people have a dislike of graphs or because emotional responses often work better than rational explanations, the findings reveal much about our attitudes to hard science – and hard truths. They are also instructive when it comes to thinking about strategies to get people talking about – and potentially changing their minds on – fractious topics. Participants in the study were shown Diane Burko's Summer Heat, a painting portraying a red-hot Europe surrounded by melting glaciers and a minimalist version of a graph about the amount of carbon dioxide in the atmosphere. It's not cosy, cheerful viewing but somehow it goes one step further than the chart itself. There is room for art to be both impactful and contradictory while still making us feel better. Chiara Rimella is Monocle's executive editor. For more opinion, analysis and insight, to Monocle today. ---------------------------------------------------------------------------------------------------------------------------------- DEFENCE / RUSSIA FIRING LINE A video posted this week on the social media accounts of Wagner Group founder Yevgeny Prigozhin has raised further questions about the relationship between the mercenary company and the Russian army. In the video, Roman Venevitin (pictured, centre), a commander of Russia's 72nd brigade, reveals to an interrogator that he was under the influence of alcohol when he ordered his troops to fire on a Wagner convoy due to his personal dislike for them. "When Wagner is essentially kidnapping Russian army officers and forcing them into public confessions, it's an open challenge to the defence ministry and an implicit one to Putin," Mark Galeotti, Russia expert and author of The Weaponisation of Everything, tells The Monocle Minute. "The longer that he lets these two armed forces bicker and fight, the more it not only undermines the unity of the war effort but also makes Putin look irrelevant." While it is hard to verify the validity of the video, its posting highlights a deep rift in Moscow's war machine. ---------------------------------------------------------------------------------------------------------------------------------- S The Monocle Quality of Life Conference Munich 2023 in partnership with Allianz ---------------------------------------------------------------------------------------------------------------------------------- DIPLOMACY / SAUDI ARABIA & USA OILING THE WHEELS US secretary of state Antony Blinken met crown prince Mohammed bin Salman yesterday in a bid to fix diplomatic ties between the US and Saudi Arabia. Relations between the two nations were fractured following the murder of journalist Jamal Khashoggi in 2018. The visit, which also saw Blinken (pictured, on left, with Bin Salman) take part in talks with the Gulf Cooperation Council and co-host a meeting of the Global Coalition to Defeat Isis, comes days after Saudi Arabia pledged to reduce its oil production – against US advice – and rekindle ties with Iran. "For the US, Opec Plus [a group of 23 oil-exporting countries] and a stable oil price remain key issues and the government has invested a lot to support Saudi efforts to end the Yemen conflict," Sanam Vakil, director of the Middle East and North Africa programme at Chatham House, tells The Monocle Minute. "But Saudi Arabia is asking for incentives. They want to leverage US support for civilian nuclear technology and reactivate the Israeli-Palestinian peace process. Saudi Arabia aims to showcase its relevance through diplomatic manoeuvring and outreach but it won't give in to normalisation for nothing." For more on Antony Blinken's visit to Saudi Arabia, listen to Wednesday's edition of 'The Globalist' on Monocle Radio. ---------------------------------------------------------------------------------------------------------------------------------- FASHION / ITALY CLOSER KNIT Ermenegildo Zegna and Prada have each acquired a 15 per cent stake in Luigi Fedeli & Figlio SRL, the Monza-based knitwear specialist known for its fine yarns. Chairman and chief executive officer Luigi Fedeli will hold on to the remaining 70 per cent, in keeping with the family-run ethos that has guided the company since its establishment in the early 1930s. The business is expanding rapidly: it has doubled sales over the past two years, with revenues reaching €22m in 2022. The deal with Zegna and Prada aims to accelerate this growth and is a collective effort to safeguard the future of the Italian manufacturing sector, which has been encouraging luxury competitors to become partners. In return, these major brands are gaining priority access to some of the world's best factories and futureproofing their businesses. ---------------------------------------------------------------------------------------------------------------------------------- TRUNK   MONOCLE Get set for summer with Trunk Clothiers' new season collections. From chic linen shirts to light blazers and beach bags, stock up on all you need to embrace sunnier days with style.  discover more ARCHITECTURE / MADRID BUILDING FOR THE FUTURE Norman Foster has launched a new education initiative that aims to help budding architects improve the future of cities. Based in Madrid, the Norman Foster Institute's first course will be a 36-week programme named Sustainable Cities. Students will focus on the neighbourhoods of three "pilot cities" and combine classroom theory with on-site experience. They will also interact with researchers and practitioners from the British architect's star-studded contact book, including Pritzker Prize winners Diébédo Francis Kéré and Alejandro Aravena. The focus on sustainability is natural for Foster (pictured, on right), who has considered energy-efficiency in his work since his earliest projects, from the Willis Building's insulating grass roof to the Gherkin's mixed-mode ventilation. The first Sustainable Cities cohort will start the course in January and the institute is currently seeking applications. ---------------------------------------------------------------------------------------------------------------------------------- MONOCLE RADIO / THE ENTREPRENEURS KLEMAN We're in Paris for the launch of heritage French shoe brand Kleman's first flagship store in Le Marais. We hear from the Cléon brothers, Alex and Mathieu, on why they prioritise investment in French manufacturing.  listen to the episode (7 mins) MONOCLE FILMS / CULTURE BRITAIN'S SMALLEST RADIO STATION Located in the northwestern corner of the Scottish Highlands, Gairloch is a coastal village of about 700 people known for its mountains, sea loch and rugged landscape. It's also where Two Lochs, reportedly the UK's smallest commercial radio station, is based. Run by a handful of volunteers, it has built a loyal fanbase of global listeners.  watch the film (7 mins) NEWSLETTER / JOIN US WELCOME TO OUR WORLD Has this been forwarded to you by a friend? Sign up to The Monocle Minute and Monocle Weekend Editions to receive your own bulletin of weekday news and weekend treats.  sign up now   Feedback? get in touch   Read this email online   Manage Newsletters   Share on Twitter   Share on LinkedIn Image credits: Alamy, Shutterstock, Reuters, Pablo Gómez-Ogando / Norman Foster Institute, Aurelien Morelle  from The Monocle Minute & Weekend Edition To stop receiving all Monocle newsletters, please click here This email is from Monocle whose registered office is at Midori House, 1 Dorset Street, London, W1U 4EG. You have received this email because you have previously provided us with your email address and subscribed to Monocle bulletins. © 2023 Monocle. M
Show all
The Latest Emails Sent By monocle.com
More Emails, Deals & Coupons From monocle.com
Email Offers, Discounts & Promos From Our Top Stores