The Monocle Minute – Thursday 1 June 2023
monocle.com sent this email to their subscribers on June 1, 2023.
London / Zürich / Toronto /
Los Angeles / Hong Kong / Tokyo

SPONSORED BY

Opinion /

Blake Evans-Pritchard
Call to action
There can be no denying that Spain's regional and municipal elections were bad news for the ruling Socialist party – even worse, in fact, than the polls had predicted. But the country's prime minister, Pedro Sánchez (pictured, on poster), has a plan. Rather than allow the right-wing People's party (PP) to take control of the unfolding narrative and let it spend the next six months crowing about its victory, Sánchez has chosen to bring the general election forward to 23 July.
It's a risky move. Sánchez is resting all of his hopes on the electorate ignoring the PP hype at the very moment when the opposition party is the strongest it has been in more than 12 years. But the calculated gamble might just pay off. In terms of the absolute share of the popular vote, Sánchez hasn't actually done all that badly. The PP won 31.5 per cent of the total voter share compared to the Socialists' 28.1 per cent. This represents only a 1.3 percentage-point drop on Sánchez's performance in the 2019 national election but an 8.9 per cent jump for the PP. The PP was able to tap into the centrist vote, following the demise of the Ciudadanos party.
"I wouldn't say that this is necessarily great for Sánchez," Ignacio Jurado, a political science lecturer at Carlos III University in Madrid, tells The Monocle Minute. "But he has clearly taken the view that holding the election in July will be a lot less risky than waiting until December." Sánchez's brash move speaks volumes about his leadership and what to expect if he stays in power. He knows that winning the next election will require both decisive action and the willingness to take risks.
Blake Evans-Pritchard is a Barcelona-based journalist covering Spanish politics and culture. For more opinion, analysis and insight, to Monocle today.
---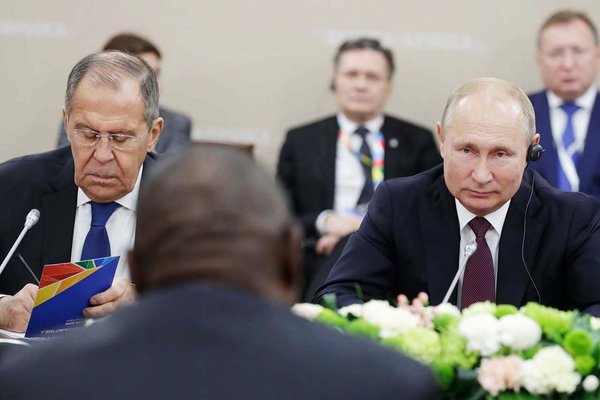 Diplomacy /

South Africa
In a bind
Today the foreign ministers from the Brics group of large emerging economies – Brazil, Russia, India, China and South Africa – will gather in Cape Town for discussions on expanding the bloc, as well as other geopolitical issues. But hanging over the talks is a row over whether South African authorities would arrest Vladimir Putin (pictured, on right, beside Russia's foreign minister, Sergei Lavrov) were he to attend the leaders' summit that is planned for August. The International Criminal Court issued an arrest warrant for Russia's president in March; as a signatory to the Rome Statute, South Africa is obliged to enact it. Though the nation has issued diplomatic immunity to all leaders attending both summits, analysts say that South Africa is in a complicated position in which, on the one hand, it would like to enjoy the status associated with a high-profile visit from a head of state but, on the other, it wants to appear neutral on the war in Ukraine. "There is a growing hope within South Africa that Putin actually will not come," Russia analyst Mark Galeotti tells The Monocle Minute. "That would extricate them from this embarrassing situation."
---
Technology /

Japan & China
Checks and balances
Much like the US and the Netherlands, Japan has been restricting the export of semiconductor-manufacturing equipment to China. From July the government is expected to tighten regulations even further in the hope of keeping Beijing's technological development in check.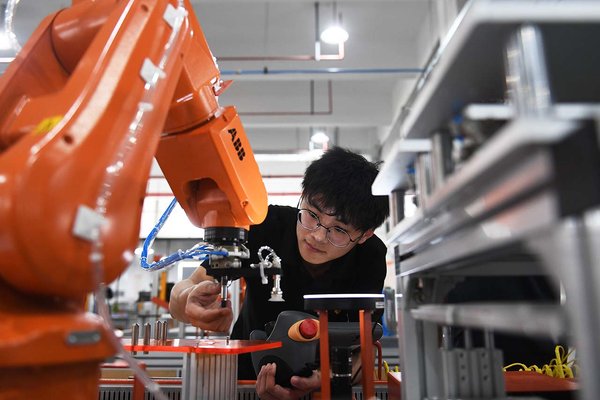 This week, China's commerce minister, Wang Wentao, urged Japan to remove its export controls and branded them a serious violation of international trade rules, while Japan argued that it is trying to uphold international peace. "Relations between the two countries are both complex and intimate," says Alessio Patalano, an Asian defence expert and professor at King's College London. "But Japan's move is significant because it signals its closer ties in research and development with the US, as well as its desire to reduce its trade dependency on China."
---
Hospitality /

France & USA
Staying in fashion
Luxury conglomerate LVMH, which is behind the Cheval Blanc and Belmond luxury hotel chains, is doubling down on its investment in hospitality and getting some of its top fashion brands involved too. Dior has incorporated private suites for top clients in its renovated flagship on Paris's Avenue Montaigne, while Louis Vuitton has announced that it is preparing to turn its former headquarters in the French capital into the brand's first luxury hotel within the next five years.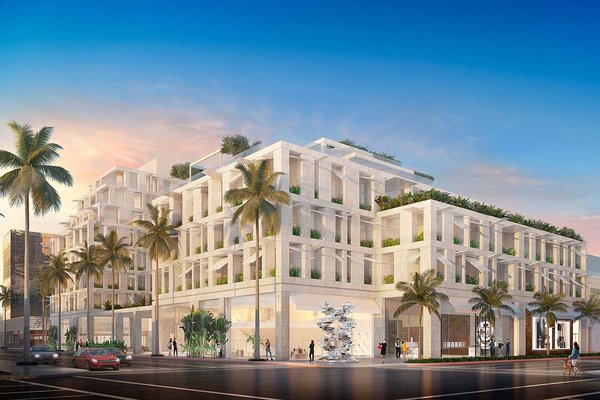 There have been challenges too. This week, LVMH backed out of plans to build a new Cheval Blanc hotel in California's Beverly Hills (proposed design pictured) after the city voted against it. A union representing 32,000 local hospitality workers argued that there was not enough affordable housing in the city for staff. But with many of the conglomerate's fashion labels expected to slow production as a result of its environmental impact, expanding into hotels offers another route to continued growth.
---
Culture /

Australia
Second to nun
For more than a century, the Abbotsford Convent in Melbourne was home to one of Australia's largest Catholic congregations, as well as thousands of women and girls who were placed in its care – some against their will – prior to its closure in 1974. Today the Abbotsford Convent Foundation has carefully transformed the site's 11 buildings into Australia's largest arts-and-culture precinct. Its creative residents find inspiration in the building's history.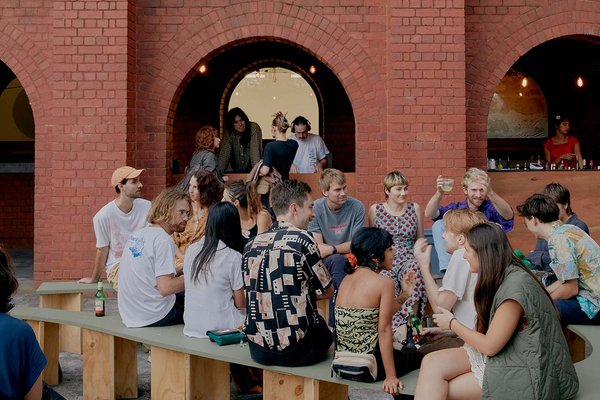 "I love being surrounded by design and materials that don't just last but age with elegance," Johanna Howe, co-founder of clothing label Caves Collect, tells Monocle, pointing to the decades-thick layers of peeling paint and the stone archways under which DJ sets are hosted at the weekend. Upstairs, Ink & Spindle's Lara Cameron and Caitlin Klooger handprint homewares in their studio. "As a female-led business, we are giving the space a more positive and empowered purpose," says Cameron. The site has undergone two decades of restorations since going into community ownership in 2004 and it is now sensitively dealing with its dark past in order to have a brighter future.
For more on the Abbotsford Convent Foundation and agenda-setting stories on culture and the arts, pick up a copy of Monocle's June issue, which is on sale now. Or today so that you never miss an issue.
---
Monocle Radio /

The Menu
Summa, 'Rice Table' and Foodtank
Monocle's Milan correspondent, Ivan Carvalho, heads to the Summa wine fair in South Tyrol and Chris Cermak chats to Danielle Nierenberg, co-founder of Foodtank, a US non-profit think tank focused on all things food and agriculture. Also in the programme: Andrei Nikolai Pamintuan speaks to Su Scott about her latest Korean cookbook, Rice Table, and we have the week's top food and drink headlines.
Monocle Films /

Global
Monocle preview: June issue, 2023
Ever dreamed of ditching the rat race for a life on the land? We meet the new Mediterranean farmers doing just that in the latest edition of Monocle. Issue 164 also includes an Art Special that puts collectors, galleries and this year's Art Basel in the frame. Plus: a guide to the Venice Architecture Biennale and a rare venture into Syria. Order your copy today.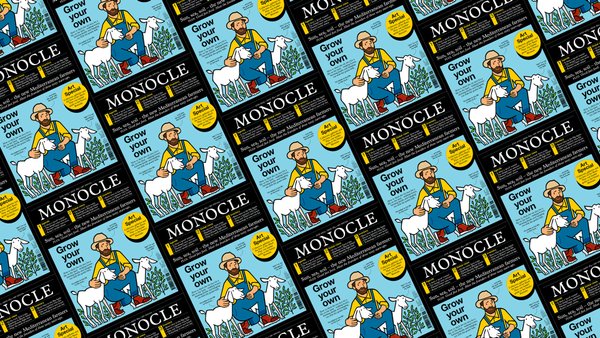 newsletter /

join us
Welcome to our world
Has this been forwarded to you by a friend? Sign up to The Monocle Minute and Monocle Weekend Editions to receive your own bulletin of weekday news and weekend treats.
Image credits: Reuters, Shutterstock, Peter Marino Architect, Ben Moynihan, Andrea Pugiotto
from The Monocle Minute & Weekend Edition
To stop receiving all Monocle newsletters, please click here
This email is from Monocle whose registered office is at Midori House, 1 Dorset Street, London, W1U 4EG. You have received this email because you have previously provided us with your email address and subscribed to Monocle bulletins.
© 2023 Monocle.
Text-only version of this email
London / Zürich / Toronto Los Angeles / Hong Kong / Tokyo Thursday. 01/06/23 The Monocle Minute SPONSORED BY BERGOS PRIVATE BANK Monocle OPINION / BLAKE EVANS-PRITCHARD CALL TO ACTION There can be no denying that Spain's regional and municipal elections were bad news for the ruling Socialist party – even worse, in fact, than the polls had predicted. But the country's prime minister, Pedro Sánchez (pictured, on poster), has a plan. Rather than allow the right-wing People's party (PP) to take control of the unfolding narrative and let it spend the next six months crowing about its victory, Sánchez has chosen to bring the general election forward to 23 July. It's a risky move. Sánchez is resting all of his hopes on the electorate ignoring the PP hype at the very moment when the opposition party is the strongest it has been in more than 12 years. But the calculated gamble might just pay off. In terms of the absolute share of the popular vote, Sánchez hasn't actually done all that badly. The PP won 31.5 per cent of the total voter share compared to the Socialists' 28.1 per cent. This represents only a 1.3 percentage-point drop on Sánchez's performance in the 2019 national election but an 8.9 per cent jump for the PP. The PP was able to tap into the centrist vote, following the demise of the Ciudadanos party. "I wouldn't say that this is necessarily great for Sánchez," Ignacio Jurado, a political science lecturer at Carlos III University in Madrid, tells The Monocle Minute. "But he has clearly taken the view that holding the election in July will be a lot less risky than waiting until December." Sánchez's brash move speaks volumes about his leadership and what to expect if he stays in power. He knows that winning the next election will require both decisive action and the willingness to take risks. Blake Evans-Pritchard is a Barcelona-based journalist covering Spanish politics and culture. For more opinion, analysis and insight, to Monocle today. ---------------------------------------------------------------------------------------------------------------------------------- DIPLOMACY / SOUTH AFRICA IN A BIND Today the foreign ministers from the Brics group of large emerging economies – Brazil, Russia, India, China and South Africa – will gather in Cape Town for discussions on expanding the bloc, as well as other geopolitical issues. But hanging over the talks is a row over whether South African authorities would arrest Vladimir Putin (pictured, on right, beside Russia's foreign minister, Sergei Lavrov) were he to attend the leaders' summit that is planned for August. The International Criminal Court issued an arrest warrant for Russia's president in March; as a signatory to the Rome Statute, South Africa is obliged to enact it. Though the nation has issued diplomatic immunity to all leaders attending both summits, analysts say that South Africa is in a complicated position in which, on the one hand, it would like to enjoy the status associated with a high-profile visit from a head of state but, on the other, it wants to appear neutral on the war in Ukraine. "There is a growing hope within South Africa that Putin actually will not come," Russia analyst Mark Galeotti tells The Monocle Minute. "That would extricate them from this embarrassing situation." ---------------------------------------------------------------------------------------------------------------------------------- TECHNOLOGY / JAPAN & CHINA CHECKS AND BALANCES Much like the US and the Netherlands, Japan has been restricting the export of semiconductor-manufacturing equipment to China. From July the government is expected to tighten regulations even further in the hope of keeping Beijing's technological development in check. This week, China's commerce minister, Wang Wentao, urged Japan to remove its export controls and branded them a serious violation of international trade rules, while Japan argued that it is trying to uphold international peace. "Relations between the two countries are both complex and intimate," says Alessio Patalano, an Asian defence expert and professor at King's College London. "But Japan's move is significant because it signals its closer ties in research and development with the US, as well as its desire to reduce its trade dependency on China." ---------------------------------------------------------------------------------------------------------------------------------- HOSPITALITY / FRANCE & USA STAYING IN FASHION Luxury conglomerate LVMH, which is behind the Cheval Blanc and Belmond luxury hotel chains, is doubling down on its investment in hospitality and getting some of its top fashion brands involved too. Dior has incorporated private suites for top clients in its renovated flagship on Paris's Avenue Montaigne, while Louis Vuitton has announced that it is preparing to turn its former headquarters in the French capital into the brand's first luxury hotel within the next five years. There have been challenges too. This week, LVMH backed out of plans to build a new Cheval Blanc hotel in California's Beverly Hills (proposed design pictured) after the city voted against it. A union representing 32,000 local hospitality workers argued that there was not enough affordable housing in the city for staff. But with many of the conglomerate's fashion labels expected to slow production as a result of its environmental impact, expanding into hotels offers another route to continued growth. ---------------------------------------------------------------------------------------------------------------------------------- S The Monocle Quality of Life Conference Munich 2023 in partnership with Allianz ---------------------------------------------------------------------------------------------------------------------------------- CULTURE / AUSTRALIA SECOND TO NUN For more than a century, the Abbotsford Convent in Melbourne was home to one of Australia's largest Catholic congregations, as well as thousands of women and girls who were placed in its care – some against their will – prior to its closure in 1974. Today the Abbotsford Convent Foundation has carefully transformed the site's 11 buildings into Australia's largest arts-and-culture precinct. Its creative residents find inspiration in the building's history. "I love being surrounded by design and materials that don't just last but age with elegance," Johanna Howe, co-founder of clothing label Caves Collect, tells Monocle, pointing to the decades-thick layers of peeling paint and the stone archways under which DJ sets are hosted at the weekend. Upstairs, Ink & Spindle's Lara Cameron and Caitlin Klooger handprint homewares in their studio. "As a female-led business, we are giving the space a more positive and empowered purpose," says Cameron. The site has undergone two decades of restorations since going into community ownership in 2004 and it is now sensitively dealing with its dark past in order to have a brighter future. For more on the Abbotsford Convent Foundation and agenda-setting stories on culture and the arts, pick up a copy of Monocle's June issue, which is on sale now. Or today so that you never miss an issue. ---------------------------------------------------------------------------------------------------------------------------------- MONOCLE RADIO / THE MENU SUMMA, 'RICE TABLE' AND FOODTANK Monocle's Milan correspondent, Ivan Carvalho, heads to the Summa wine fair in South Tyrol and Chris Cermak chats to Danielle Nierenberg, co-founder of Foodtank, a US non-profit think tank focused on all things food and agriculture. Also in the programme: Andrei Nikolai Pamintuan speaks to Su Scott about her latest Korean cookbook, Rice Table, and we have the week's top food and drink headlines.  listen to the episode (28 mins) MONOCLE FILMS / GLOBAL MONOCLE PREVIEW: JUNE ISSUE, 2023 Ever dreamed of ditching the rat race for a life on the land? We meet the new Mediterranean farmers doing just that in the latest edition of Monocle. Issue 164 also includes an Art Special that puts collectors, galleries and this year's Art Basel in the frame. Plus: a guide to the Venice Architecture Biennale and a rare venture into Syria. Order your copy today.  watch the film (1 min) NEWSLETTER / JOIN US WELCOME TO OUR WORLD Has this been forwarded to you by a friend? Sign up to The Monocle Minute and Monocle Weekend Editions to receive your own bulletin of weekday news and weekend treats.  sign up now   Feedback? get in touch   Read this email online   Manage Newsletters   Share on Twitter   Share on LinkedIn Image credits: Reuters, Shutterstock, Peter Marino Architect, Ben Moynihan, Andrea Pugiotto  from The Monocle Minute & Weekend Edition To stop receiving all Monocle newsletters, please click here This email is from Monocle whose registered office is at Midori House, 1 Dorset Street, London, W1U 4EG. You have received this email because you have previously provided us with your email address and subscribed to Monocle bulletins. © 2023 Monocle. M
Show all
The Latest Emails Sent By monocle.com
More Emails, Deals & Coupons From monocle.com
Email Offers, Discounts & Promos From Our Top Stores