The Monocle Minute On Design – Wednesday 31 May 2023
monocle.com sent this email to their subscribers on May 31, 2023.
London / Zürich / Toronto /
Los Angeles / Hong Kong / Tokyo
SPONSORED BY

We sit down with Michał Piernikowski, director of Poland's Łódź Design Festival (pictured), where a number of young designers created products for Ukraine's front lines. Plus: we check out the bold renovation of Annecy's Nouvelles Galeries, make the case for a mass rollout of Carlo Scarpa's 1977 Cleto Munari carafe and more. First, though, here's Grace Charlton on the new sense of urgency in eastern European design.
---
01
/07
Opinion /

Grace Charlton
Eastern promise
With the industry calendar so packed over the coming months, you might feel that design festivals and fairs are at risk of blending into each other or losing meaning, especially when big furniture firms are continually competing to release new chairs or tables to serve bottom lines. It's a situation that is often at odds with a company's sustainability efforts and calls to scale back production. Thankfully, it's something that visitors gathering in the small Polish city of Łódź earlier this month didn't encounter. Here, at the 17th edition of Łódź Design Festival, which wrapped up at the weekend, designers from central and eastern Europe presented their ideas for how to future-proof our cities and solve societal issues now (rather than later).
Working to the theme of "Future Perfect", contributions included conceptual housing solutions for families displaced by wars, a competition for up-and-coming designers in the city's Art Factory (see below) and a showcase of furniture and wares from more established Polish names, curated by national institutions such as the Silesian Museum in Katowice. One standout project, in an exhibition of work by students from the Eugeniusz Geppert Academy of Art and Design in Wrocław, was Aleksandra Sitek's table for schoolchildren, which has a drawer for phones that can be locked by teachers to prevent distractions throughout the day. Elsewhere, the uses of hemp as a building material were explored, collectors' vases and communist-era memorabilia were proudly displayed and a show called Futuropolis asked visitors to vote on what their ideal city would sound and smell like ("calm music heard from a nearby café through an open door in the summer" and "fresh bread from a bakery", if you were wondering).
Ultimately, the appeal of Łódź Design Festival lies in its distinctively eastern European identity. The designers and institutions root themselves in the region's sense of place as war rages in Ukraine and use design as a tool to respond to real-world issues. Poland, it seems, is shaping up to be a regional design hub for eastern Europe.
Grace Charlton is a writer at Monocle and a regular contributor to 'Monocle on Design'. For more opinion, analysis and insight, to Monocle today.
---
Sponsored by Poltrona Frau
02
/07
Design News /

'Make Me!', Poland
Bloom of youth
A highlight of Łódź Design Festival is the annual "Make Me!" competition, in which designers between the ages of 20 and 35 compete for prizes and an accolade to add to their CV. Out of 171 submissions from Poland and Europe, 25 very different projects were selected and shown inside the main hall of Łódź's Art Factory. This year there was an emphasis on real-world viability, with a number of the chosen works created in the hope of helping the war effort in Ukraine. First-prize winners Maciej Głowacki and Olga Kozłowska made a 3D-printed model for a tourniquet that can be both produced and used on battlefields. Meanwhile, Piotr Tłuszcz was awarded a joint second prize for Chariot of Life (pictured, below), a stretcher that can carry bodies across tricky terrains and is already being deployed on the front line.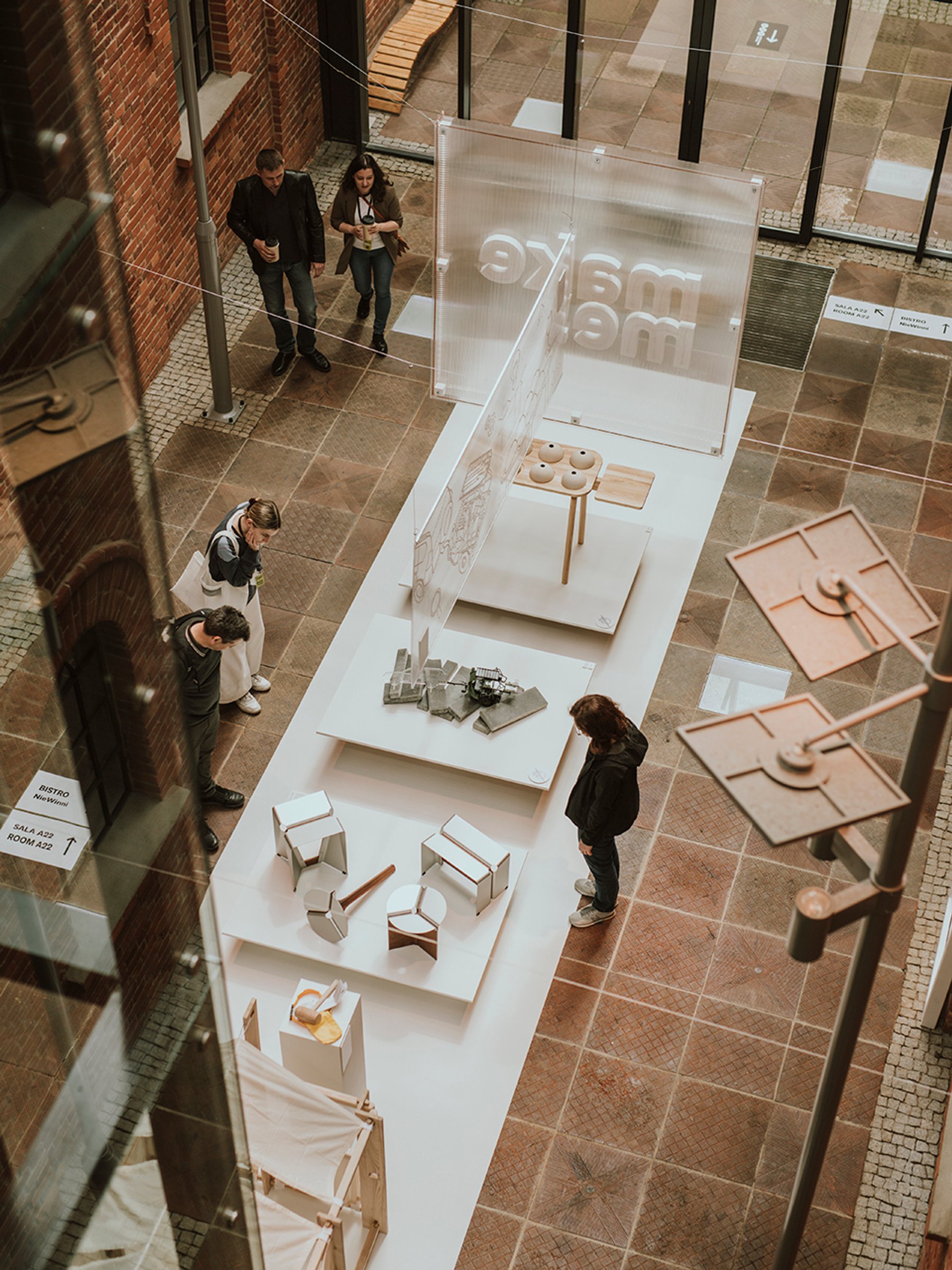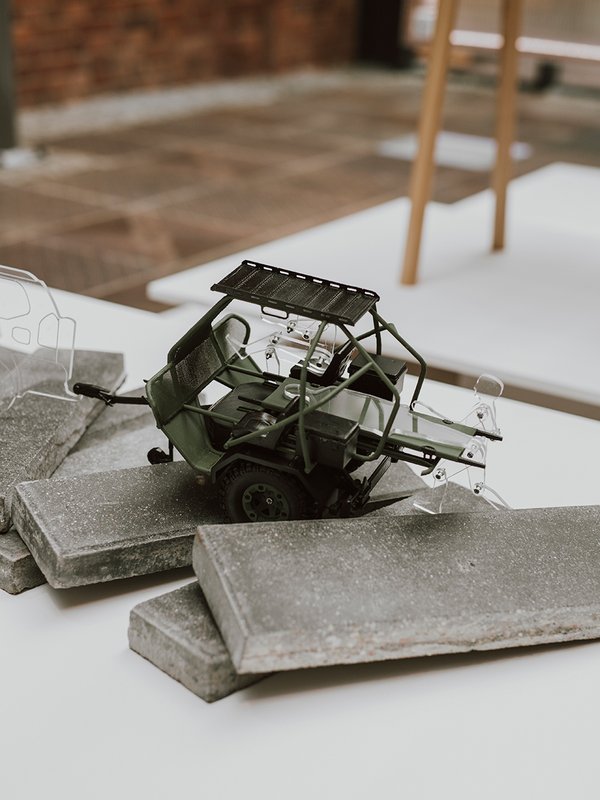 Elsewhere, craft, locality and sustainability reigned supreme. Greek design graduate Fania Kolaiti created ceramic bricks with intricate patterns that allow for natural ventilation amid rising temperatures and heatwaves. "My intention was to merge traditional techniques with 3D printing in ceramics," Kolaiti tells Monocle. "The concept of airing bricks is ancient. I hope that it offers an alternative to air-conditioning solutions that rely on being powered."
lodzdesign.com
---
03
/07
The Project /

Nouvelles Galleries, France
Satellite connection
Architect Manuelle Gautrand has recently finished renovation and expansion work on Nouvelles Galeries in Annecy, southwest France. It is owned by Citynove, the property-development branch of Groupe Galeries Lafayette, which has the flagship tenancy in the newly finished building. The retail development involved the reimagining of the striking, circular, modernist structure from 1969. "The original building was a shoebox enveloped by a car park without any alignment to the street," says Gautrand. "It's not how we conceive architecture today but it's loved by the people of Annecy so we had to transform it in a way that also respected its roots."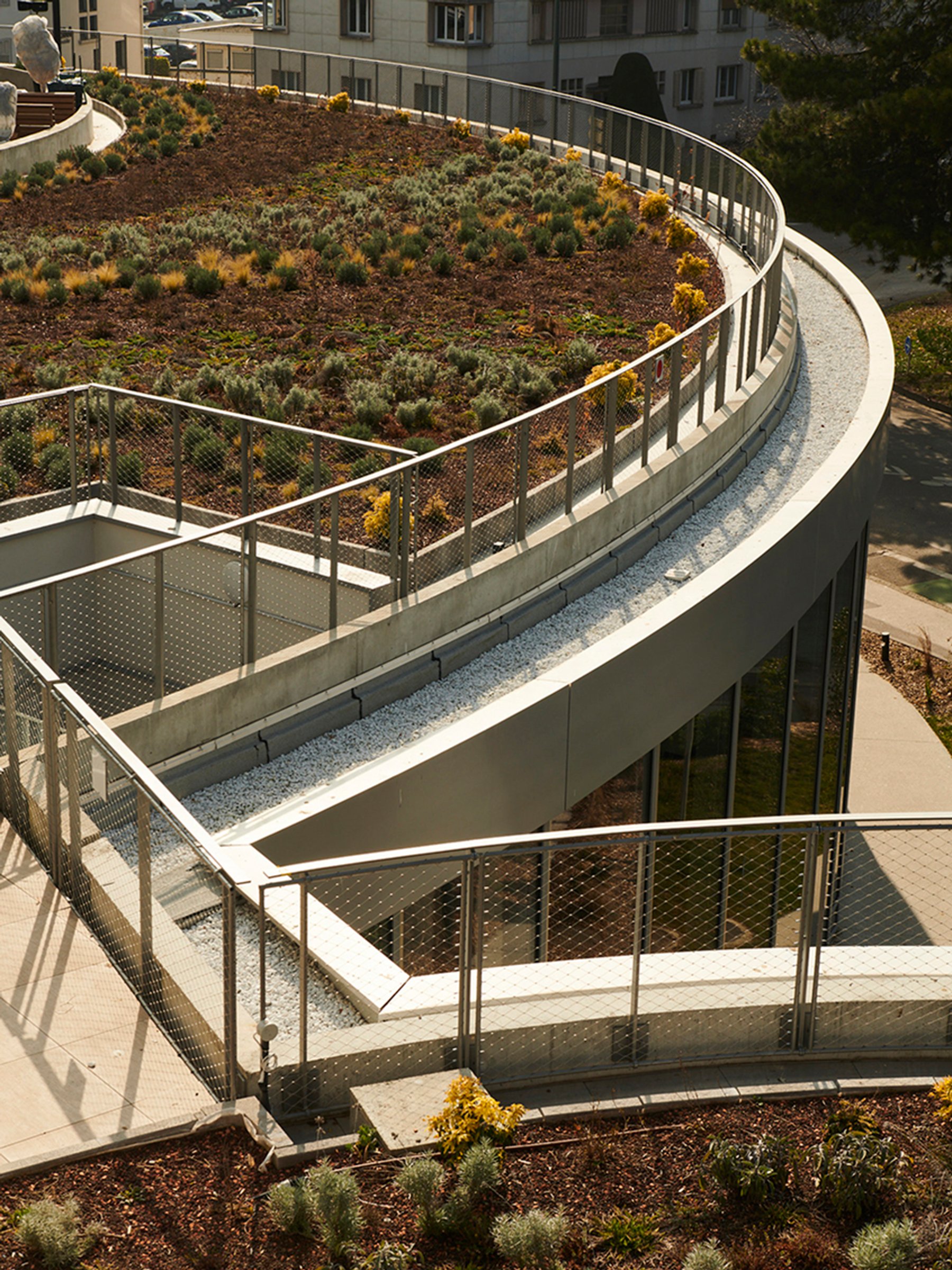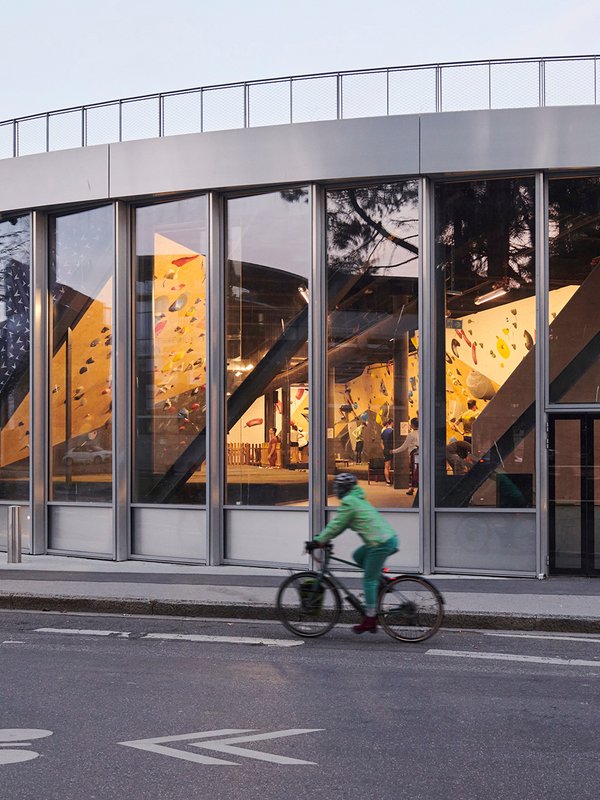 Gautrand's approach was simple: she decided to "demolish nothing". Using the void beneath the existing parking rings, she installed a curving indoor promenade lined with 40 new shops. "Putting a mall precisely beneath the parking meant that we didn't have to change the shape of the building and could keep all of the columns, which is the first goal in terms of sustainability," she says. Gautrand added six circular "satellites" to the site; intersecting with the ringed parking and varying in diameter, these seamlessly blend with the existing structure and extend the edges of the building to the footpath and the city beyond. Finished in glass, the satellites invite passers-by to linger. "It's a way of encouraging people to visit," says Gautrand of the transparent frontages. "It helps to attract visitors by showcasing the life going on inside."
manuelle-gautrand.com; nouvellesgaleriesannecy.fr
---
04
/07
Words with... /

Michał Piernikowski, Poland
Looking ahead
Michał Piernikowski has been the director of Łódź Design Festival for more than a decade. Under his guidance, museums and cultural institutions host the annual festival's exhibitions and shape its programme. This year, Piernikowski chose the theme "Future Perfect" and asked designers and curators to present work related to current social, political and environmental issues.
The war in neighbouring Ukraine has been going on for more than a year. How important was it to feature design projects that address this issue?
The war was a shock. A lot of Polish designers and companies immediately started to consider how they could help Ukraine by producing equipment, especially for doctors. It changed our way of thinking about design. It's important for us to realise that design is not only about aesthetics. It's nice to live in a well-designed environment but the industry should help people and make lives better. There is always a part of the festival dedicated to social factors and it's important that we, as a festival, try to make a difference, build prototypes and test ideas relating to topics such as climate change and the city.
You tested ideas about the city with the show 'Futuropolis'. Tell us about this exhibition.
The city is a hot topic for us – and also for everyone all over the world. There are new ideas that involve building new metropolises, such as Neom [in Saudi Arabia]. We would like to promote the idea of "protopia" and ask designers to build systems that will help us now, not in 10 or 20 years. We need to act immediately because we have the tools, as well as the designers and people who would like to change things.
How have you seen the Łódź Design Festival evolve over the years? Do you see it as a regional design hub?
The projects that we were exhibiting 10 years ago were completely different from what we exhibited this year. Generally, designers are increasingly aware that they need to deal with real problems. As a result, we have a lot of projects dedicated to climate change or trying to find new materials to produce objects and furniture with less environmental impact. Geographically, Łódź is in the centre of Poland: you can easily come here from anywhere in the country. That helps us to be a design capital for a few days during the year. Poland is also one of the biggest countries in the region with a strong furniture industry. Our idea is to become a regional hub, even though we are dealing with new troubles such as the war. We want to be a place to exchange knowledge, meet and discuss design.
For more design stories, tune in to 'Monocle on Design'.
---
Poltrona Frau MONOCLE
One of the hallmarks of great product design is appearing fit for purpose. Poltrona Frau's Happy Jack modular system achieves this aim, its pillowy cushions and concave armrests looking every bit as comfortable as they feel.
Yet despite the enveloping curves, this is a compact, liveable system. The seats are just 92cm deep, fitting neatly into smaller residences. The removable upholstery and die-cast aluminium frame add to the experience of smart urban living.
And what about the Happy Jack name? "The armrest creates a genuine 'smile' when flexed," say designers Ludovica and Roberto Palomba. That grin will be shared by everyone who sits on one.
---
05
/07
From The Archive /

Cleto Munari carafe, Italy
Pouring forth
Italian architect Carlo Scarpa almost exclusively designed bespoke furniture and interiors. However, in 1977, a year before his death, he made an exception and created exquisite silver pieces for Veneto-based manufacturer Cleto Munari. This carafe has a handle that sits at a 45-degree angle to the spout, with finger grips offering a secure hold. There is one version in silver and another with gold inside (which is ideal for wine).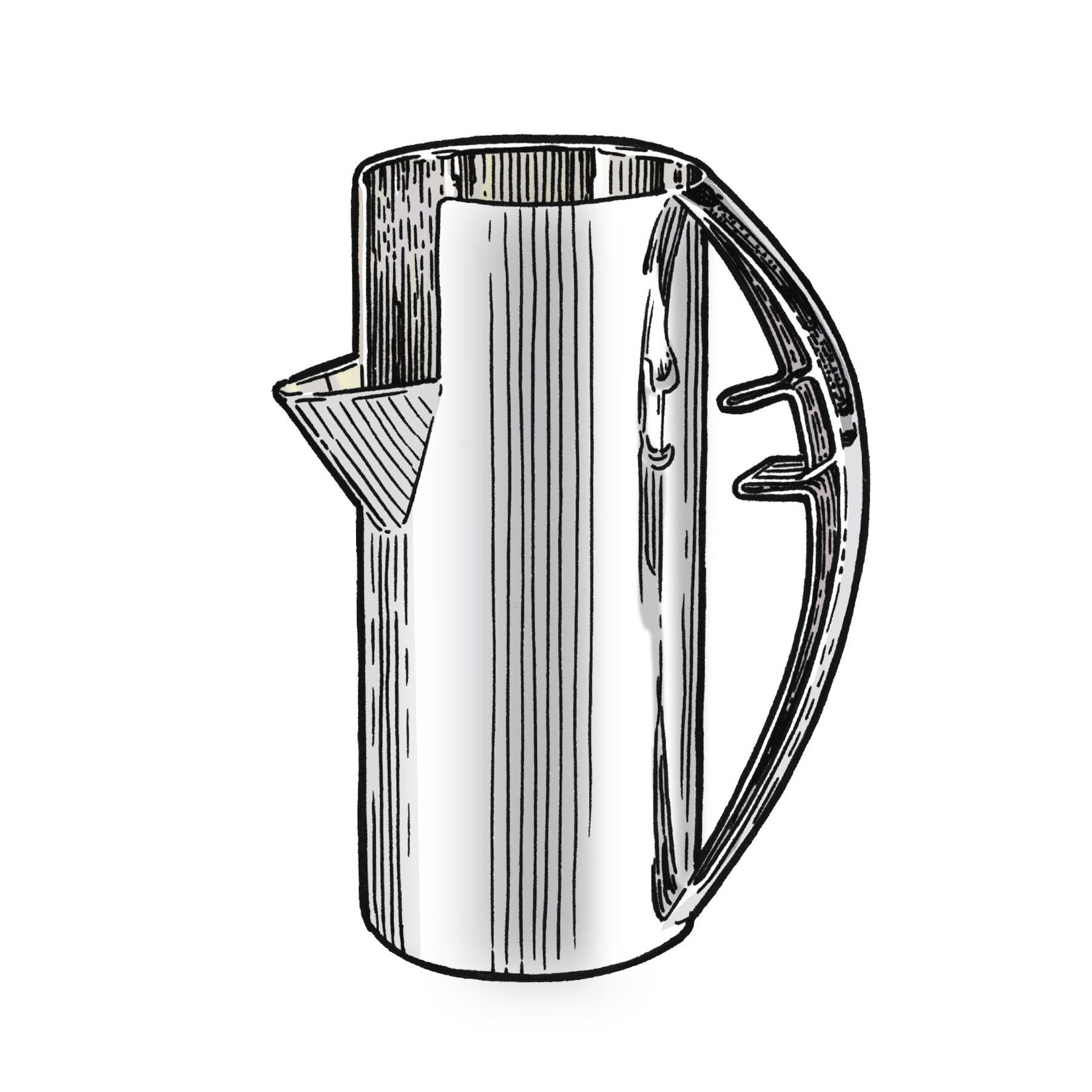 Cleto Munari still has the carafe in its catalogue but it comes with a price tag of up to €3,000 and the atelier only manufactures a few pieces a year. We suggest that this pitcher be made in stainless steel too, staying true to Cleto Munari's values while allowing for production in greater numbers. That would allow many more people to enjoy Scarpa's design genius and help them keep their friends hydrated at the dinner table: the carafe's form makes it easy to pour into the glass of someone seated next to you.
---
06
/07
Around the House /

Woodio Solid, Finland
Branching out
Finnish timber-composite bathroom design brand Woodio has recently expanded its product portfolio to include surface materials. The new range, Woodio Solid, aims to build on the success of its wooden washbasins, toilets and bathtubs. All products are made from a fully biodegradable wood composite that, unlike solid timber, is waterproof and can be used for shelves, countertops and walls in wet areas. "Our material provides an alternative in a traditional sector with very few choices," says Woodio CEO, Terja Koskenoja. "The material is easy to work with and its dimensions and shapes can be easily adjusted on-site, offering customers more flexibility."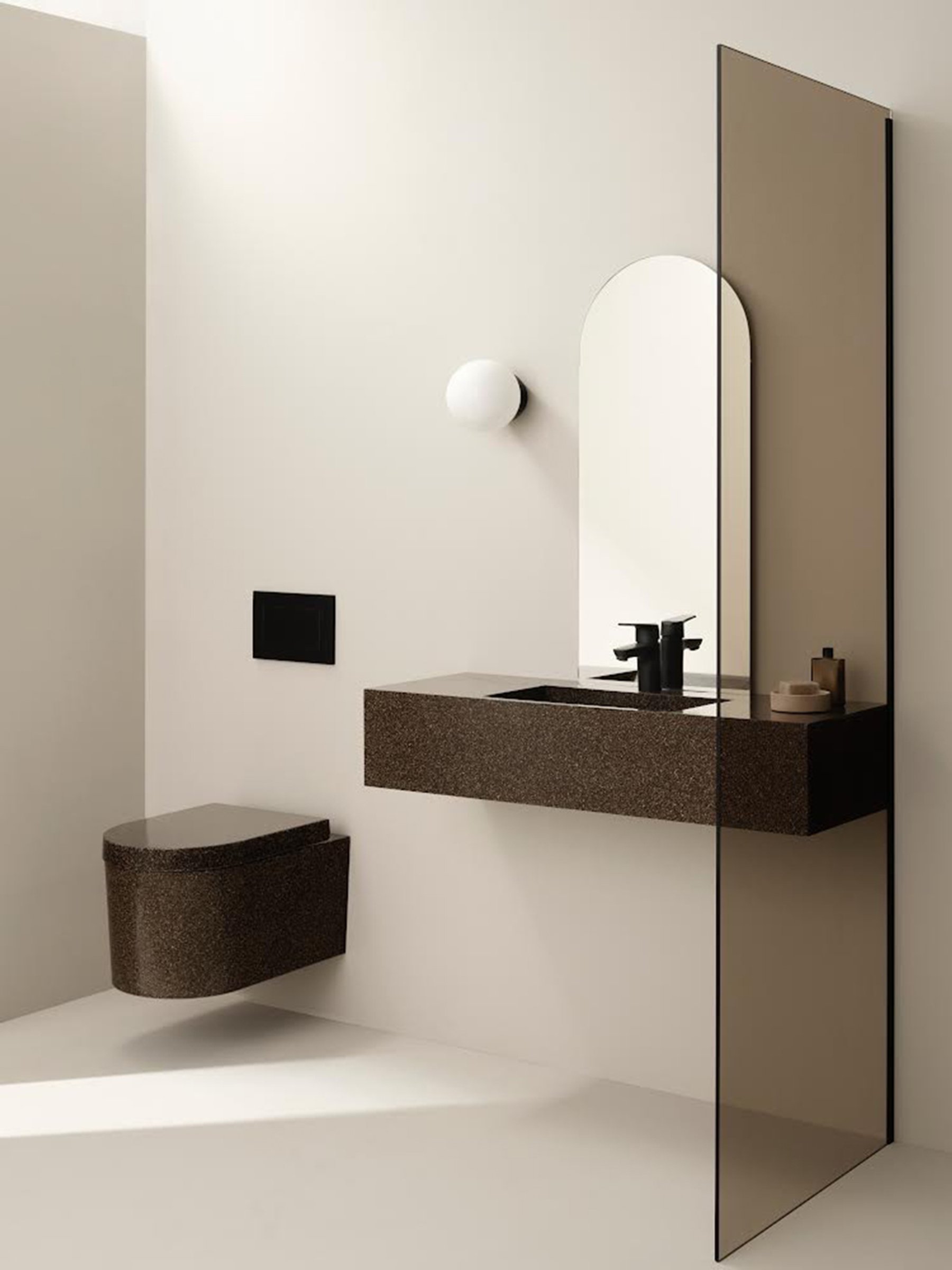 There is a growing demand for more sustainable bathroom materials, as many stone and ceramic options have a significant environmental footprint. Woodio's signature finishes do not break as easily as ceramics and feel warmer to the touch than stone. And because Woodio's suites are made from locally sourced aspen and by-products from the Finnish forest industry, they are environmentally friendly too.
woodio.fi
---
07
/07
On Display /

'Enzo Mari: Urushi no Kirameki', Italy
Glossing over
Think of the great Milanese designer Enzo Mari and it is his no-frills approach to making objects that most likely comes to mind. So a collaboration between Mari and Marutomi, a Japanese company that specialises in the production of objects lacquered using traditional techniques, might come as a surprise. Yet Rome's finest collectable design gallery, Giustini/Stagetti, is exhibiting nine precious Mari-designed pieces made by Marutomi in 2001.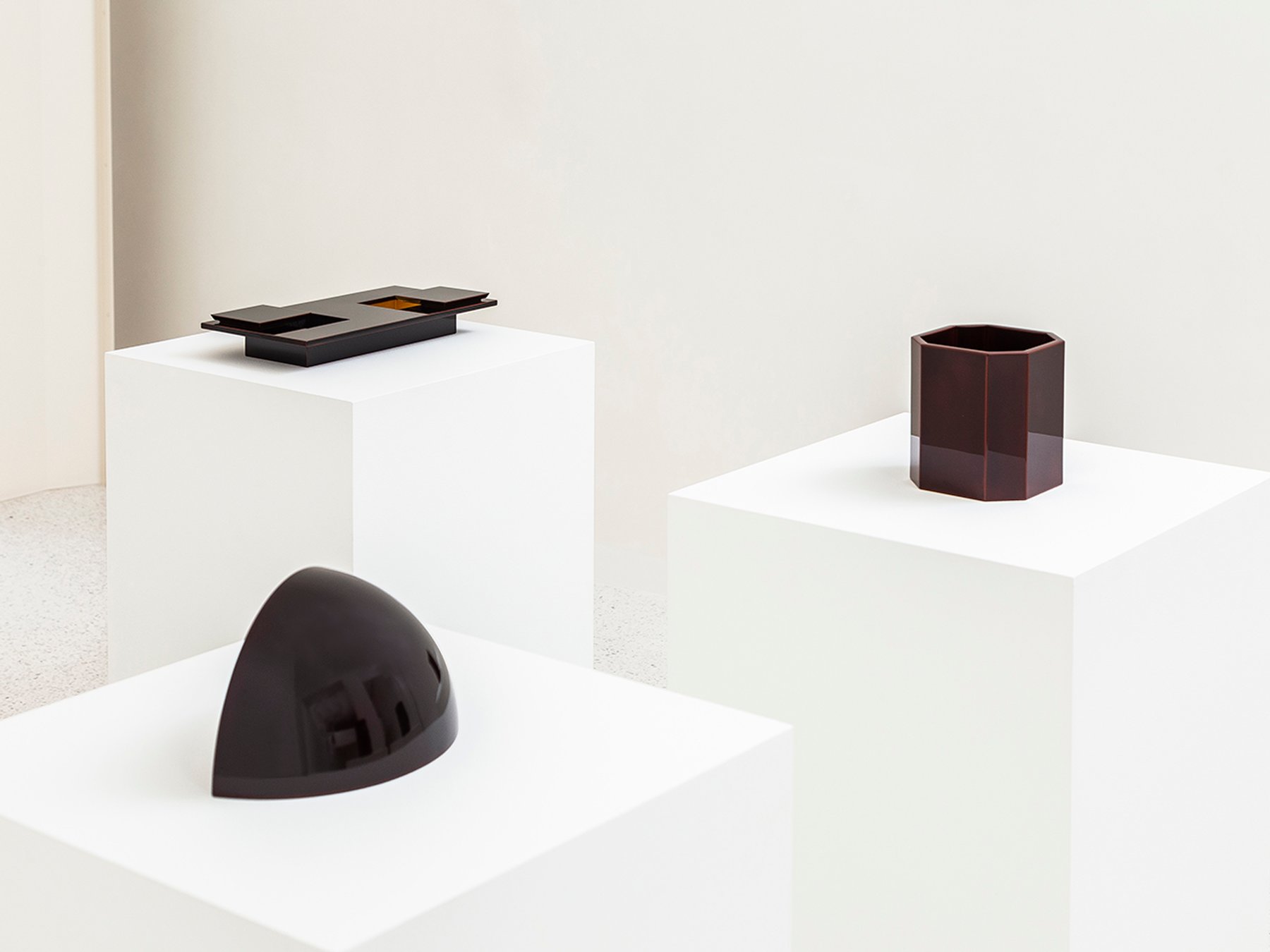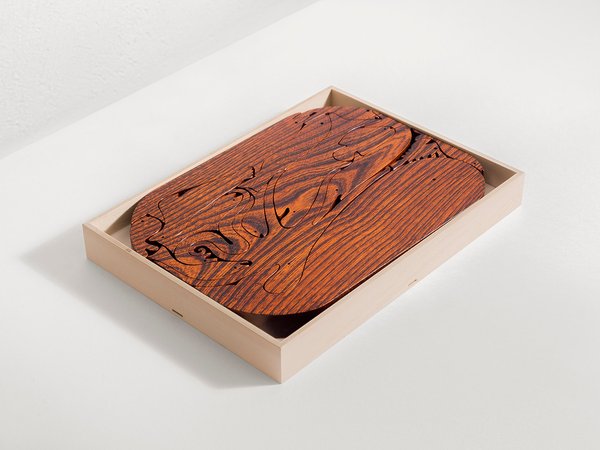 Despite the apparent differences in approach, the partnership is not as incongruous as it seems. "This collaboration is actually quite coherent," says Giustini/Stagetti's director, Michela Tornielli di Crestvolant. "Mari was always looking for the best. When it came to artisans and manufacturing, he was trying to say, 'Let's free people from industry, from big companies, from always working with machines.'" In Japanese lacquer work, the great modernist believed that he had found the apex of handmade crafts. For Marutomi's 16 Animali puzzle set (pictured), Mari revisited a piece that he originally designed for furniture brand Danese in 1957. The highly varnished fuki urushi technique was used to embellish rather than cover a beautiful, 10-year-matured Japanese hardwood, which was then carved into patterns using a tiny handsaw.
The nine works, which are on show at Giustini Stagetti until 9 June, range in price from €25,000 to €63,000 each – a similar price tag to when they were first sold at an exhibition in Tokyo in 2002. "Marutomi's president, Masato Hayashi, is not very commercially minded," says Tornielli di Crestvolant with a smile. "I suppose Mari wasn't either."
giustinistagetti.com
---
Images: Julia Klewaniec, Younes Klouche. Illustration: Anje Jager
from The Monocle Minute On Design
To stop receiving all Monocle newsletters, please click here
This email is from Monocle whose registered office is at Midori House, 1 Dorset Street, London, W1U 4EG. You have received this email because you have previously provided us with your email address and subscribed to Monocle bulletins.
© 2023 Monocle.
Text-only version of this email
London / Zürich / Toronto Los Angeles / Hong Kong / Tokyo Wednesday. 31/05/23 The Monocle Minute: On Design Monocle Minute On Design SPONSORED BY POLTRONA FRAU Monocle We sit down with Michał Piernikowski, director of Poland's Łódź Design Festival (pictured), where a number of young designers created products for Ukraine's front lines. Plus: we check out the bold renovation of Annecy's Nouvelles Galeries, make the case for a mass rollout of Carlo Scarpa's 1977 Cleto Munari carafe and more. First, though, here's Grace Charlton on the new sense of urgency in eastern European design. ---------------------------------------------------------------------------------------------------------------------------------- 01/07 OPINION / GRACE CHARLTON EASTERN PROMISE With the industry calendar so packed over the coming months, you might feel that design festivals and fairs are at risk of blending into each other or losing meaning, especially when big furniture firms are continually competing to release new chairs or tables to serve bottom lines. It's a situation that is often at odds with a company's sustainability efforts and calls to scale back production. Thankfully, it's something that visitors gathering in the small Polish city of Łódź earlier this month didn't encounter. Here, at the 17th edition of Łódź Design Festival, which wrapped up at the weekend, designers from central and eastern Europe presented their ideas for how to future-proof our cities and solve societal issues now (rather than later). Working to the theme of "Future Perfect", contributions included conceptual housing solutions for families displaced by wars, a competition for up-and-coming designers in the city's Art Factory (see below) and a showcase of furniture and wares from more established Polish names, curated by national institutions such as the Silesian Museum in Katowice. One standout project, in an exhibition of work by students from the Eugeniusz Geppert Academy of Art and Design in Wrocław, was Aleksandra Sitek's table for schoolchildren, which has a drawer for phones that can be locked by teachers to prevent distractions throughout the day. Elsewhere, the uses of hemp as a building material were explored, collectors' vases and communist-era memorabilia were proudly displayed and a show called Futuropolis asked visitors to vote on what their ideal city would sound and smell like ("calm music heard from a nearby café through an open door in the summer" and "fresh bread from a bakery", if you were wondering). Ultimately, the appeal of Łódź Design Festival lies in its distinctively eastern European identity. The designers and institutions root themselves in the region's sense of place as war rages in Ukraine and use design as a tool to respond to real-world issues. Poland, it seems, is shaping up to be a regional design hub for eastern Europe. Grace Charlton is a writer at Monocle and a regular contributor to 'Monocle on Design'. For more opinion, analysis and insight, to Monocle today. ---------------------------------------------------------------------------------------------------------------------------------- SPONSORED BY POLTRONA FRAU ---------------------------------------------------------------------------------------------------------------------------------- 02/07 DESIGN NEWS / 'MAKE ME!', POLAND BLOOM OF YOUTH A highlight of Łódź Design Festival is the annual "Make Me!" competition, in which designers between the ages of 20 and 35 compete for prizes and an accolade to add to their CV. Out of 171 submissions from Poland and Europe, 25 very different projects were selected and shown inside the main hall of Łódź's Art Factory. This year there was an emphasis on real-world viability, with a number of the chosen works created in the hope of helping the war effort in Ukraine. First-prize winners Maciej Głowacki and Olga Kozłowska made a 3D-printed model for a tourniquet that can be both produced and used on battlefields. Meanwhile, Piotr Tłuszcz was awarded a joint second prize for Chariot of Life (pictured, below), a stretcher that can carry bodies across tricky terrains and is already being deployed on the front line. Elsewhere, craft, locality and sustainability reigned supreme. Greek design graduate Fania Kolaiti created ceramic bricks with intricate patterns that allow for natural ventilation amid rising temperatures and heatwaves. "My intention was to merge traditional techniques with 3D printing in ceramics," Kolaiti tells Monocle. "The concept of airing bricks is ancient. I hope that it offers an alternative to air-conditioning solutions that rely on being powered." lodzdesign.com ---------------------------------------------------------------------------------------------------------------------------------- 03/07 THE PROJECT / NOUVELLES GALLERIES, FRANCE SATELLITE CONNECTION Architect Manuelle Gautrand has recently finished renovation and expansion work on Nouvelles Galeries in Annecy, southwest France. It is owned by Citynove, the property-development branch of Groupe Galeries Lafayette, which has the flagship tenancy in the newly finished building. The retail development involved the reimagining of the striking, circular, modernist structure from 1969. "The original building was a shoebox enveloped by a car park without any alignment to the street," says Gautrand. "It's not how we conceive architecture today but it's loved by the people of Annecy so we had to transform it in a way that also respected its roots." Gautrand's approach was simple: she decided to "demolish nothing". Using the void beneath the existing parking rings, she installed a curving indoor promenade lined with 40 new shops. "Putting a mall precisely beneath the parking meant that we didn't have to change the shape of the building and could keep all of the columns, which is the first goal in terms of sustainability," she says. Gautrand added six circular "satellites" to the site; intersecting with the ringed parking and varying in diameter, these seamlessly blend with the existing structure and extend the edges of the building to the footpath and the city beyond. Finished in glass, the satellites invite passers-by to linger. "It's a way of encouraging people to visit," says Gautrand of the transparent frontages. "It helps to attract visitors by showcasing the life going on inside." manuelle-gautrand.com; nouvellesgaleriesannecy.fr ---------------------------------------------------------------------------------------------------------------------------------- 04/07 WORDS WITH... / MICHAŁ PIERNIKOWSKI, POLAND LOOKING AHEAD Michał Piernikowski has been the director of Łódź Design Festival for more than a decade. Under his guidance, museums and cultural institutions host the annual festival's exhibitions and shape its programme. This year, Piernikowski chose the theme "Future Perfect" and asked designers and curators to present work related to current social, political and environmental issues. The war in neighbouring Ukraine has been going on for more than a year. How important was it to feature design projects that address this issue? The war was a shock. A lot of Polish designers and companies immediately started to consider how they could help Ukraine by producing equipment, especially for doctors. It changed our way of thinking about design. It's important for us to realise that design is not only about aesthetics. It's nice to live in a well-designed environment but the industry should help people and make lives better. There is always a part of the festival dedicated to social factors and it's important that we, as a festival, try to make a difference, build prototypes and test ideas relating to topics such as climate change and the city. You tested ideas about the city with the show 'Futuropolis'. Tell us about this exhibition. The city is a hot topic for us – and also for everyone all over the world. There are new ideas that involve building new metropolises, such as Neom [in Saudi Arabia]. We would like to promote the idea of "protopia" and ask designers to build systems that will help us now, not in 10 or 20 years. We need to act immediately because we have the tools, as well as the designers and people who would like to change things. How have you seen the Łódź Design Festival evolve over the years? Do you see it as a regional design hub? The projects that we were exhibiting 10 years ago were completely different from what we exhibited this year. Generally, designers are increasingly aware that they need to deal with real problems. As a result, we have a lot of projects dedicated to climate change or trying to find new materials to produce objects and furniture with less environmental impact. Geographically, Łódź is in the centre of Poland: you can easily come here from anywhere in the country. That helps us to be a design capital for a few days during the year. Poland is also one of the biggest countries in the region with a strong furniture industry. Our idea is to become a regional hub, even though we are dealing with new troubles such as the war. We want to be a place to exchange knowledge, meet and discuss design. For more design stories, tune in to 'Monocle on Design'. ---------------------------------------------------------------------------------------------------------------------------------- POLTRONA FRAU  MONOCLE One of the hallmarks of great product design is appearing fit for purpose. Poltrona Frau's Happy Jack modular system achieves this aim, its pillowy cushions and concave armrests looking every bit as comfortable as they feel. Yet despite the enveloping curves, this is a compact, liveable system. The seats are just 92cm deep, fitting neatly into smaller residences. The removable upholstery and die-cast aluminium frame add to the experience of smart urban living. And what about the Happy Jack name? "The armrest creates a genuine 'smile' when flexed," say designers Ludovica and Roberto Palomba. That grin will be shared by everyone who sits on one. Discover more ---------------------------------------------------------------------------------------------------------------------------------- 05/07 FROM THE ARCHIVE / CLETO MUNARI CARAFE, ITALY POURING FORTH Italian architect Carlo Scarpa almost exclusively designed bespoke furniture and interiors. However, in 1977, a year before his death, he made an exception and created exquisite silver pieces for Veneto-based manufacturer Cleto Munari. This carafe has a handle that sits at a 45-degree angle to the spout, with finger grips offering a secure hold. There is one version in silver and another with gold inside (which is ideal for wine). Cleto Munari still has the carafe in its catalogue but it comes with a price tag of up to €3,000 and the atelier only manufactures a few pieces a year. We suggest that this pitcher be made in stainless steel too, staying true to Cleto Munari's values while allowing for production in greater numbers. That would allow many more people to enjoy Scarpa's design genius and help them keep their friends hydrated at the dinner table: the carafe's form makes it easy to pour into the glass of someone seated next to you. ---------------------------------------------------------------------------------------------------------------------------------- 06/07 AROUND THE HOUSE / WOODIO SOLID, FINLAND BRANCHING OUT Finnish timber-composite bathroom design brand Woodio has recently expanded its product portfolio to include surface materials. The new range, Woodio Solid, aims to build on the success of its wooden washbasins, toilets and bathtubs. All products are made from a fully biodegradable wood composite that, unlike solid timber, is waterproof and can be used for shelves, countertops and walls in wet areas. "Our material provides an alternative in a traditional sector with very few choices," says Woodio CEO, Terja Koskenoja. "The material is easy to work with and its dimensions and shapes can be easily adjusted on-site, offering customers more flexibility." There is a growing demand for more sustainable bathroom materials, as many stone and ceramic options have a significant environmental footprint. Woodio's signature finishes do not break as easily as ceramics and feel warmer to the touch than stone. And because Woodio's suites are made from locally sourced aspen and by-products from the Finnish forest industry, they are environmentally friendly too. woodio.fi ---------------------------------------------------------------------------------------------------------------------------------- 07/07 ON DISPLAY / 'ENZO MARI: URUSHI NO KIRAMEKI', ITALY GLOSSING OVER Think of the great Milanese designer Enzo Mari and it is his no-frills approach to making objects that most likely comes to mind. So a collaboration between Mari and Marutomi, a Japanese company that specialises in the production of objects lacquered using traditional techniques, might come as a surprise. Yet Rome's finest collectable design gallery, Giustini/Stagetti, is exhibiting nine precious Mari-designed pieces made by Marutomi in 2001. Despite the apparent differences in approach, the partnership is not as incongruous as it seems. "This collaboration is actually quite coherent," says Giustini/Stagetti's director, Michela Tornielli di Crestvolant. "Mari was always looking for the best. When it came to artisans and manufacturing, he was trying to say, 'Let's free people from industry, from big companies, from always working with machines.'" In Japanese lacquer work, the great modernist believed that he had found the apex of handmade crafts. For Marutomi's 16 Animali puzzle set (pictured), Mari revisited a piece that he originally designed for furniture brand Danese in 1957. The highly varnished fuki urushi technique was used to embellish rather than cover a beautiful, 10-year-matured Japanese hardwood, which was then carved into patterns using a tiny handsaw. The nine works, which are on show at Giustini Stagetti until 9 June, range in price from €25,000 to €63,000 each – a similar price tag to when they were first sold at an exhibition in Tokyo in 2002. "Marutomi's president, Masato Hayashi, is not very commercially minded," says Tornielli di Crestvolant with a smile. "I suppose Mari wasn't either." giustinistagetti.com ---------------------------------------------------------------------------------------------------------------------------------- Feedback? get in touch Read this email online Manage Newsletters Share on Twitter Share on LinkedIn Images: Julia Klewaniec, Younes Klouche. Illustration: Anje Jager  from The Monocle Minute On Design To stop receiving all Monocle newsletters, please click here This email is from Monocle whose registered office is at Midori House, 1 Dorset Street, London, W1U 4EG. You have received this email because you have previously provided us with your email address and subscribed to Monocle bulletins. © 2023 Monocle. M
Show all
The Latest Emails Sent By monocle.com
More Emails, Deals & Coupons From monocle.com
Email Offers, Discounts & Promos From Our Top Stores