iHerb
vitamins
supplements
health
30% off Bath & Shower products 💦
iHerb sent this email to their subscribers on November 24, 2022.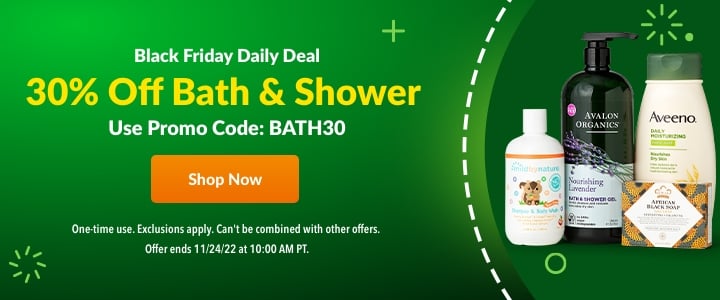 Dear iHerb Customer,

For 1-DAY ONLY, shop and save big from this great Black Friday Daily Deal!
30% OFF Bath & Shower Products
Promo Code: BATH30
one-time use, valid until 11/24/2022 at 10:00 AM PT
Shop Now

Shop by Category
Body Wash & Shower Gel
Bar Soap
Bath Salt & Oil
Hand Soap
Body Scrubs & Polish
Accessories

Bath & Shower from Mild By Nature - a part of iHerb Brands
Don't miss out on savings from iHerb's Black Friday Daily & Weekend Deals. Look out for our announcement in your inbox, or visit our site daily for offer details.
Happy Shopping!
The iHerb Team
Please Note:

Black Friday Daily Deals are published every day Monday-Thursday at 10:00 AM PT and end on the next day at 10:00 AM PT. Weekend Deals are published on Friday at 10:00 AM PT and end on the following Monday at 10:00 AM PT. Promo codes are limited to one-time use per customer. Exclusions apply. Can't be combined with other offers.
Share, Save & Earn with iHerb Rewards!
How? Simply share iHerb's offer to everyone you know with the link below that contains your unique Rewards Code IOJ6629 and promo code.
https://www.iherb.com/c/bath-shower?pcode=BATH30&rcode=IOJ6629
When your referrals shop using your link, they will get the savings and you will earn Rewards Credits. Rewards Credits can be redeemed towards your future purchases just like cash!
Learn more about

iHerb Rewards
Text-only version of this email
Save big from iHerb's Black Friday Daily Deal! Shop iHerb.com Black Friday Daily Deal 4 30% Off Bath Shower Use Promo Code: BATH30 One-time use. Excusions apply. Can't be combined with other offers. N LR RIY - PRITTE P ! 1 ! 0 1 Lo onee Dear iHerb Customer, For 1-DAY ONLY, shop and save big from this great Black Friday Daily Deal! 30% OFF Bath & Shower Products Promo Code: BATH30 one-time use, valid until 11/24/2022 at 10:00 AM PT Shop Now Shop by Category Body Wash & Shower Gel Bar Soap Bath Salt & Oil Hand Soap Body Scrubs & Polish Accessories Bath & Shower from Mild By Nature - a part of iHerb Brands Don't miss out on savings from iHerb's Black Friday Daily & Weekend Deals. Look out for our announcement in your inbox, or visit our site daily for offer details. Happy Shopping! The iHerb Team Please Note: Black Friday Daily Deals are published every day Monday-Thursday at 10:00 AM PT and end on the next day at 10:00 AM PT. Weekend Deals are published on Friday at 10:00 AM PT and end on the following Monday at 10:00 AM PT. Promo codes are limited to one-time use per customer. Exclusions apply. Can't be combined with other offers. Share, Save & Earn with iHerb Rewards! How? Simply share iHerb's offer to everyone you know with the link below that contains your unique Rewards Code IOJ6629 and promo code. When your referrals shop using your link, they will get the savings and you will earn Rewards Credits. Rewards Credits can be redeemed towards your future purchases just like cash! Learn more about iHerb Rewards To keep receiving emails from us, please add
[email protected]
to your address book. Facebook Twitter YouTube Pinterest Instagram App Store Google Play iHerb © iHerb Inc. 301 N Lake Ave, #500, Pasadena, CA 91101 USA |  Contact |  Privacy Disclaimer: Statements made, or products sold through iHerb.com, have not been evaluated by the Food and Drug Administration. They are not intended to diagnose, treat, cure, or prevent disease. Read More
Show all
The Latest Emails Sent By iHerb
More Emails, Deals & Coupons From iHerb
Email Offers, Discounts & Promos From Our Top Stores