iHerb
vitamins
supplements
health
26% off Sitewide - This Weekend Only 🎂🎂🎂
iHerb sent this email to their subscribers on September 23, 2022.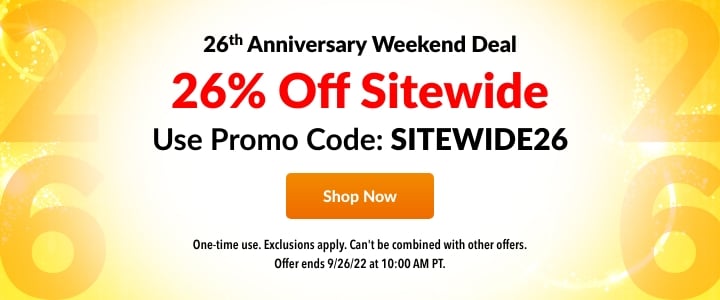 Dear iHerb Customer,

This is the deal you don't want to miss!
This Weekend Only, use promo code SITEWIDE26 and Save 26% on our Entire Site. Enter promo code at checkout or use the links below to save. Limited to one-time use per customer. So, be sure to order everything you need in one order.


Remember! We're giving away 26% off discounts on popular categories & brands every day throughout the entire month of September for our birthday. So, look out for our announcement in your inbox, or visit our site daily for promotion details.
Sincerely,
The iHerb Team
Please Note:

Promo code is good for one-time use per customer. Exclusions apply. May not be combined with other offers. Offer ends 9/26/22 at 10:00 AM PT.



Share & Save Even More:

Share this offer with others via the link below that contains your unique Rewards Code IOJ6629 and promo code

https://www.iherb.com/home?pcode=SITEWIDE26&rcode=IOJ6629

Post this link on your social media account, or email it to everyone you know. They will get the same savings like you and you will earn Rewards Credits. More about

iHerb Rewards
Text-only version of this email
Our biggest 26th Anniversary Sale! Shop iHerb.com 26 Anniversary Weekend Deal 26% Off Sitewide Use Promo Code: SITEWIDE26 Onetime use. Exclusions apply. Can't be combined with other ofers Offer ends 92622 t 10:00AM PT. Dear iHerb Customer, This is the deal you don't want to miss! This Weekend Only, use promo code SITEWIDE26 and Save 26% on our Entire Site. Enter promo code at checkout or use the links below to save. Limited to one-time use per customer. So, be sure to order everything you need in one order. Shop by Category Supplements Beauty Bath & Personal Care Yummy Food & Snacks Baby & Kids Men's Health Women's Health Sports & Fitness Best-Sellers New Releases SHOP ALL Remember! We're giving away 26% off discounts on popular categories & brands every day throughout the entire month of September for our birthday. So, look out for our announcement in your inbox, or visit our site daily for promotion details. Sincerely, The iHerb Team Please Note: Promo code is good for one-time use per customer. Exclusions apply. May not be combined with other offers. Offer ends 9/26/22 at 10:00 AM PT. Share & Save Even More: Share this offer with others via the link below that contains your unique Rewards Code IOJ6629 and promo code Post this link on your social media account, or email it to everyone you know. They will get the same savings like you and you will earn Rewards Credits. More about iHerb Rewards To keep receiving emails from us, please add
[email protected]
to your address book. Facebook Twitter YouTube Pinterest Instagram App Store iHerb © iHerb Inc. 301 N Lake Ave, #500, Pasadena, CA 91101 USA |  Contact |  Privacy Disclaimer: Statements made, or products sold through iHerb.com, have not been evaluated by the Food and Drug Administration. They are not intended to diagnose, treat, cure, or prevent disease. Read More
Show all
The Latest Emails Sent By iHerb
More Emails, Deals & Coupons From iHerb
Email Offers, Discounts & Promos From Our Top Stores