Weekly Wine Chats #163 🏖
Good Pair Days sent this email to their subscribers on May 26, 2023.
Hey good-pair-days,
Single Vineyard Wine: Sales gimmick, flavour game-changer or artistic expression of terroir? Delve into the mysterious world of single vineyard wines with our enlightening guide!
Also in this week's issue:
🕵🏻‍♀️ Unmask the Iberian enigma known for tart berries and a peppery punch. Have you met this red grape yet?

🛖 Can an eco-friendly, family-run Aussie winery reimagine this unsung hero of red grapes?

🚀 ICYMI: Our new

Loyalty & Rewards Program just launched! It's easier than ever to start earning points!

🎸 Unplugged and Unfiltered: Delve into the raw authenticity of the Lo-Fi wine movement.

🍹 Last chance to mix it up and pop the cap off your Free May surprise!

📣 2021 has been declared a "classic" year for Port! Find out what the fuss is all about.

🧅 Tuscan Delight: Savour a symphony of flavours with this meatloaf recipe and recommended pairings!
For a limited time only, we're giving all new members a FREE $100 cheeseboard esky and corkscrew! Get personalised wines, plus, every bottle comes with a tasting card that includes the winemaker's story, tasting notes, and food pairings. Free shipping anywhere in Australia when your order 4+ bottles. Sign up today!
📍Single Vineyard: What does it mean?
The French do a lot of things really well, from the perfect croissant to macarons and let's not forget le fromage, j'adore le fromage! The other thing they have down pat is wine and it isn't simply just wine from France, nor wine from a region, nor wine from a town but, the wine from this, this single vineyard here where you are standing.
Why can this wine, which comes from this vineyard be more expensive than that bottle of wine over there that is sourced from that vineyard over there too? Well we have all your questions answered, so all you need to do is go and source plenty of fromage to enjoy while drinking your single vineyard wine!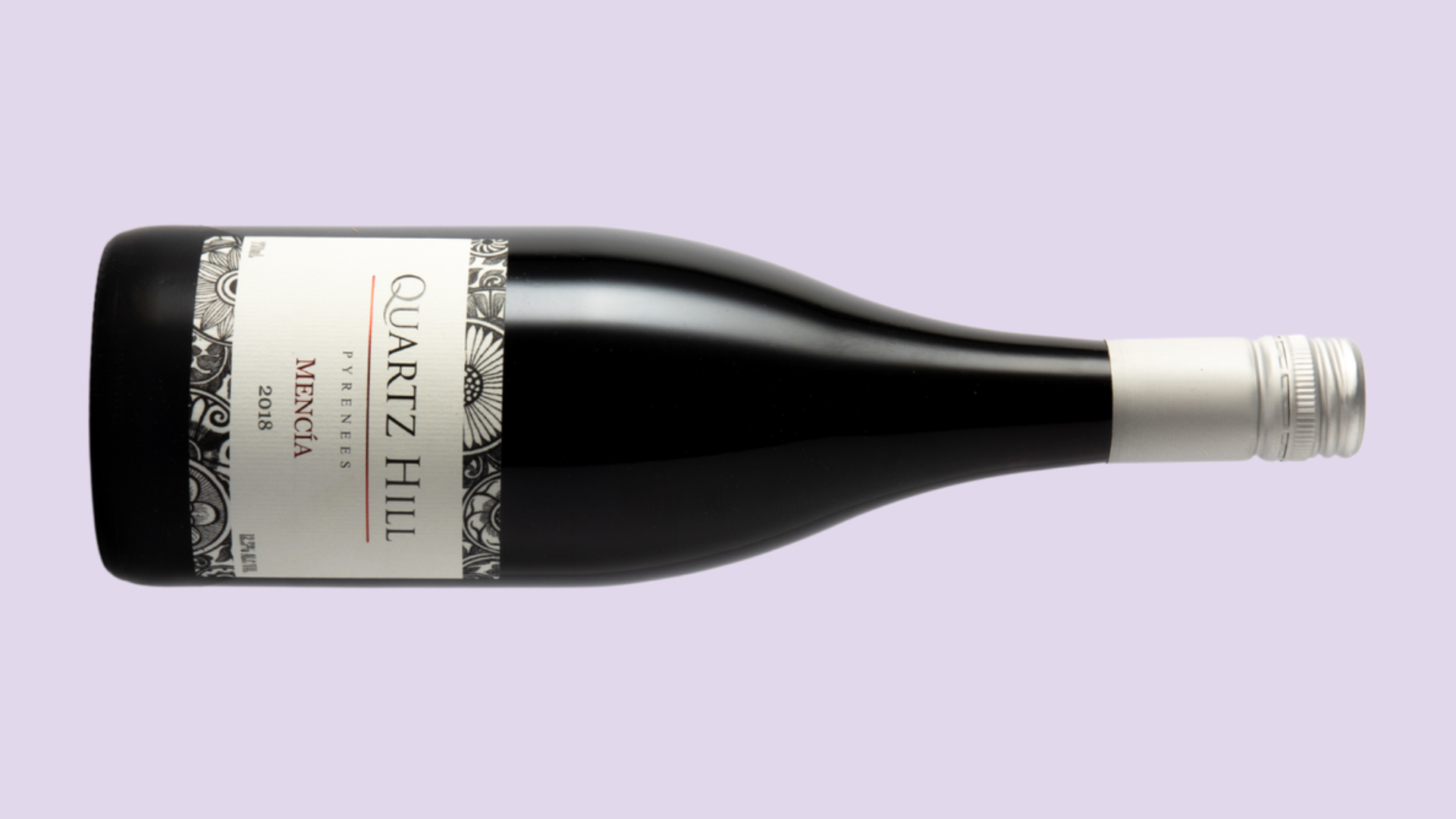 Introducing Quartz Hill, a biodynamically farmed, small-batch, family-run wine producer out of the Pyrenees, Victoria. We are obsessed with Quartz Hill's eco-friendly cellar and winery. Its walls are made from straw bales with 7cm thick lime/sand renders, keeping the winery at a constant 16 degrees year-round. That's bonus points for those playing the Grand Designs drinking game at home.
These impressive structures echo the sustainable practices in the vineyards and the cellar. Quartz Hill applies biodynamic principles and hand-picks their fruit. Wines are made with low intervention methods – wild ferments, minimal pumping and filtration, leading to energetic and full-flavour wines.
The 2018 Quartz Hill Mencia is the perfect vessel for delivering The Pyrenees' mineral complexity, including fascinating earth and spice inflections you won't find anywhere else in the country. Fruit-wise, it's brambly black mixed with tart red berries, followed by graphite, iron and persistent tannins. Savoury, with perky acidity, to keep things (highly) drinkable.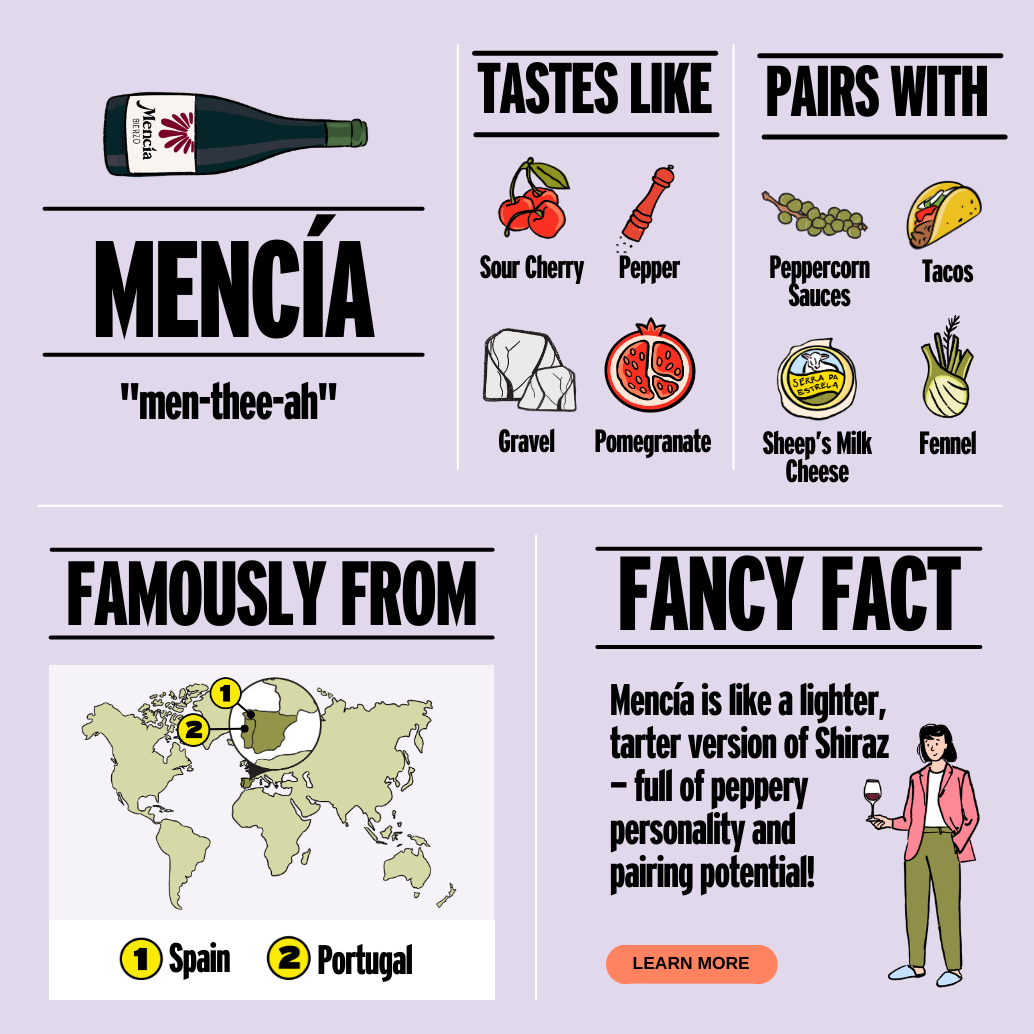 ⚡️ TL:DR: Mencía is an expressive, unique herbal, tannic red grape best known from the region of Bierzo in northwest Spain
🗣 Pronounced: "men-THEE-ah"
🌈 Colour: On the lighter colour spectrum of red wines
🍇 What is it? Mencía is a high-quality and distinctive red grape native to the western part of the Iberian Peninsula, widely grown in northwest Spain and especially in Bierzo, a dramatic and high-altitude region about two hours' drive from the northern border with Portugal. Here it grows on the mountainside and produces perfumed, medium-bodied, spicy reds. In Portugal, it's still mainly used in blends, with Mencía still making up around 85% of the final wine.
The variety was quite neglected for many years but it has enjoyed something of a revival in recent decades. Historically not grown anywhere outside of Spain and Portugal, in the last decade plantings have increased in Australia around warmer regions in South Australia and Victoria.
Most signs initially pointed to Bierzo in northwest Spain as its home, however, recent DNA testing has indicated that Mencía is actually the same grape as Jaen do Dão (known as just Jaen) from Portugal, so is now believed to have originated from there.
Mencía is known for flavours of sour cherry, pomegranate and alpine strawberry, with notes of black pepper, liquorice and violets, and tending to a tart crunch. Oak is used sparingly, as it can overwhelm Mencía's rather delicate flavour profile, with the structure usually medium-bodied with noticeable minerality, expressed as crushed rocks or gravel. If you like fresh, floral and earthy reds with a kick of spice, this is your grape!
📍Place of Origin: Mencía is from the western part of the Iberian Peninsula, from the Dão & Douro regions of Portugal
🌎 Today's Major Countries of Production: Spain, Portugal
🍕 Pairing Tip: Steak with pepper sauce is a flat out winner here, but don't be afraid to be a bit more adventurous. Sheep's milk cheeses are great, like Manchego and Serra da Estrela! And cheddar can enhance some of the fruity flavours here too. Another easy score is chicken or beef fajitas and tacos. On the veggie side of things, risottos and vegetables like mushrooms, artichokes and olives also work quite nicely.
🤔 Interesting to Note: In Castellano Spanish (the standard form of Spanish spoken in northern and central Spain), if a C comes before an E or I, it's pronounced 'th'. Also with Spanish words, usually the emphasis lies on the penultimate (or second last) syllable, unless the vowel is accented. So, to pronounce Mencía, you say 'men-THEE-ah'!
Tasting Pack: Unplugged and Unfiltered
Lo-Fi ( low fidelity) is a loanword from the music world. These are elements usually regarded as imperfections in recordings or performances, that are made audible as a deliberate aesthetic choice. In wine, these lo-fi imperfections, while frowned upon at wine shows, offer a unique and playful drinking experience. Think rustic aromas, pronounced fruit character, and cloudiness leading to exotic flavour and textures. Discover all these and more in our Lo-Fi Movement Pack.
Special gift in May Boxes
May's Samples: Strange Love Premium Mixers
This May for those of you who have unlocked level 3 Wine Traveller and above we're including 4 bottles of premium mixers in every box you order, one offs or monthly subscriptions. Take your tastebuds on a tantalising journey with these Australian craft mixers, designed to complement craft spirits.
For spirit pairing inspiration, see some of their suggestions here. And if you like what you taste, all GPD members get 20% off your first order through the StrangeLove website, using the code GOODSTRANGEDAYS
We all know the good Port isn't that hard to come by. However, it is hard not to sit up and take note when one of the best port houses around declares a 'classic' vintage. These are considered bumper years, where the weather is perfect, leading to an exceptional harvest.
A great meatloaf is a thing of beauty and this Tuscan-inspired iteration of a classic sees juicy lamb and pork minced, folded together and mixed with an array of wonderful ingredients that summarise one of Italy's great wine and food regions. Medium-bodied reds with bright acidity and red fruit character are going to go down a treat with this dish!

Pair this recipe with:
Shaky Bridge 'Pioneer' Pinot Noir 2020
📸 Catherine M. from the GPD Wine Lovers Facebook Group
GPD Wine Lovers Facebook Group
Our Facebook member space is up and running so you can connect with other Good Pair Days friends, share favourite bottles, wine jokes, pairing tips, producers, wine tips and tricks, feedback, fun articles and more. You can find it here!
That's it for this week. Hope you liked it. Let us know if you have any feedback!
Happy wine adventures,
The Good Pair Days Team
Contact us by replying to any email
| | |
©2023 Good Pair Days. Australian address: 11 Enterprise Drive, Glendenning, NSW 2761. UK address: Derby Commercial Park, GXO Warehouse, Fernhook Avenue, Derby DE21 7HW. We support the responsible service of alcohol. It is against the law to sell or supply alcohol to, or to obtain alcohol on behalf of, a person under the age of 18 years. Liquor licence number LIQP770016794.
Text-only version of this email
Single Vineyard Wine: Sales gimmick, flavour game-changer or artistic expression of terroir?🍷Find out the truth.‌ ‌ ‌ ‌ ‌ ‌ ‌ ‌ ‌ ‌ ‌ ‌ ‌ ‌ ‌ ‌ ‌ ‌ ‌ ‌ ‌ ‌ ‌ ‌ ‌ ‌ ‌ ‌ ‌ ‌ ‌ ‌ ‌ ‌ ‌ ‌ ‌ ‌ ‌ ‌ ‌ ‌ ‌ ‌ ‌ ‌ ‌  Shop wine Rewards Wine 101 Gifts Wine Chats #162 Hey good-pair-days, Single Vineyard Wine: Sales gimmick, flavour game-changer or artistic expression of terroir? Delve into the mysterious world of single vineyard wines with our enlightening guide! Also in this week's issue: * 🕵🏻‍♀️ Unmask the Iberian enigma known for tart berries and a peppery punch. Have you met this red grape yet? * 🛖 Can an eco-friendly, family-run Aussie winery reimagine this unsung hero of red grapes? * 🚀 ICYMI: Our new Loyalty & Rewards Program just launched! It's easier than ever to start earning points! * 🎸 Unplugged and Unfiltered: Delve into the raw authenticity of the Lo-Fi wine movement. * 🍹 Last chance to mix it up and pop the cap off your Free May surprise! * 📣 2021 has been declared a "classic" year for Port! Find out what the fuss is all about. * 🧅 Tuscan Delight: Savour a symphony of flavours with this meatloaf recipe and recommended pairings! Sign Up Offer! Referral Offer For a limited time only, we're giving all new members a FREE $100 cheeseboard esky and corkscrew! Get personalised wines, plus, every bottle comes with a tasting card that includes the winemaker's story, tasting notes, and food pairings. Free shipping anywhere in Australia when your order 4+ bottles. Sign up today! Wine 101 Wine 101 📍Single Vineyard: What does it mean? The French do a lot of things really well, from the perfect croissant to macarons and let's not forget le fromage, j'adore le fromage! The other thing they have down pat is wine and it isn't simply just wine from France, nor wine from a region, nor wine from a town but, the wine from this, this single vineyard here where you are standing. Why can this wine, which comes from this vineyard be more expensive than that bottle of wine over there that is sourced from that vineyard over there too? Well we have all your questions answered, so all you need to do is go and source plenty of fromage to enjoy while drinking your single vineyard wine! Bottle of the Week P S QUARTZSIEL PYRENEES MENCIA 🛖 Quartz Hill Mencia 2018 Introducing Quartz Hill, a biodynamically farmed, small-batch, family-run wine producer out of the Pyrenees, Victoria. We are obsessed with Quartz Hill's eco-friendly cellar and winery. Its walls are made from straw bales with 7cm thick lime/sand renders, keeping the winery at a constant 16 degrees year-round. That's bonus points for those playing the Grand Designs drinking game at home. These impressive structures echo the sustainable practices in the vineyards and the cellar. Quartz Hill applies biodynamic principles and hand-picks their fruit. Wines are made with low intervention methods – wild ferments, minimal pumping and filtration, leading to energetic and full-flavour wines. The 2018 Quartz Hill Mencia is the perfect vessel for delivering The Pyrenees' mineral complexity, including fascinating earth and spice inflections you won't find anywhere else in the country. Fruit-wise, it's brambly black mixed with tart red berries, followed by graphite, iron and persistent tannins. Savoury, with perky acidity, to keep things (highly) drinkable. Grape of the Week TASTESLIKE PAIRS WITH e 7
[email protected]
MENCIA - e
[email protected]
@ Gravel Pomegranate Sheep'sMilk Fennel Cheese FAMOUSLY FROM FANCY FACT Mencia is like a lighter, Wm personalityand ! pairing potential! Spain - @ Portugal CEED 🕵🏻‍♀️ Mencía ⚡️ TL:DR: Mencía is an expressive, unique herbal, tannic red grape best known from the region of Bierzo in northwest Spain 🗣 Pronounced: "men-THEE-ah" 🌈 Colour: On the lighter colour spectrum of red wines 🍇 What is it? Mencía is a high-quality and distinctive red grape native to the western part of the Iberian Peninsula, widely grown in northwest Spain and especially in Bierzo, a dramatic and high-altitude region about two hours' drive from the northern border with Portugal. Here it grows on the mountainside and produces perfumed, medium-bodied, spicy reds. In Portugal, it's still mainly used in blends, with Mencía still making up around 85% of the final wine. The variety was quite neglected for many years but it has enjoyed something of a revival in recent decades. Historically not grown anywhere outside of Spain and Portugal, in the last decade plantings have increased in Australia around warmer regions in South Australia and Victoria. Most signs initially pointed to Bierzo in northwest Spain as its home, however, recent DNA testing has indicated that Mencía is actually the same grape as Jaen do Dão (known as just Jaen) from Portugal, so is now believed to have originated from there. Mencía is known for flavours of sour cherry, pomegranate and alpine strawberry, with notes of black pepper, liquorice and violets, and tending to a tart crunch. Oak is used sparingly, as it can overwhelm Mencía's rather delicate flavour profile, with the structure usually medium-bodied with noticeable minerality, expressed as crushed rocks or gravel. If you like fresh, floral and earthy reds with a kick of spice, this is your grape! 📍Place of Origin: Mencía is from the western part of the Iberian Peninsula, from the Dão & Douro regions of Portugal 🌎 Today's Major Countries of Production: Spain, Portugal 🍕 Pairing Tip: Steak with pepper sauce is a flat out winner here, but don't be afraid to be a bit more adventurous. Sheep's milk cheeses are great, like Manchego and Serra da Estrela! And cheddar can enhance some of the fruity flavours here too. Another easy score is chicken or beef fajitas and tacos. On the veggie side of things, risottos and vegetables like mushrooms, artichokes and olives also work quite nicely.  🤔 Interesting to Note: In Castellano Spanish (the standard form of Spanish spoken in northern and central Spain), if a C comes before an E or I, it's pronounced 'th'. Also with Spanish words, usually the emphasis lies on the penultimate (or second last) syllable, unless the vowel is accented. So, to pronounce Mencía, you say 'men-THEE-ah'! Tasting Pack: Unplugged and Unfiltered LOFl1 WINE MOVEMENT 🎸 Lo-Fi Movement Pack Lo-Fi ( low fidelity) is a loanword from the music world. These are elements usually regarded as imperfections in recordings or performances, that are made audible as a deliberate aesthetic choice. In wine, these lo-fi imperfections, while frowned upon at wine shows, offer a unique and playful drinking experience. Think rustic aromas, pronounced fruit character, and cloudiness leading to exotic flavour and textures. Discover all these and more in our Lo-Fi Movement Pack. Special gift in May Boxes StrangeLove Gift May's Samples: Strange Love Premium Mixers  This May for those of you who have unlocked level 3 Wine Traveller and above we're including 4 bottles of  premium mixers in every box you order, one offs or monthly subscriptions. Take your tastebuds on a tantalising journey with these Australian craft mixers, designed to complement craft spirits.  For spirit pairing inspiration, see some of their suggestions here. And if you like what you taste, all GPD members get 20% off your first order through the StrangeLove website, using the code GOODSTRANGEDAYS Wine News 📣 Bumper 2021 for Port! We all know the good Port isn't that hard to come by. However, it is hard not to sit up and take note when one of the best port houses around declares a 'classic' vintage. These are considered bumper years, where the weather is perfect, leading to an exceptional harvest.  Recipe of the Week Recipe 🧅 Tuscan Meatloaf A great meatloaf is a thing of beauty and this Tuscan-inspired iteration of a classic sees juicy lamb and pork minced, folded together and mixed with an array of wonderful ingredients that summarise one of Italy's great wine and food regions. Medium-bodied reds with bright acidity and red fruit character are going to go down a treat with this dish!  Pair this recipe with: Artis Wines Syrah 2017 Shaky Bridge 'Pioneer' Pinot Noir 2020 Red Embers Grenache 2021 Post of the Week Post of the Week 📸 Catherine M. from the GPD Wine Lovers Facebook Group GPD Wine Lovers Facebook Group Our Facebook member space is up and running so you can connect with other Good Pair Days friends, share favourite bottles, wine jokes, pairing tips, producers, wine tips and tricks, feedback, fun articles and more. You can find it here! That's it for this week. Hope you liked it.  Let us know if you have any feedback! Happy wine adventures,  The Good Pair Days Team InstagramYouTubeTikTokFacebook Contact us by replying to any email | | |   ©2023 Good Pair Days. Australian address: 11 Enterprise Drive, Glendenning, NSW 2761. UK address: Derby Commercial Park, GXO Warehouse, Fernhook Avenue, Derby DE21 7HW. We support the responsible service of alcohol. It is against the law to sell or supply alcohol to, or to obtain alcohol on behalf of, a person under the age of 18 years. Liquor licence number LIQP770016794. WHAT'S YOUR NEXT REVARD? Free Shipping Cancel Anytime Happiness Promise Price Guarantee
Show all
The Latest Emails Sent By Good Pair Days
More Emails, Deals & Coupons From Good Pair Days
Email Offers, Discounts & Promos From Our Top Stores